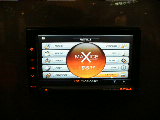 Expensive toys for the gadget and car lover or the start of an In-Car navigation and tele-matics revolution?
CeBIT Australia 2008 Special Report
Traditionally a niche product aimed towards automotive and technology enthusiasts-early adopters, NitroWare.net was surprised to see two [competing] models of car-puters (or Car PC)on display especially at a trade show for such a relatively small region in population such as Australia, these products also received a strong reaction from visitors to the trade show.
Before we go on and explain the purpose and specifications of the units we viewed, we need to explain to our readers what a Car PC is and what benefit it would have
Essentially, a Car PC (or 'carputer') is a traditional computer fitted into an automobile for Entertainment, Communication, Work or Vehicle Diagnostics purposes.
These devices typically are of a form factor suitable for installation within the confines of an automobile such as Laptops, Small form factor PCs or Miniature system main boards. One of the main reasons this technology has not caught on is that there are only several bespoke automotive computing solutions on the market and these are typically intended for law enforcement or commercial applications, not the consumer space.
If a consumer wished to have automotive computing fitted to their vehicle, they faced difficult installation and implementation process to fit the hardware, wire and connect all the essential components together and finally have to settle on suitable software and control solution that is ideal for use within an automobile.
Within the last few years a few bespoke Car PC solutions for the consumer space have appeared based on Intel processor technology of various generations such as the Pentium III or the Pentium-M but due to language localisation and availability, these devices which fitted wholly within the car audio dashboard pockets of the vehicle were not popular.
Cheap, efficient and simple media and navigation/communication devices quickly put an end to need for a Car PC for the majority of those interested but one size does not fit all.
Additionally, there was a stigma that a computer does not belong in a car because they are bulky, ugly, have ease-of-use and ergonomics issues and may be a distraction to the driver
Thanks to highly integrated system chipset, low power efficient CPUs and advancements in LCD panel technology, vendors are now able to offer all in one solutions that can replace the OEM entertainment/navigation solution in a vehicle without the intrusion of system chassis or external peripherals as per times of old.
In the 2000s, a traveller on public transport or owner of a modern luxury vehicle may even experience or own a Car PC and not even realise this.
Seat-back entertainment in trains and planes typically use a PC solution such as those based on AMD Geode processor technology (Virgin America is one example) as well as a number of computing CPU solutions from other semiconductor and computing companies.
Modern cars are filled with 'computing power' and the presence of a several inch LCD touch screen which controls the 'cars brain' putting on tap Gigabytes of digital media and various entertainment and communications technology is very close to the traditional concept of a 'carputer'
This now brings us to the offerings for the Australian market in 2008
Azentek ATLAS CPC-1200 [Ed. Tech start-up names are becoming way to similar]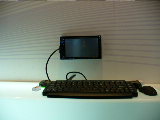 Gismosis Infill G4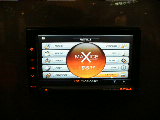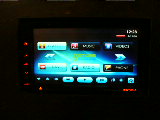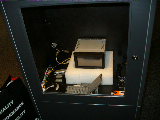 Of the two devices, which may appear quite similar at first, the ATLAS has a better list of system components, while the Infill has the slightly older generation technology behind it .
The ATLAS device is also easier to use thanks to its combo power switch/rotary volume knob, Numerical preset keys also has a easier to use and does not require the LCD to slide for insertion or removal of an optical disc.
The ATLAS has also won a number of industry body and trade show awards for innovation
The Infill device is also available now for purchase at a significantly lower price than the ATLAS, which is still being evaluated and tested for compliance by its importer in Australia.
Both of these devices offer a rich multimedia, navigation, communication and computing experience but at prices for both devices being $3000 AUD and up, they may be financially out of reach for a large number of potential users
Both Car PC solutions comprise of a double DIN form factor with a 6.5" touch screen LCD and require a double DIN pocket in the cars dashboard for Installation. No external components other than the necessary wiring and antenna are needed making installation a preservative breeze.
Features such as Wi-Fi, GPS, Internet browsing and DVD playback offer a number of potential applications that are not possible with other systems.
Wi-Fi networking eliminates the need to burn digital media onto optical disk or transfer onto a USB flash drive and then into the cars entertainment system
This is something we as an online technology media site have been looking for a solution to for a while now, with the large capacity hard drives of both competing Car PC solutions, users may synchronise their entire digital media libraries between their home and car. No more time wasted picking or choosing or waiting for file transfers.
The concept of in-car Internet is also a curious one especially if the Car PC is wirelessly connected to a high speed 3G mobile telephone/USB Adapter or via Wi-Fi. The possibilities are endless
For car enthusiasts, the built in diagnostics interface (CAN-BUS for the ATLAS specifically) eliminates the need for the driver to carry around a laptop computer for tuning or monitoring purposes and may use easy to use and fully featured PC software rather than a small limited function stand alone device to diagnose their vehicle.
The ATLAS has a CANbus interface suitable for German and very recent vehicles such as VW group brands while the Infill has an ODB-II interface suitable for the majority of modern vehicles world-wide
Out of the two devices were more impressed by the technical specifications of the ATLAS, but price and availability issues are a strong factor against this device
The Australian agent for the Azentek also demonstrated a rugged tablet PC which was developed with Ford Motor Company for 'go anywhere' capability especially suitable for a vehicle environment.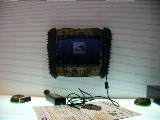 | | | |
| --- | --- | --- |
| Technical Specifications | AZTENTEK ATLAS CPC-1200 | GIZMOSIS Infill G4 |
| CPU | Intel Core Duo T2300 1.66Ghz | Intel Pentium 4 1.5GHz |
| HDD | Hybrid SATA 120GB HDD | 120GB HDD |
| Memory | 1GB DDR2 Memory | 1GB Memory |
| Graphics | Intel GMA 950 graphics | Unknown at press time |
| Optical Drive | DVD/CDRW combo drive | DVD-ROM |
| Operating System | Microsoft Vista Ultimate operating system with Aztentek User Interface | Windows XP Home operating system with Centrafuse interface |
| GPS | Internal GPS receiver and external antenna | Optional |
| Display | 6.5" touch screen LCD | 6.5" touch screen LCD |
| Wireless Technologies | WiFi B/G and Bluetooth wireless connection | Optional third party USB adapter |
| Power Amplifer | 50 Watts x 4 channels internal amplifier | 44 Watts x 4 channels internal amplifier |
| Tuners | Satellite Radio, FM radio/Digital TV | FM radio |
| I/O | Six channels Audio out plus stereo aux,analog audio in/out, digital optical audio out,TV-Out, USB, SD, RS-232, A/V, Mic | Six channels Audio out, TV-Out, USB, Mic, Remote control |
| Vehicle Diagnostic Interface | CANbus | ODB-II |
| Price and availability | Q3 2008 through boutique car audio chains at approximately $3500 AUD | Available now via Gismosis website at $2995 AUD for the base configuration |
Verdict
Demand for these types of in car devices will increase if the public is further educated about the possibilities and integration options for these devices
For an early adopter or for the extreme car/computer enthusiast, an all in one device such as these would be a great way to integrate the car's onboard system with the home
We liked the number of standard, built in features with the Azentech ATLAS although from pre-release information this device was designed for and intended for the US market and will need some further development and engineered to make it suitable for Australian conditions
The Infil G4 has the advantage of being now, a cheaper solution and being the DIY solution of the two devices but its base configuration is lacking the options required for many of the 'killer apps' that the device is promoted to do, and these extra options add significant cost.
Our pick is the Azentech ATLAS which offers a fully featured, modern and elegant Car PC solution.
Further Information
Azentech Australian distributor