Page 1 of 6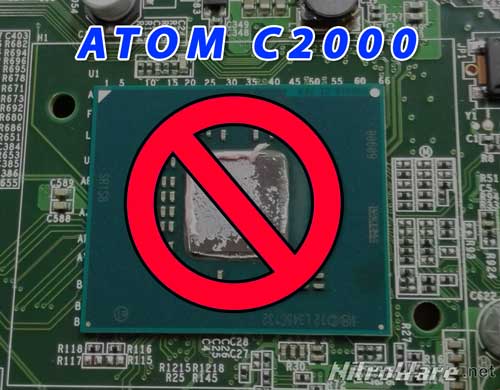 Our year long investigation through 2017 reveals difficulty and complexity obtaining support from the manufacturers of mission critical devices using the faulty Intel chip.
The Story to Date
In early 2017, Intel and their OEM partners announced that the Atom C2000 processor, codenamed Rangeley, which is intended for networking devices of the SMB to Enterprise Networking market contained a bug in its silicon which affected the chip's ability to start up correctly due to a weak clock si
gnal bus line. This problem was terminal and only rectified either with a hardware fix or a new stepping of these chips with the issue corrected in silicon.
Rangeley is a system on a chip package that integrates Intel's low power Compute Cores, platform chipset and Multiple Gigabit Networking. The typical applications are in Network Attached Storage (NAS), Networking Switches, routers and Micro servers. It was first launched in 2013-4 and since it uses the Silvermont architecture based CPU cores as used in Intel's low power 'Baytrail' chips that are used in low power PCs and tablets and not Intel's high power mainline Core I series architecture, the market segment for this chip meant it had an extremely long life-cycle. Part of the purpose of the new Rangeley Atom C series chips was to replace older embedded Intel and even AMD and non x86 chips used in previous generation products.
Intel's remedy in early 2017 was to compensate its OEM partners for the faulty parts and warranty repairs. Each OEM instigated its own program to repair faulty customer devices and subsequently changed its manufacturing to use Intel's newer fixed version of the processor.
Devices fail all the time and are covered by warranty and this is not the first time Intel has declared a major errata with its chipsets. Note I said declared and not a recall. Intel has not recalled product for many years as recalls have legal ramifications and frameworks in 1st world developed countries. TO the best of my knowledge, Intel's last global recall was for its flawed 820 chipset for the Pentium III in the year 2000. Anything since has been errata notices and for significant issues affecting large numbers of chips in the field, Intel has setup a compensation fund or budget for the benefit of its OEM partners.
Past significant errata in recent years have been the 6-series platform chipset from 2011 for 2nd Generation Core Processors which had faulty SATA ports that deteriorated over time and the 8-series platform chipset from 2013 for 4th Generation Core Processors which had buggy USB 3.0 ports
No silicon chip design is perfect and almost all designs ever created have bugs known as 'errata', which are 'minor' known issues in the circuit design of the chip that are documented by the manufacturer which either will be fixed in a future version of the chip or able to be worked around with a hardware/software/firmware fix or not being able to worked around at all. I will emphasis this, errata are a natural part of the semiconductor landscape.
Electronic devices fail all the time and may be fixed under warranty, so what makes Rangeley so different this time and what's the big deal? The answer is quite simple. The chip is used in some mission critical devices and the owners of these devices can't afford for these devices to fail, both from an operations and a financial point of view.
Consumer devices are covered by a limited warranty and in some regions such as Australia, additional consumer protection rights apply outside of the manufacturers defined warranty period
Enterprise class devices, especially networking appliances are typically only covered by paid support contracts of varying level. Should a user need their device repaired or want access to ongoing software updates, the procedure is to keep the device under such contract mainly due to the items high cost of replacement.
This is where things got ugly in early 2017.
Rangeley is used in Cisco Security appliances such as the popular ubiquitous ASA-5506X, in Dell S-Series 10/40GbE top-of-rack open networking switches, in business NAS boxes from QNAP, Netgear, Seagate and Lacie as well as micro PCs and routers from Netgate and Fortinet and many other industrial routers and compute boards from a number of niche vendors.
When this news broke, IT news publications of repute reported on the issue and the initial set of vendors who had instigated repair and replacement programs, especially Cisco's where the mass of faulty devices and introduction of a return program and support note informing users of the issue and to swap out their devices under support.
While the issue was headline news at the time especially from highly syndicated sites such as The Register, the issue magically 'went away' with the IT media not following through on the issue over time.
This is where I come in to the story and spent almost a year chasing up repair and replacement, eventually giving up.