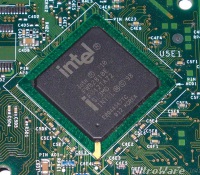 With the June 4 launch date of Intel's Haswell CPUs at Computex a matter of weeks away, we can now reveal the launch model lineup and theoretical graphics performance. Although core architecture of Haswell graphics has been known for some time, what has been kept under wraps was how each class of graphics would be segmented and which parts are aimed at which markets.
Haswell will offer optional higher performing graphics in its Desktop, Mobile and Ultrabook segments across the board compared to Ivy Bridge which offered a single class of graphics in mainstream mobile. Haswell is claimed to have a up to 3x improvement on graphics performance alone however raw numbers are not the complete story.

Intel has also though to sees eye-to-eye with its competition by giving its new graphics a brand name to make it as identifiable as AMD Radeon, NVIDIA GeForce and Qualcomm Adreno. That name is Intel Iris.

Background
Intel has been on a crusade to talk up the quality of 'integrated' PC graphics ever since it launched its first graphics solution for the modern PC. This was the i740 during the Pentium II era which initially was sold as a standalone add-in graphics card. The i740 was quickly adapted and integrated into Intel's system chipset for the subsequent Pentium III, their 810 chipset which coined the phrase "free" graphics. This term came about as Intel typically sold their chipsets that include integrated graphics at a very small margin, typically a few dollars above their chips without graphics.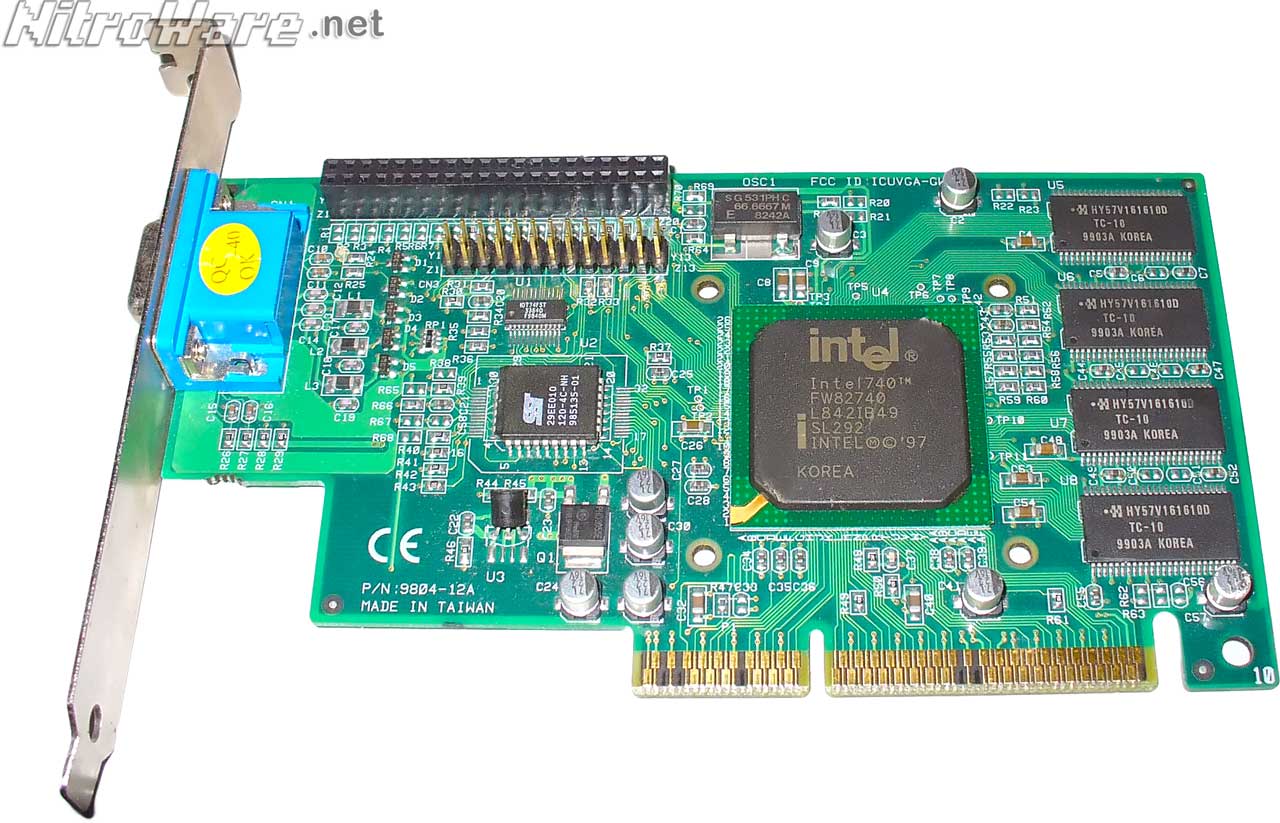 Since that time, just as with the two mainstays of the graphics market, AMD(Formerly ATI) and NVIDIA each new subsequent generation of Intel 'Integrated' Graphics has introduced significant feature updates and performance improvements.
At first Intel recognised that their value oriented graphics solution was not for everyone and maintained it as a mainstream solution in their computing platforms. Performance oriented systems did not receive integrated graphics as the user would be using a fast graphics card anyway. This momentum was maintained until the late 2000s where the GPU in general and the capabilities of Intel's graphics has become ubiquitous.
Intel did not produce its own graphics until 1997 and initially relied on ATI, NVIDIA or other graphics chips. 1998s RC440BX Intel Desktop Board was one of the last to use third party graphics soldered onto the motherboard.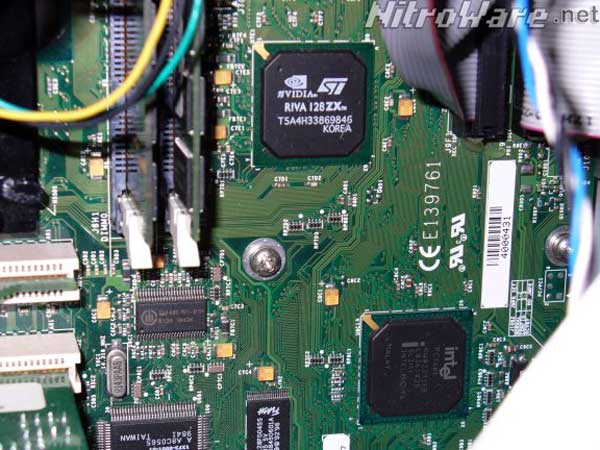 1999 saw the 810 chipset, the first Intel Graphics Graphics intended to be paired with the Pentium III or Celeron CPU for mainstream/value computing. Typically these systems could not be upgraded with an add-in AGP graphics card and provided an alternative 'quality' competitor to third party platforms from the likes of VIA or SiS.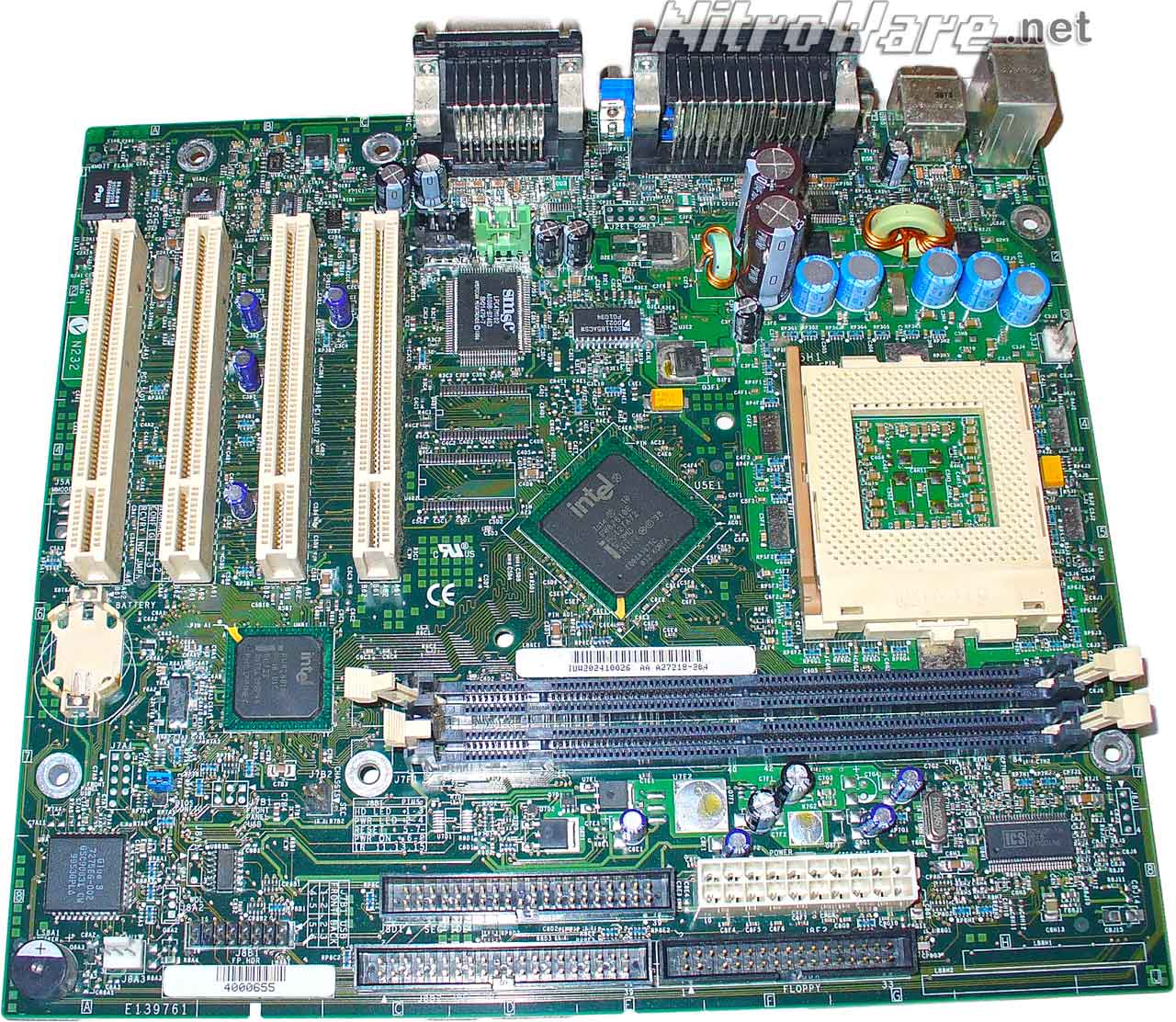 Integrated Intel Graphics for the Pentium 4 CPU came in the form of the 845G chipset and its 'Extreme' Graphics, later Extreme would be something else in the Intel Lexicon.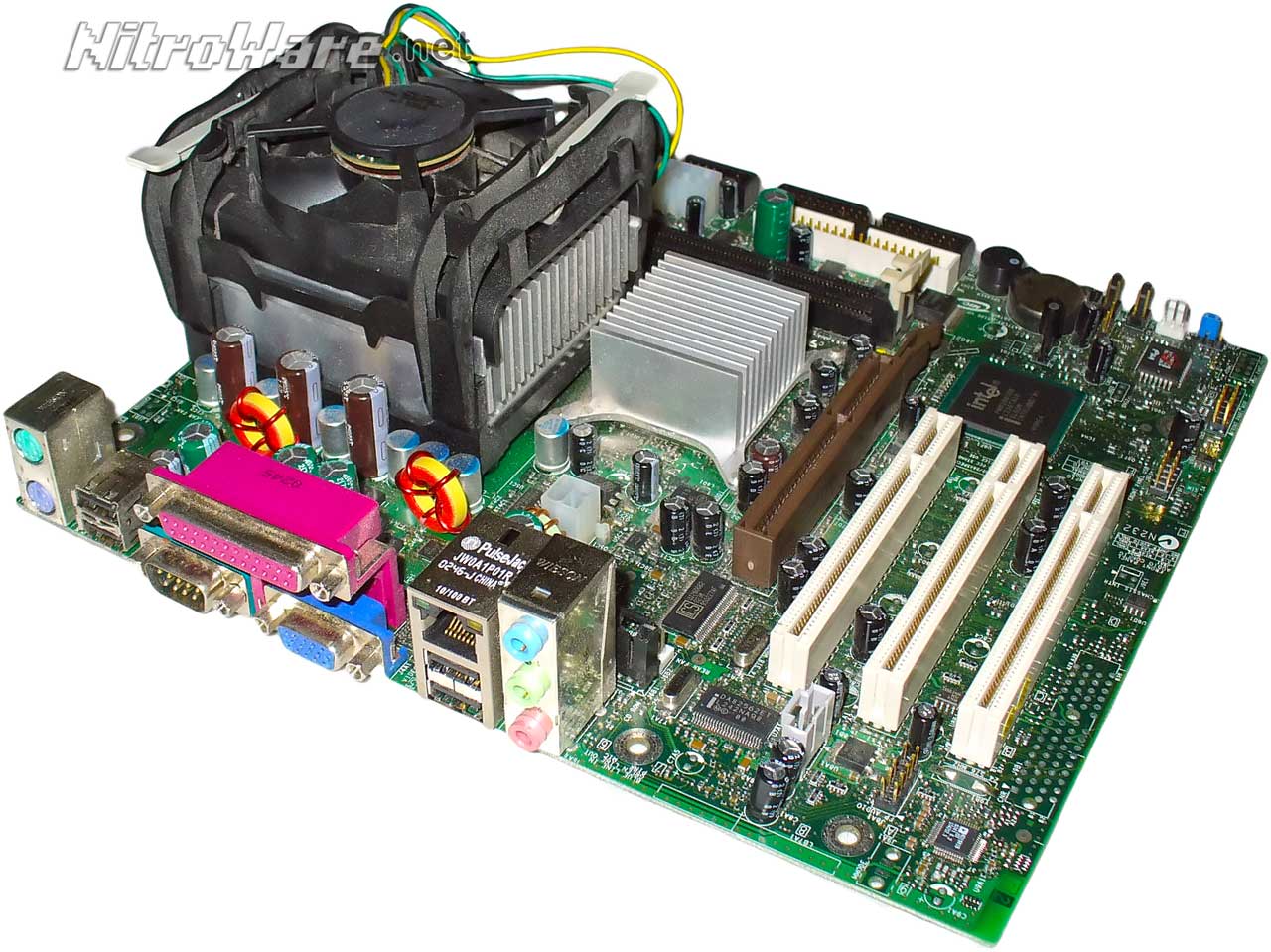 845G's successor, 865G chipset brought significant improvements in memory, USB 2.0, SATA and in some cases Gigabit Ethernet. The Extreme2 graphics was a minor update.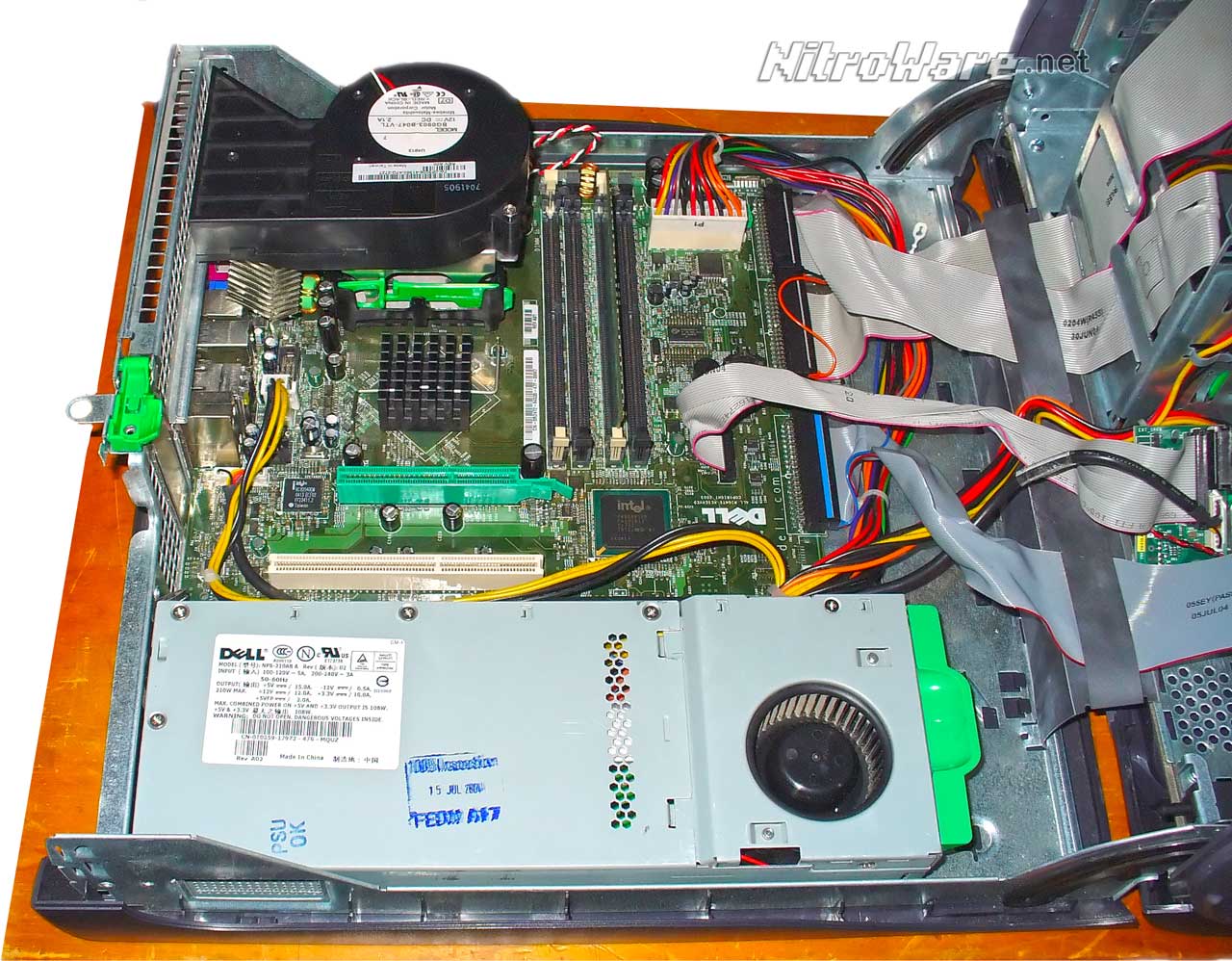 The graphics in the first chipsets for Socket 775 Pentium 4 and later Core2 are infamous. The mainstream launch chipset for Socket 775, the 915 contained the newly branded GMA 900 graphics but was criticised for perceived Windows Vista compatibility.
GMA 900 was updated into the GMA 950 for the 945 chipset which was suitable for dual core Pentium CPUs as well as the new Core2 Duo. This graphics other than being lack lustre for gaming (worse things have been said), is still usable to this day in 2013 with Windows 8.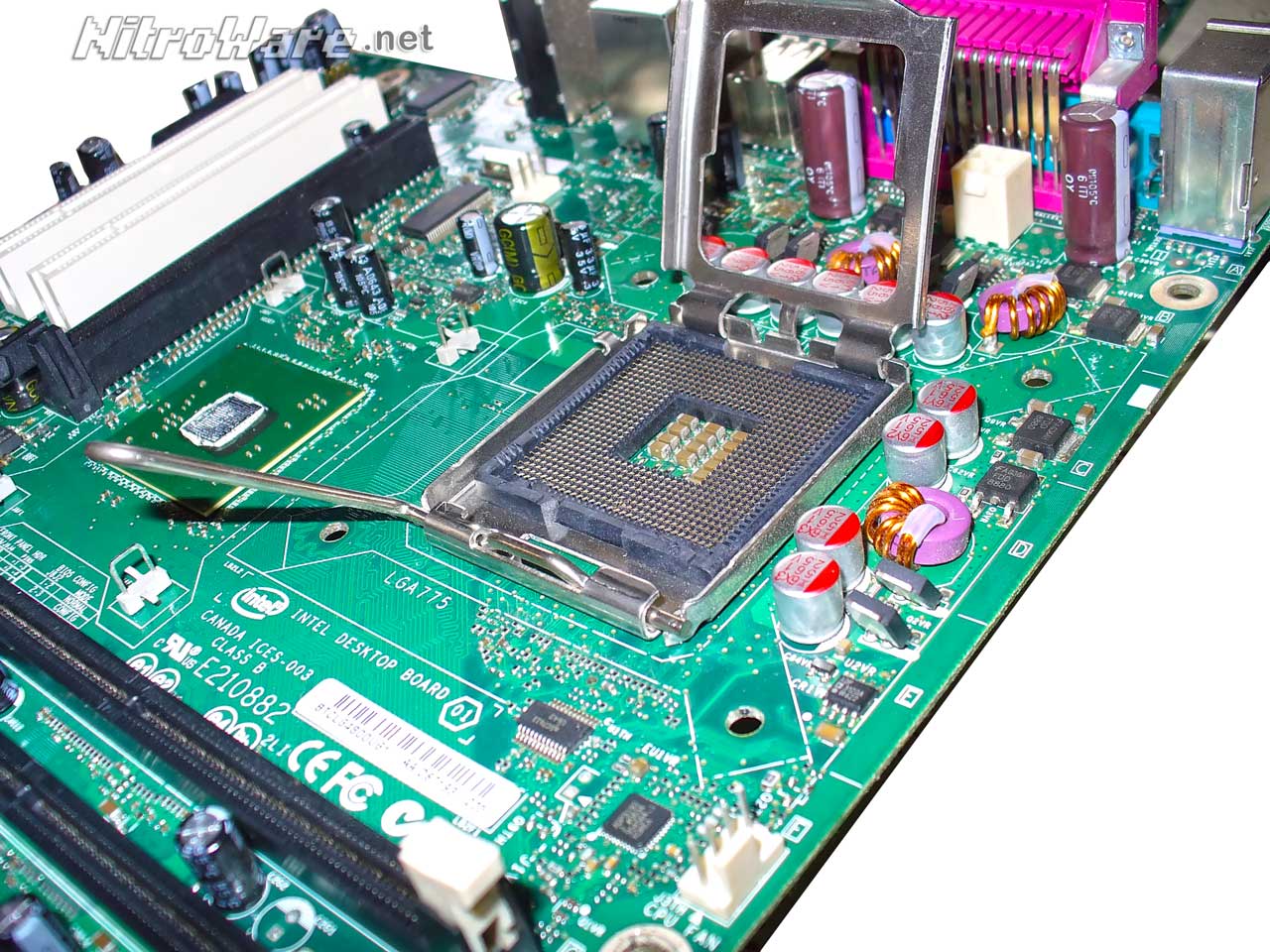 For the first proper chipset to pair with the Core2, Intel tried re-branding and refreshing its graphics again with the G965 chipset and its X3000 graphics. The first major attempt to improve the perception of Intel graphics and this was later developed into the 3000 and 4000 series graphics the latter of which in the 4-Series chipset was Intel's last generation of PC graphics integrated into the chipset. While this carried forward many of the limitations of the legacy architecture it did add support for DirectX 10 making Windows Vista/7 and light gaming usable as well as their 'Clearvideo' support of accelerated video playback and native HDMI output.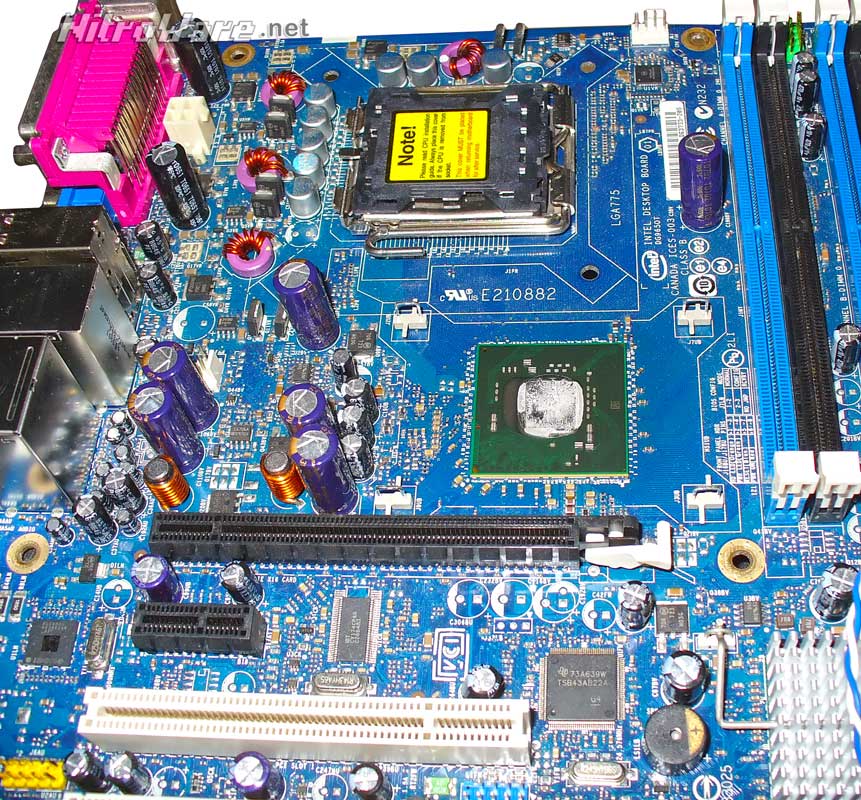 5-Series chipset platform was paired 1st generation 'Core' CPU and its 1st Gen Intel HD graphics. An updated 4-series graphics core placed alongside the CPU die on the same package to boost performance rather than integrated into the chipset. Having graphics in the chipset had a restriction of limited thermal budget and memory bandwidth. 1st Gen Core's approach was the beginning to rectify this.
6-Series chipset platform was paired 2nd generation 2nd generation 'Core' with 2nd Gen Intel HD 2000/3000 graphics. Sandy Bridge's integrated GPU) is regarded as Intel's first true and usable GPU for 3D performance that can run most modern 3D games at low details with playable frame rates eliminating the need for a additional GPU in some systems such as Small Form Factor PCs, Thin N Light Notebooks,Ultrabooks and convertibles. Introduced Quick Sync, hyper-accelerated video conversion technology.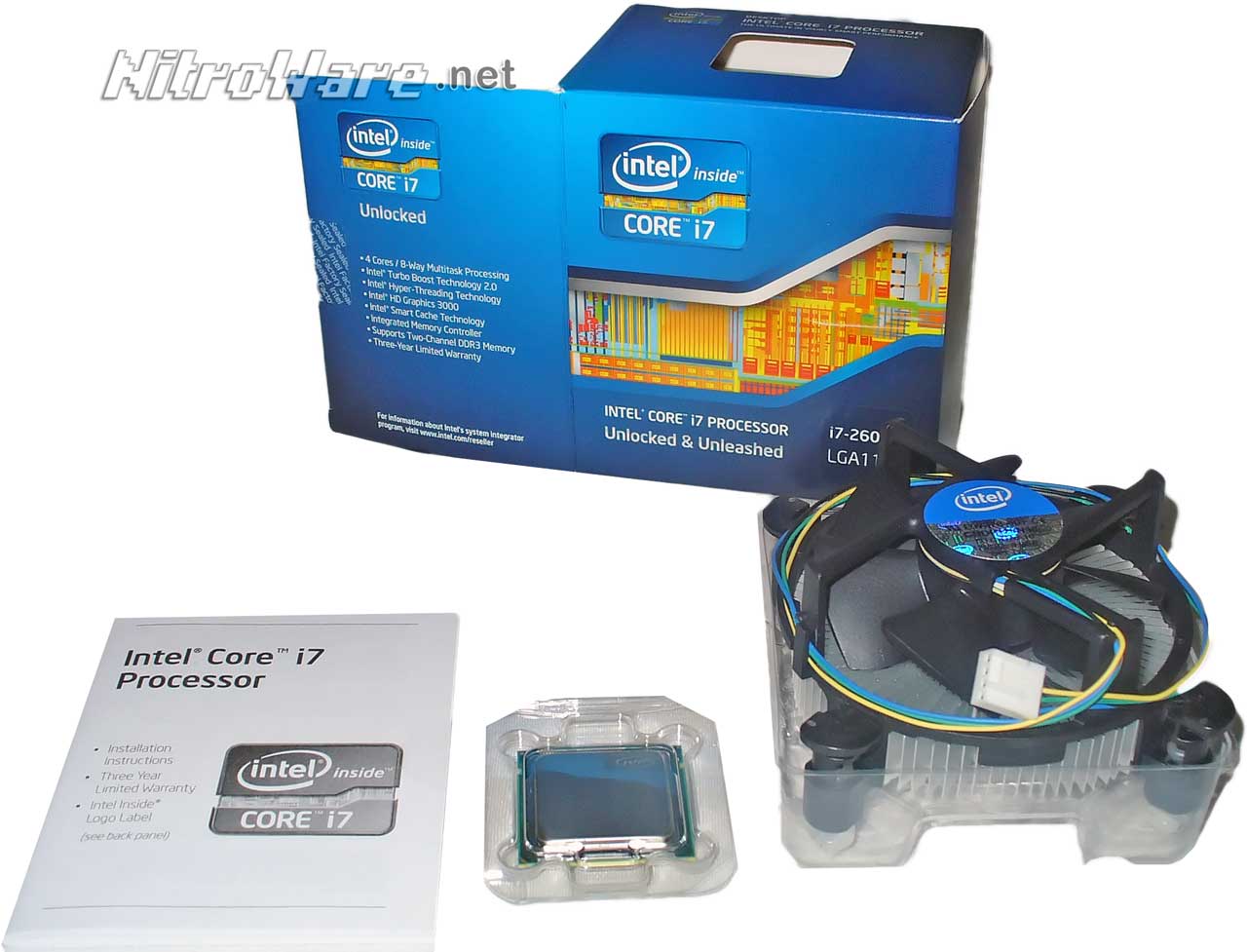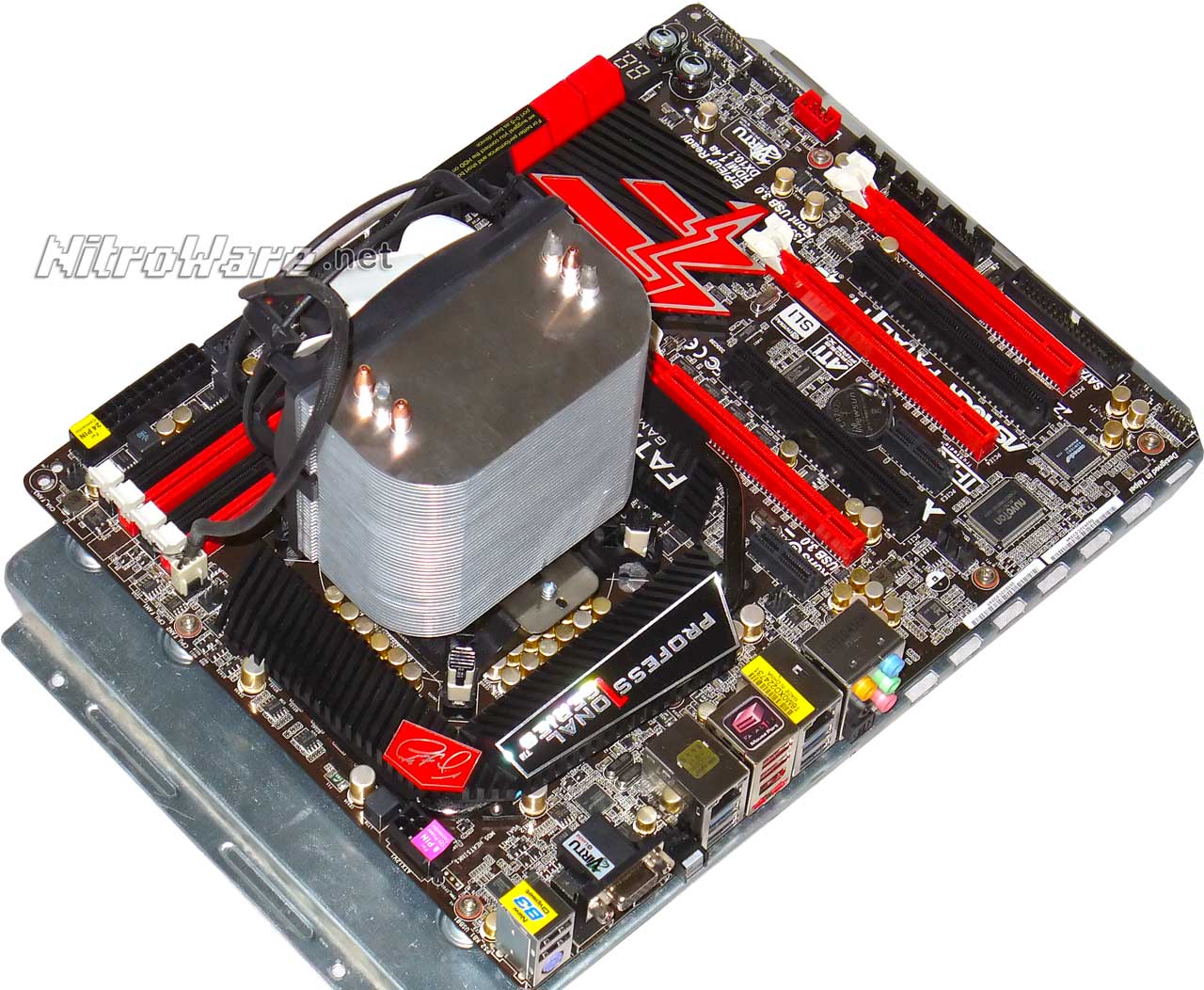 The 2012 refresh of 6-Series and Sandy Bridge was the 7-Series 3rd generation 'Core' with 3rd Gen Intel HD 2500/4000 graphics. Ivy Bridge built upon the foundations of Sandy Bridge and bumped up logic features such as execution units, clock speeds and supported newer graphics API such as DirectX 11 and OpenCL.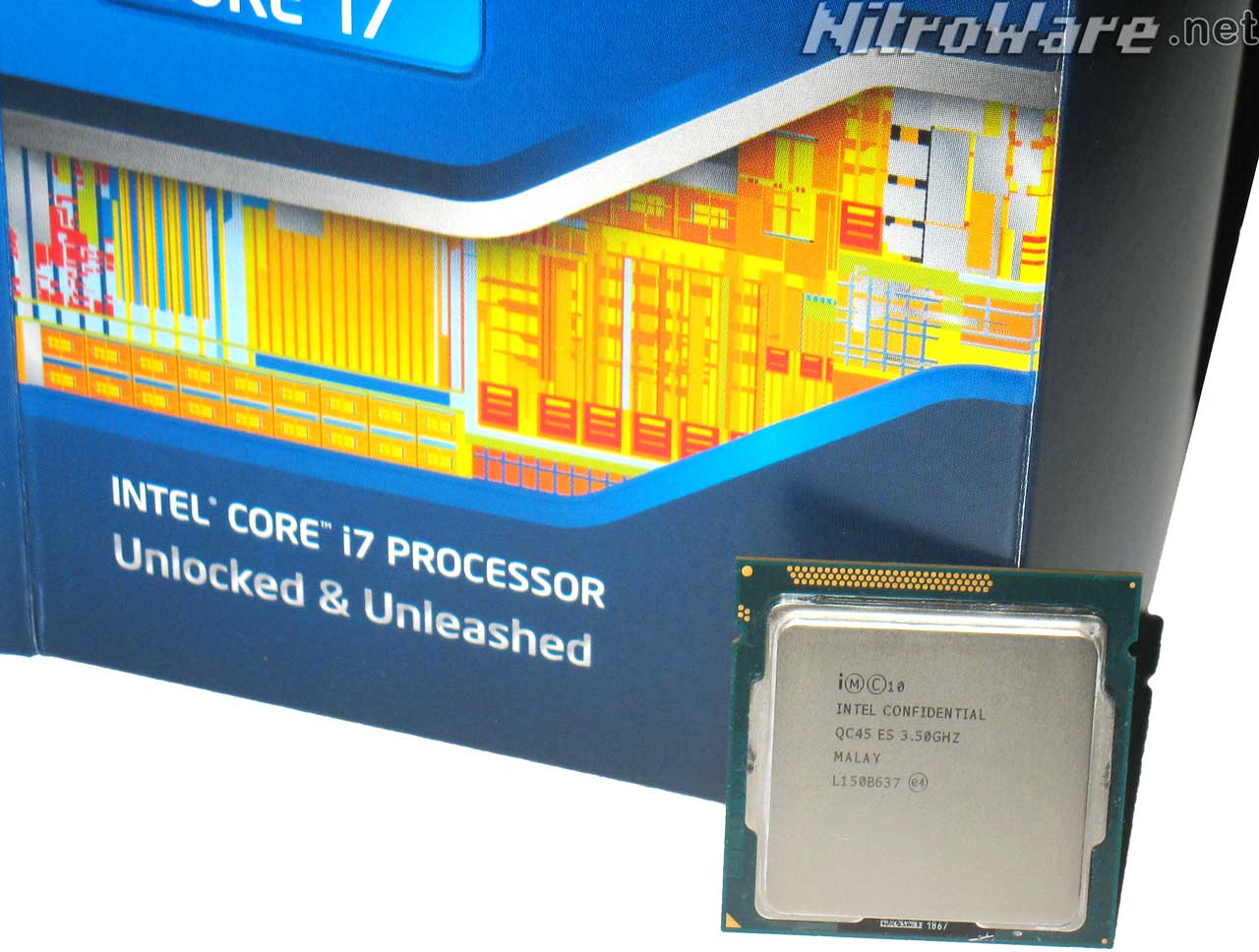 8-Series 'Lynx Point' Chipset is paired with 4th generation 'Core' and its 4th Gen Intel HD 4200/4400/4600/5000/5100/5200 series graphics. The addition of the higher 5000 series, now called Iris and Iris Pro focuses on performance with the higher end models. Haswell will feature Intel's 4th name change to its graphics lineup,being Extreme, GMA, HD and now Iris specifically for its higher performing CPUs with Intel 5100/5200 graphics.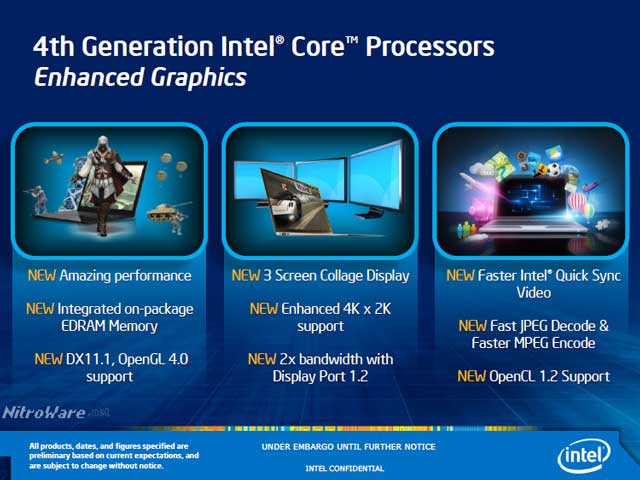 With Intel's 4th generation 'Core', code named Haswell to be launched at Computex Taipei on June 4, Haswell is touted to offer the most competitive and discrete-like graphics capability from Intel ever.
Haswell's CPU performance initially should be a moderate bump over the existing 3rd gen core aka 'Ivy Bridge' architecture however we can finally talk about what Intel will really be bringing to the table with its far highly publicised graphics update that is touted to give portable and mainstream users a better graphics experience, especially with gaming.

Chris Silvia, Intel Premium Notebook/Graphics Marketing said "our focus is on the next generation of devices, what we are doing with graphics is moving one up on the chain"

Although we discuss GT1,2,3 and 3e graphics levels in this article, Intel mentions that the architecture is modular and flexible, more Execution Units or embedded Memory(eDRAM) can be added and that Haswell's graphics was designed with modularity in mind. Scalability was a stumbling block with previous generation Intel graphics.

Not only is 3D improved in Haswell but Quick sync and 4K display support is too. However this is to be expected of a new generation of processor.
Intel claim their highest performing 4th gen part is a 75x increase in graphics performance since 2006, which refers of the Core2 duo processor. At launch Core2 was paired with both the 945 and soon after 965 chips and their respective graphics highlighted earlier. In contrast, Ivy bridge 40x and Sandy Bridge 25x compared to '2006'. In 2006 their prediction was a 4x increase going forward.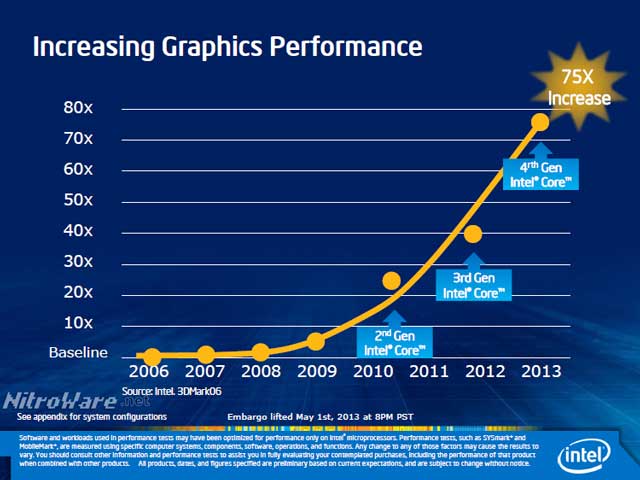 These are simply paper marketing results and while there are modern titles such as Dirt 3 which do run fine on Intel Graphics at 720p resolution with low details, there are still many software titles from 2006 and onwards that do not work or run poorly on Intel graphics. 3DMark06 should not be the sole metric for comparing integrated graphics of any brand or type.
4th Gen Core Intel Ultrabooks
In terms of specific CPUs, for the first time since the introduction of the Ultrabook a 28 watt TDP 'U' class part. The increased TDP is used to enhance graphics. For Sandy and Ivy Bridge, 'Core i3/5/7' branded notebooks featured only Intel's highest featured GPU core, as it should have been as for the mobile computing experience performance matters more than a desktop. Haswell will offers OEMs and end users choice in Ultrabook graphics performance however this will come with a penalty of higher cost and decreased battery life under load.
The 'standard' 4th gen Core i7-4650U ships with a 15W TDP, 2Watts less than the 17 watt flagship 3rd Gen Ivy Bridge i7-3687U yet Intel claims is up to 2x faster in 3DMark 06, Vantage and 11.
The 'enhanced graphics' 4th gen Core i7-4558U comes in at a 28W TDP rivalling traditional 'M' class non-ultrabook notebook CPUs and Intel claims their 28W U part is over 2x graphics performance in 3DMark 11.
Although Haswell brings platform improvements to improve power consumption and somewhat reduction of bill of materials, I am sceptical of an Ultrabook fitted with a 28 watt CPU, especially if 3DMark is going to be the sole marketing metric used to promote its GT3/GT3e graphics merits. Media reviews at launch will reveal the true picture. If Intel and OEMs can maintain the sub 2CM Z-height(thickness) and sub 2KG weight that made Ultrabooks so attractive then the 28W TDP may not be an issue.
What will be an issue is the actual cost of the CPU to the OEMs who build the machines. Flagship chips often have a suitable price tag attached with some mobile chips nearing $500, making them only suitable for premium priced chassis.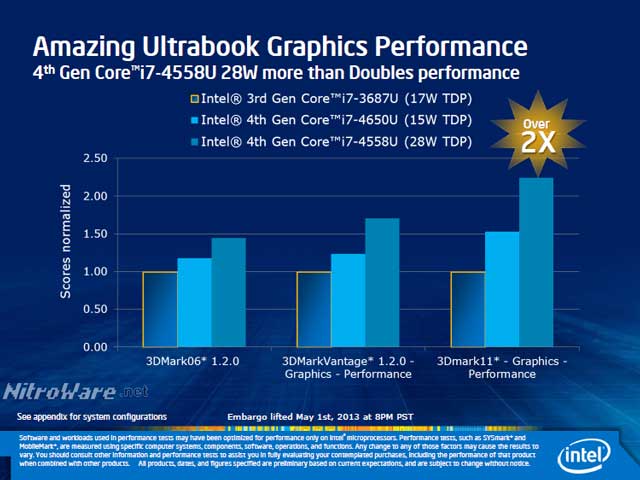 4th Gen Core Notebooks
The standard Intel notebook such as those in the 14-17" size range and weight of ~2.5KG use what is known as a 'M" class CPU. Typical TDP are 35W for dual core but some higher performing parts such as the popular performance oriented quad core 3rd gen i7-3630QM are 45W.
In the case of Ivy Bridge such as the 3630QM these included HD4000 graphics which was accompanied by a discrete GPU from AMD or NVIDIA for multimedia/creation or gaming oriented notebooks. AMD's Enduro or NVIDIA's Optimus technology allowed application based dynamic switching between the Intel iGPU and the attached dGPU extending battery life and reducing heat and noise.
For Haswell, instead of 45W Intel is offering enhanced graphics part with dynamic TDP of 47/55W (nearing the magical 65W TDP number synonymous with desktop platforms) that OEMs can offer in these multimedia/creation oriented full size notebooks in lieu of including a AMD Radeon or NVIDIA GeForce GPU at significant additional cost, heat, battery life and weight.
Intel is focusing on the '2X graphics performance' in their Haswell messaging and for the standard class of Notebooks the 4th gen i7-4950HQ carries the torch. The "H" class is new, indicating the higher graphics feature.
When running in 47W TDP, i7-4950HQ varies between 1.8x to 2.5x 3DMark performance compared to a 45W TDP Ivy Bridge i7-3840QM. While a 2 watt increase in TDP delivers such impressive paper performance, the And CPU performance remains to be seen especially with so much of the die size dedicated to the GT3/GT3e graphics core.
In 55W TDP mode, 4950HQ gives a small but not significant increase over 47W,exceeding 2.5x in 3dmark 11 versus Ivy Bridge.
A 2nd as performant 47W part is also being launched, the i7-4900MQ. This maintains the 'almost 2x' paper performance over Ivy Bridge but should cost less. Data provided by Intel claims in 3DMark 11 the 4900MQ is 2.5x while the older 3DMark 06 around 1.8x.
28W TDP Ultrabook chips make sense if the platform delivers what is promised as its difficult to shoehorn a GPU into an Ultrabook, but for a notebook a GPU is fine on all metrics. AMD and NVIDIA offer excellent mid range parts which are being updated for 2013.
The new MQ/HQ parts should level the playing field (it is rumoured that GeForce GT650M is the target for Haswell's highest graphics performance) and while the industry is keen to see how Haswell GT3e's graphics performs in comparison, it still comes down to power, graphics quality, smoothness and most importantly driver/compatibility. The latter is something Intel lacks relative to AMD and NVIDIA and which cannot be fixed easily or even with time.
It will be an interesting matching between 35W TDP Quad part with a AMD/NVIDIA GPU and 47/55W Haswell without a. In theory the former should be better, faster and priced similarly to a notebook with the highest models of 4th gen CPU. The latter may offer lighter weight and better battery life.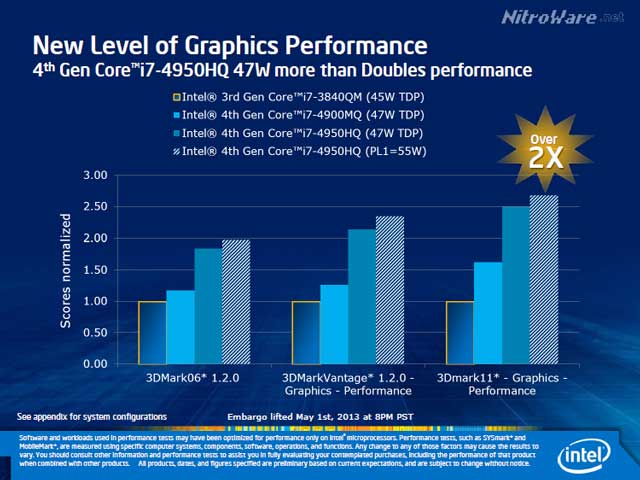 4th Gen Core Desktops
While most enthusiasts and industry people seem to already know about the 4770K thanks to leaks and official presentations at industry events such as IDF, what was kept under wraps was how the GT3/GT3e class graphics would be presented in the desktop format.
4770K is the 4th gen version of the 3770K, a mainstream performance/enthusiast part that a power user would have in their desktop. These K SKUs are typically paired with a high end gaming GPU so integrated graphics is not of much use to this audience. The Integrated HD4000 (on Ivy Bridge) and Integrated graphics on the Haswell K SKUs can serve an auxiliary purpose for additional displays or video acceleration with Quick Sync when configured by the user.
Although not meant for gaming exclusively, 4770K is promised to offer up to 1.25 to 1.5X performance of 3770K and its HD4000. These paper numbers are what is expected of the a mild graphics update.
What is new in the desktop space is a i7-4770R aimed at the All-In-One market, something which Intel is desperately trying to push to the channel market and something that is dear to its OEMs such as Apple and Dell who have used its lower power Quad Core 65W 'S' CPUs in the past.
R is a new Intel class for higher graphics but with a 65W TDP, i7-4770R increases the stakes, offering a 2x to 3x performance over 3770K. For mainstream which may not have shipped with a GPU anyway or those with higher resolution screens such as 2560x1440 or Apple 'Retina' this is significant. One of the main criticisms in AIO reviews is graphics performance where a mobile class NVIDIA GT640M can struggle to drive high resolutions of large 27" A-I-Os.
Power is not a concern for a Desktop AIO and if these chips become standard in A I Os, then graphics performance is lifted across the board for this segment regardless of optional dGPU. A win-win for all users. As far as pricing is concerned the 4770/3770 and flagships before them have always been in the mid $300 mark so there is no reason why the 4770R should be any more expensive despite its graphics.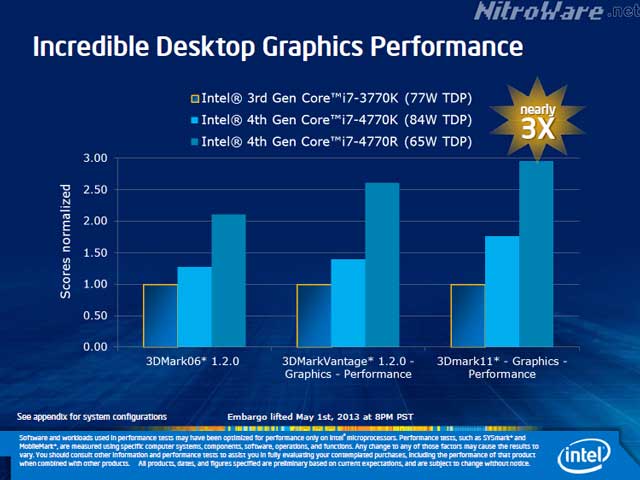 4th Gen Core Branding
Model numbers which Intel has relied on since 2006 can have their meaning lost on the consumer and brand names such as Intel Inside, Pentium, Core and Centrino have resonated well with the industry and end users. With GT3 and GT3e graphics being a significant engineering feat, especially with its on-die memory cache. Intel are rolling out a new brand name for Haswell's highest graphics which will be included in marketing materials and integrated into the brand ID assets such as Intel chassis ident stickers with slogans along the lines of 'featuring Intel Iris graphics'. OEMs will be able to choose from a number of brand assets and apply the ones suitable for their needs.

If we remember to Ultrabook, Intel and its OEM partners started using very minimalist stickers intended not to ruin the look of the shiny Ultrabooks and this time around Intel does not really want to add another dedicated sticker which may angst users.
2013 4th Gen Core Intel 'Haswell' CPU and Graphics Lineup at Launch
Graphics Level
Consumer Graphics
Server/Workstation Graphics
CPU Model Name
Segment
TDP (Watts)
GT3e

Intel Iris Pro graphics 5200

-

i7-4770K
i7-4770R
i7-4950HQ
i7-4900MQ
Mainstream Performance/Enthusiast Desktop
Mainstream Performance/Low Power Desktop
Premium Notebook
Mainstream Notebook
84
65
47
47
GT3

Intel Iris Graphics 5100

-

i7-4558U

Premium Thin and Light Ultrabook

28

GT3

Intel HD Graphics 5000

-

i7-4650U

Mainstream Thin and Light Ultrabook

15

GT2

Intel HD Graphics 4600/4400/4200

Intel HD Graphics P4700/P4600

Xeon E3v3 (HD Graphics P4000 Series)

Single Socket Server/Workstation

-

GT1

Intel HD Graphics

-

TBA - Pentium and Celeron

Mainstream Entry/Value Desktop/Notebook

-
3rd gen i7-3770K for Mainstream Performance/Enthusiast Desktops with 77W TDP and HD 4000 Graphics is also classed as having GT2 graphics.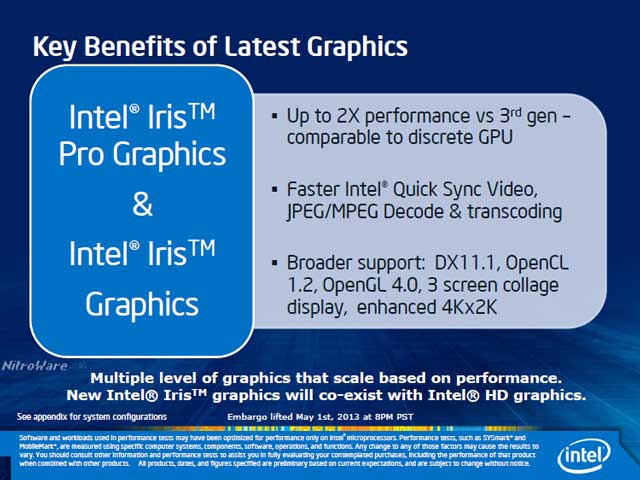 Verdict
In an industry heading toward a heterogeneous computing future, the computing term coined by AMD, 'APU' is becoming becoming more applicable to Intel's solutions as the GPU is as synonymous with computing as the CPU is. Intel is finally taking graphics more seriously that it has done in its past, especially when we remember the aborted 'Larrabee' project that Intel intended to derive a high end consumer GPU.

With AMD launching its first generation truly heterogenous APU, 'Kaveri' in Quarter 4 and a similar design shipping in the Sony Playstation 4, Intel can no longer afford to make incremental updates to its graphics stack, it must think big if it wants to maintain its majority (or monopoly according to some views) on PC graphics.

Intel can continuously improve process nodes, efficiency of its designs, allocate more die area to graphics, increase clock speeds and bandwidth but one thing remains that can't be fixed by its hard working hardware engineers. This is Intel's approach to its graphics software and developer relations. The game compatibility library especially with older titles is still lacking and given the capability of its graphics hardware and corporate culture Intel is still behind AMD and NVIDIA in having its name associated with AAA games or compute applications.

Intel claims its integrated graphics in Haswell is "not for the Crysis max frame rate gamer and not aimed at twitch gamers" but the "highest end product might suffice for the portable Crysis gamer"

Things are changing, but AMD and NVIDIA will always be ahead. With Ivy Bridge, Intel welcomed OpenCL compared to NVIDIA's shunning of the standard in favour of its own CUDA.

Intel driver releases are pushed infrequently, up to many months between official releases. Even these updates offer relatively minor improvements to performance and compatibility compared to AMD and NVIDIA. Intel is also quick to discontinue support for previous generation graphics with newer operating systems unlike AMD or NVIDIA leaving users relying on iGPU in the cold or on Microsoft's own In-box drivers.

In traditional Intel form, Intel have introduced new branding to convey the "improved graphics" message which will make its way into consumer facing brand assets. Apart from the "with Intel Visuals" marketing campaign, this will be the first time the consumer is made aware of Intel's specific graphics capability.

I personally look forward to how graphics will improve in Ultrabook especially the 28 Watt Haswell CPU , any other form factors are not as interesting as high performance graphics is available in those already with caveats.

This first preview of Haswell has given some meaning and clarity to what we have been hearing about its graphics capability for some time now and the next few weeks will reveal more details. Stay Tuned.

The new name, Iris, isn't bad either. Although come to think of it the name Iris is reminiscent to Apple's Retina display technology. Make of that what you will.