New headphones from Sennheiser Communications that are 'designed for gamers'.
Inroads being made for to cater for appropriate headphones for gamers, enthusiasts and computer users...
Users serious about their audio for their computer or gaming, multimedia device or Hi-Fi will know that a good pair of headphones is essential for quality listening especially when privacy or fidelity is required. One of the popular and respected choices for high performance earphone and headphone is Sennheiser, who are represented in Australia by their Agent, Syntec.

 

PC or console Gamers especially those who participate in competitive matches such as casual LAN parties or professional gaming leagues require clear audio reproduction and pinpoint 3D audio placement or stereo separation. The difference between a good and bad audio solution can literately mean death in a game and for these types of users, as well as the dedicated audio or computer enthusiast market, they appreciate and require a good audio monitoring solution regardless of the brand

 

Whether you need to accurately locate the position of an enemy in Call of Duty, prevent your fellow racers in Trackmania or Need for Speed from overtaking you by keeping their engine noise directly behind your head or wishing to enjoy the lossless high quality FLAC audio files that you ripped from your CD collection while working, it is much easier for a typical user to tell the difference between different types of headphones than different sets of speakers, as the audio is directly in their head literately and is why Head Related Transfer Function – HRTF algorithms are so important when it comes to 3D audio.

 

A good set of Headphones/Earphones can reproduce the same low and high frequencies that a very high end set of speakers can without the cost, space, power consumption or disturbance/privacy concerns.

 

Headphones have not changed much in terms of style since the late 80s/early 90s when the current 'head band and metal rail' design style was first seen in the market, when 'digital' speakers and headphones (in other words, speakers engineered for the frequency response of compact disc) were what was hot at the time.

 

The market has also had had oxygen free cables with compact screw on adaptors since this era. What has changed however is the design and engineering behind the drivers and capsules that are responsible for audio performance - unlike a standalone speaker, these design traits are difficult to see.

 

Build quality has also changed; we now have detachable cables and replaceable ear cushions. Headphones are also more comfortable to wear for long periods. Older open back or closed back full size headphones tended not to cup the ear properly and compressed the ear due to lack of depth within the capsule, leading to pain and discomfort.

 

However, headphone manufacturers kept with legacy design traits when it comes to the design of the headbands and hinges that connect the head band to the capsules which allow for adjusting of size and position of the headphone.


The human head can vary in size and shape and it is difficult for a rigid device of plastic and metal to mould and adjust itself to a variable surface. Headphones are designed for the common denominator so some users may experience cracking or complete breakage in the hinges of their headphone after a period of prolonged use, due to the stresses placed against these load bearing surfaces.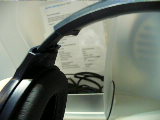 In-ear phones have come full circle and now there are many models on the market which adapt to different ear sizes and shapes both for consumer and professional use yet the headphone market has not followed suit in general, focusing more on the performance aspect, rather than useability and comfort.
This leads us to describe what Sennheiser has done in recent years with their headphone and earphone products.
Recognising that PC, gamer and casual user segments desire high performance, comfortable audio solutions especially since new products such as high performance audio cards and adapters for computers or the world surge of portable media players; Sennheiser have finally and clearly segmented their product offerings between professional/audiophile, gaming, music and VoIP/Voice communications.
While this is a commercial and marketing decision of no consequence to the end-user, We feel it was needed and necessary as some users especially enthusiasts or pseudo audiophiles tended to choose higher end headphones from Sennheiser and other vendors which were not matched for their audio device.
E.g. higher end full size headphone would typically have higher impedance and sensitivity and lower power audio solutions such as PC sound cards, CODECs or media players would have difficulty driving such high end headphones due to their impedance rating and low power of the pre-amplifier in the output device
This aspect of user adoption of these products has led to complaints and debates on in popular on-line audio discussion mediums and demand for more suitable, cheaper products.
Sennheiser have finally listed and responded and have released lines of headphone and earphones specially tailored for the 'gaming' market, but do not detract from music or voice listening purposes either.
The Popular HD5 and HD6 series of full size headphone as well as other 'traditional' audio devices have been retained under the 'Sennehiser' brand while professional/music portfolio like Gaming headsets, VoIP headsets and wired/wireless Telecoms headsets come under the 'Sennheiser Communications' brand.
In fact the official websites vary also ensuring that users are not confused as to which headphone is appropriate for their requirements.
For 2008, Sennheiser Australia has the PC 151, PC 156 USB, PC 161 USB and PC 166 USB series of compact/lightweight performance headsets (including a boom microphone for voice chat or Voice over IP communications)
A new offering, the PC 350 is a full sized closed back headphone with oval capsules/ear pads, a larger boom microphone and dual swivel hinges on each side of the headphone allowing for sideways and front to back rotating of the ear capsules.
This headphone is finally available in Australia after early adoption and trial in Europe in the professional gaming league scene which Sennheiser sponsored and is aimed at the gaming and enthusiast market.
We note that the PC 350 is a closed back design in piano black. The closed back design can limit the usefulness of this otherwise appropriate headphone.
Using these headphones for extended periods will lessen the user's ability to hear surrounding noises such as alarms from their computer, time piece or smoke alarms, door bells or the speaking of other persons. In these applications an open-back design wither compact or full size would be more appropriate.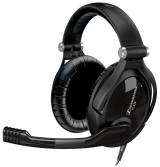 In the headphone/gaming segment,
CXL 400
,
CX 500
in-ear earphones are available. The
CXL 400
features an around the neck lanyard feature with cord-keeper well suited for music on the go while the
CX 500
comes with extra pairs of rubber earplugs for better fit and comfort.
NitroWare.net has found through research with the audio enthusiast community that while some users are first excited as the prospect of using an in-ear phone which can 'seal' inside the ear canal for better audio performance especially with bass frequencies, these types of earphones can become uncomfortable and a hindrance to the user after extended periods of use, as well as blocking out external noises which may be critical to the user.
Each solution has its pros and cons.
With regards to full sized headphone for gaming without a microphone, new models include the
HD201 gaming
which is also a closed back design and features limited-adjusting hinges and double-sided cords. Single sided audio cables are preferable to double sided as it can reduce tangling on the cable, reduce wear and tear and make it easier to frequently put on and take off the headphone without frustration.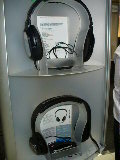 HD201 and PC 156/166 with optional USB connection
The
PC 150/160
series offer good audio performance with good response in the higher frequencies as well as having a lightweight frame and medium sized earpads. We are fans of the 160 series and think they are a good compromise headset for the user who is after a headset for VoIP and music use.
A hybrid or crossover model in the Gaming line is the new HD515 which is intended for gamers/enthusiasts who want a headphone suitable for their applications yet desire the style and features of Sennheiser's upmarket models. The
HD515
features an open backed design, generously padded headband, single cord and large ear-pads with deep capsules.
Sennheiser introduced premium wired earphone products with O.E.M interfaces for the mobile phone and media player market through 2006 and in 2008 they have Bluetooth product ideal for Apple devices especially the iPhone.
As we have mentioned in our CeBIT event coverage of Plantronics/Altec Lansing, Stereo Bluetooth devices such as headsets or speakers are a product segment that needs further promotion and expansion as these devices have not gained the market share their more popular monaural cousins have. Sennheiser told us that one of the problems faced with the development of Stereo Bluetooth devices was getting the appropriate bandwidth out of the A2DP 'Stereo Bluetooth' device profile that would allow the digital audio signal to be rendered concisely, which is now much easier thanks to higher data rates of Bluetooth 2.0
With monaural Bluetooth headsets, frequency range or SNR is not that great an issue as the headset is only meant to handle voice calls. Voice falls within a narrow frequency range which can be easily compressed and modulated, especially by the low, efficient data bit-rates that are used by the GSM CODEC (compressor,de-compressor) in GSM cell phones. 
Since the source material and the bitrates and CODECS are typically the same, vendors can design earphones that just reproduce these sounds and focus on clarity of voice calls.
When it comes to stereo and music however, the digital headset needs to be able to reproduce an almost infinite number of audio sources and preserve the wide dynamic range of movies and music. Without adequate bandwidth on the digital wireless Bluetooth link, the high fidelity audio would be compressed to such a degree that the audio would not be a pleasure to listen to and would even be found annoying to painful to some users depending on the amount of compression.
Sennheiser's new style of monaural Bluetooth headset takes the form of a hearing aid both in style and design. The appearance of the 'bulkhead' in the headset actually has a purpose, it contains a Digital Signal Processor to enhance the clarity of audio before it is converted to an analogue signal and outputted.
Unlike classic Bluetooth headsets where the user rotates a flimsy ear clip to swap between each ear, the
VMX-100
takes an over the ear approach and features a '3D ball joint' to orient the dual microphones. The hearing aid design helps fit the headset to the ear.
We note the standard mini USB port for charging which is gold plated to prevent corrosion of the connector from environmental pollution, water, oil or perspiration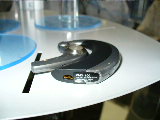 Verdict
We are pleased to see a market leader in headphones cater towards emerging market segments such as gamers or enthusiasts. Other companies need to also take on this initative however.