We talk about the future of networking with the chief technical and engineering officer of a newly minted enterprise networking giant
.
The 'new' Extreme Networks is the ultimate culmination of the enterprise networking divisions of several well established and significant telephony and networking brand names, mainly Extreme Networks, Brocade and Avaya with the ultimate goal to create a combined company aiming to be number 3 in the enterprise networking sector and a combined revenue of US $1bil.
To update users and partners on the new company and changes to products and support, Extreme did the typical world tour but with a difference.
Unusually for a large tech vendor, Chief Technical and Engineering Officer, Eric Broockman made himself available to said users and partners as a gesture of new company's intention. The co-title 'Engineering officer' is unique, as a Chief Technical Officer is not necessarily an engineer or responsible for engineering. Eric told us that a typical day started with a small amount of 'CTO' work and the rest of the day was overseeing engineering and in this role he has been able to leverage his vast experience with other networking hardware vendors.
We sat down with Eric and chatted about future of networking from a wireless, wired and software perspective. Eric had some very interesting viewpoints on industry trends thanks to his unique position in the industry both as a CTO and a long time veteran of several networking and tech firms, even as a hairbrush salesman.
You do not need to be intimately familiar with Extreme/Brocade/Avaya products or enterprise networking to watch this interview but an understanding of networking topics and standards would be helpful.
Many of the topics discussed such as Wi-Fi AX, 2.5/5/10Gbit Ethernet, Virtualization and Open Source Networking/Security software are of interest to enthusiasts, power users and professionals.
00:25 Eric Broockman's technical and industry background
03:15 Combining the specialisations of Extreme, Brocade, Avaya and Zebra into the New Extreme Networks
05:20 Campus and Data center Networks explained
06:25 802.11ax Wi-Fi explained - Increasing density and improving reliability
09:25 Hardware versus Software in the Networking Industry and the ubiquitous 'single pane of glass' management concept
10:45 Free and open source software such as pfSense
13:50 Virtualisation - A new concept for Enterprise Networking devices such as Switches and Access Points
17:15 Lowering cost and increasing adoption of upcoming Ethernet Standards such as Nbase-T
20:20 Future Trends and where the Networking industry is going
Read on for our comments on the new company, the aquisitions involved as well as more detail on the future and emerging trends discussed.
The slides linked for reference are taken from a vendor presentation and are not part of the interview.
Admittedly I personally was unfamiliar with the changes to the involved companies due to sticking to the brands based onto past experience, but what is happening is unique as Extreme is leveraging the specialist enterprise networking pieces they have acquired, providing a large 'one stop networking shop'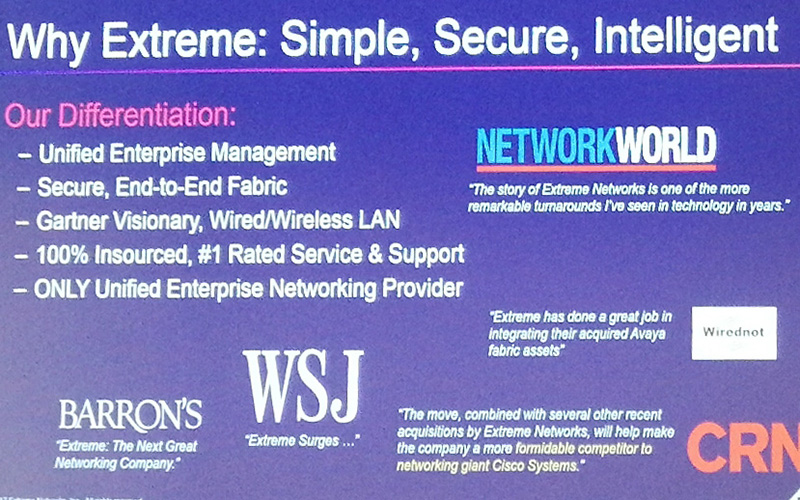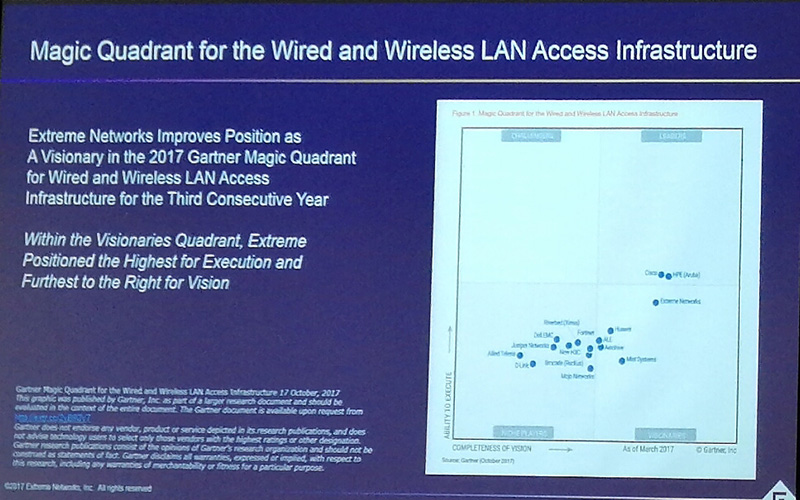 In the past we have typically seen a larger vendor swallow a competitor, for market share, technology, financial weakness, or market synergies. This process may repeat itself over some years and overall strategy may not be immediately evident.
The enterprise network segment is a bit strange in that a significant number of competing vendors are all vying for the same business by offering very similar hardware and software solution, yet consumer space sees faster adoption of new technologies and shorter product cycles. Though these days, consumers are not exactly in a rush to get a new Wi-Fi router let alone roll out a multi gigabit wired network.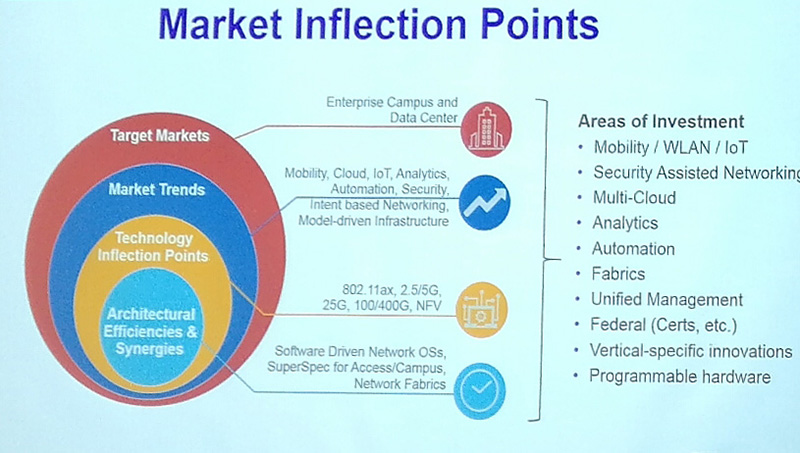 Belkin acquired the consumer Linksys brand from Cisco and discontinued its own networking devices. Belkin recognised that for premium devices which are an upgrade from an ISP older device, the Linksys brand had better recognition and loyalty in certain markets, despite based on commodity hardware and software.
In the enterprise space, Cisco acquired Meraki networks so that they could offer an alternative Security Appliance, competitive with vendors such as Fortinet, Watchguard, Safenet, SOPHOS and several others, rather than developing their own in-house product, risking time, money, R&D rivalry and lost focus.
HP acquiring 3com, positioning 3com has a value brand. Dell acquired Force10 networks to get into the Layer 2/3 enterprise switching market to complement their servers, successful despite being commodity open networking switches.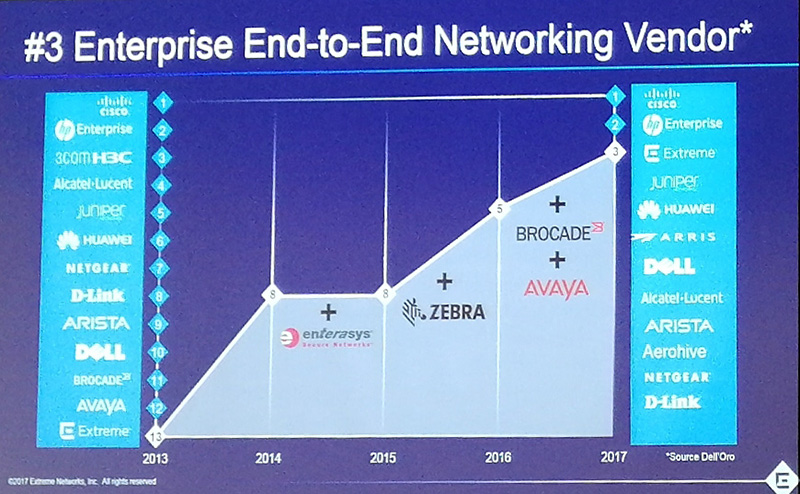 The new Extreme Networks is perhaps the ultimate example in nested mergers and acquisitions in the networking space, having ended up with the networking assets of the following companies:
AirDefense, Avaya, Bay Networks, Brocade, Cabletron, Chantry, Digital, Enterasys, Foundry Networks, Motorola, Nortel Networks, Siemens, StackStorm, Symbol, SynOptics, Vistapointe, Wellfleet, Zebra
The Brocade Switching, Routing, Analytics portfolio is an interesting one for the industry as a whole as it involves the juggernaut that is Broadcom.
In October 2016, Extreme Networks acquired Zebra Technologies' Wireless LAN business. Zebra Technologies as a whole operates in the printing and tracking segment producing POS and RFID solutions, acquiring Motorola Solutions' Enterprise division previously.
July 2017 saw Extreme Networks acquire Avaya's networking business, adding Avaya's fabric technology and switches plus associated tools. Avaya is known for voice products and Internet Telephony hardware and software solutions, having supplied communications for FIFA World cups and Olympic Games. Avaya was formerly a spun-off unit of Lucent Technologies and later acquired parts of Nortel Networks.
Later in October, Brocade's Switching, Routing and Analytics business was aquired. Brocade broke itself up, selling off and spinning out divisions (Rukus Wireless, Vyatta and Brocade data center) in order to ultimately sell to Broadcom.
Brocade's founding was based on Fibre channel and SAN switches using in-house ASIC, later differentiating into Ethernet and software products through acquisitions.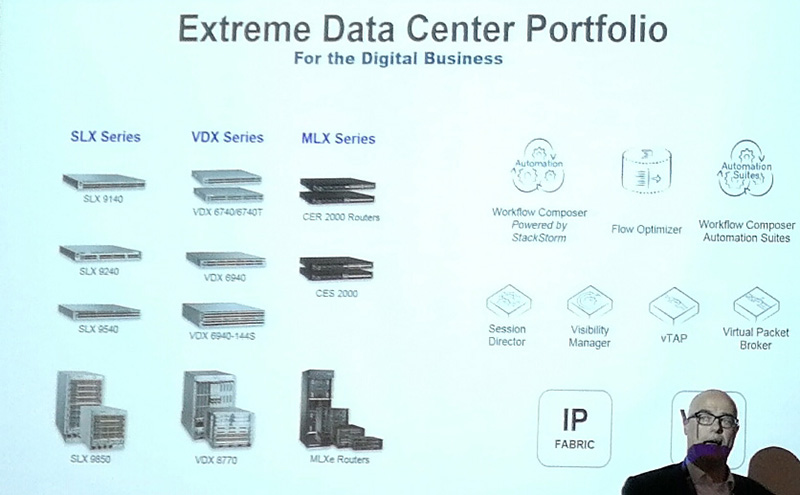 Broadcom's acquisition of Brocade brought competitive concerns, being seen in a poor light by the industry due to aggressive acquisitions.
Controversially at time of writing, Broadcom is also trying to acquire Qualcomm. I can only speculate that Cellular patents and a modem solution are interesting to BRCM. Plus Qualcomm's potential acquisition of NXP Semiconductor (formerly Philips) is going through approval.
Broadcom had established itself as the primary provider of gigabit+ and 10+ gigabit enterprise switching merchant silicon. Gaining access to Brocade's Fibre Channel IP can complement their enterprise networking silicon and benefits from economies of scale.
Companies like Brocade, Cisco and Dell are customers of Broadcom's networking chips, whom Broadcom would want to avoid competing against. The combined efforts of Brocade and Extreme offer a new strong industry competitor.
Broadcom as a fabless semiconductor company has been streamlining its product portfolio over the past few years towards premium chips rather than many chips for many purposes.
It acquired the LSI MegaRAID RAID card portfolio, sold its Ethernet LAN controller line to Qlogic, sold specific wireless chip portfolios, yet kept its core premium networking, switch and Wi-Fi product lines which have market share.
Its high performance and featured software defined networking capable Tomahawk and Trident Ethernet switch chips are the basis of most open networking compatible multi gigabit enterprise switches. Enthusiasts, Power users and Network Architects all want cheaper 10 Gigabit (and soon, Nbase-T speeds in 2.5 and 5, as well as 50 and 100 for Enterprise). A monopoly does not bring down prices, and Extreme as a new large vendor of Gigabit Network would have view.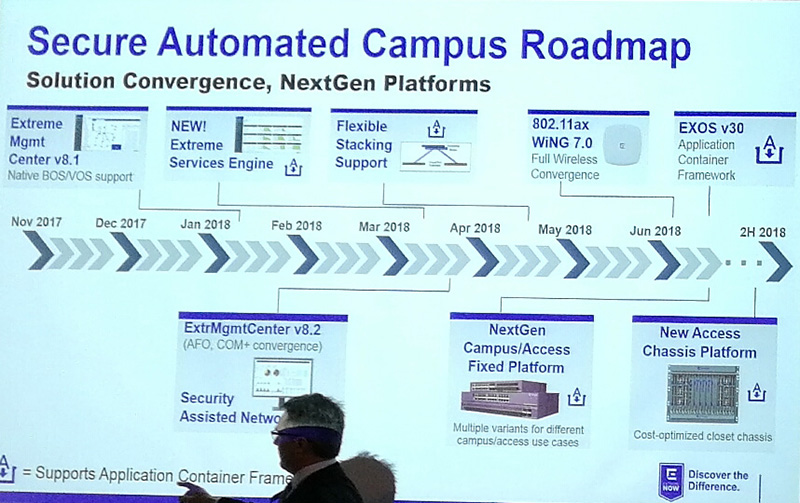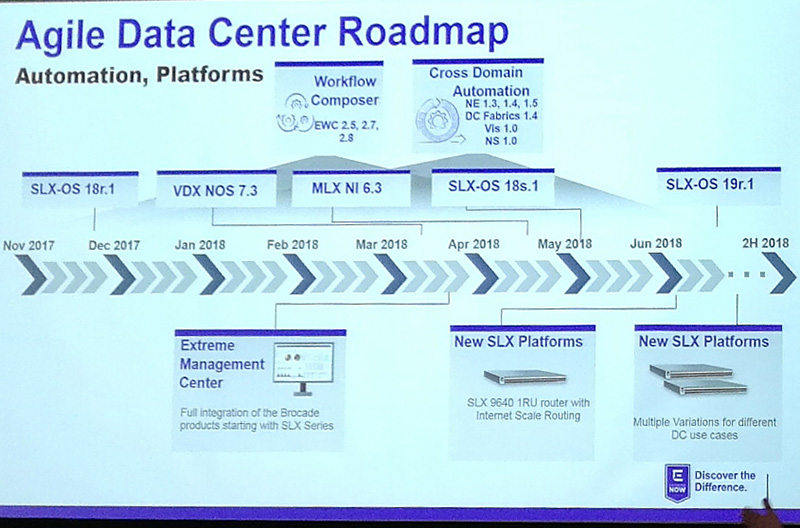 Eric does enlighten us about the status quo and reliance on such commodity chips but does correctly does mention networking uses a variety of commodity chips anyway from firms like Broadcom and Intel and most differentiation is provided by a vendors software set.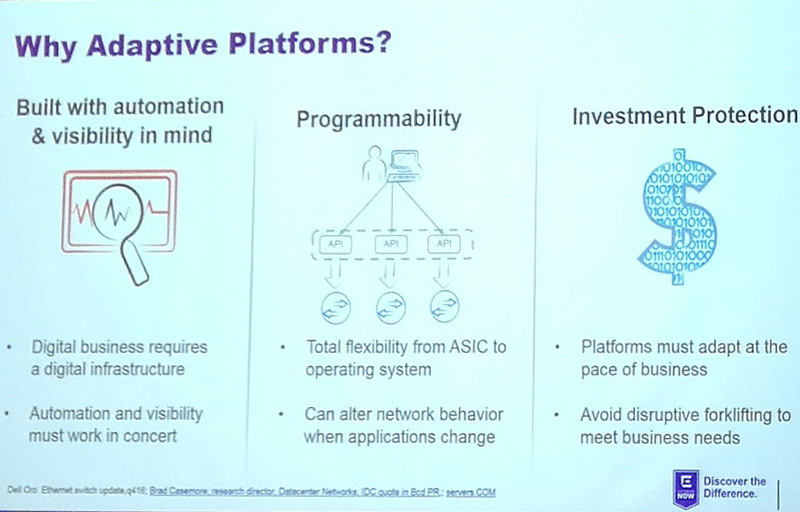 Intel X86 processors are now commonplace in SDN/Open Networking enterprise switches and security appliances as they run what is typically a Linux based operating system. Intel themselves have been trying to get new flavours of x86 into new devices, such as their Atom 'Rangely' processor.
The commodity hardware trend in the cloud and campus networks continues with Edge Computing and IoT. A key enabler is Virtualization, allowing the Intel host processor in the Ethernet switch to run utility tasks such as Wireshark (a popular packet capture and analysis tool) or Splunk (analytics for machine generated big-data, such as what a network would generate) just as virtualization enables the cloud, saving on resources and allowing for new paradigms, such as open source software for mission critical tasks.
We discussed the role of such free software in the modern enterprise network with Eric.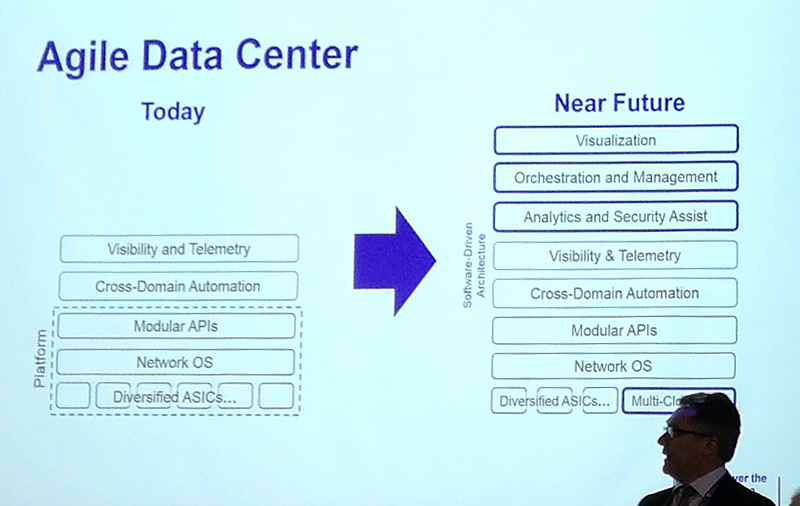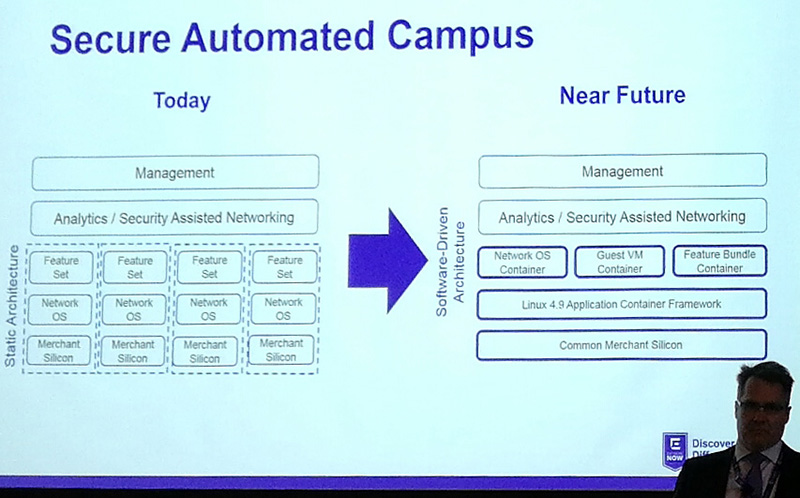 Wi-Fi also gets a go. We have only recently settled on 802.11 AC Wave 2 and MU-MIMO (a technology which enhances communication between multiple wireless users and stations). Pretty much every new device with Wi-Fi supports the now 5 year old AC standard at a base level.
What many would not be aware of is an 'update' to AC is coming, called AX. No, 802.11ad "Wi-Gig" was never meant to be a mass market universal Wi-Fi replacement standard. Its purpose was a high bandwidth cable replacement technology. The 60GHz band meant its range was limited, being intended for wireless docking type scenarios, some even claiming line of sight was marginal and suppliers of enabled products such as Intel have discontinued product.
Ax will be the general Wi-Fi update people expected.
Eric gives us a great overview on why users should care about Ax as well as how it benefits business. For too many years now Wi-Fi has been a race to the bottom as updates generally favoured vendor marketing, with customer satisfaction and needs second. AC 'fixed' speeds, but Wi-Fi has generally remained the same since the G days. Claims of increased range often are valid in certain instances. Hopefully promised improved reliability and density of AX come to fruition for consumers not just the enterprise access points and controllers promoted by big iron vendors such as Extreme Networks.
I personally was very impressed with Eric Broockman's attention to detail and ability to address my points with a wide scope. It is one of the better, more interesting interviews I have conducted with a vendor and I hope it is interesting to you too.