GX700. The very best there is. When you absolutely, positively got to impress everyone in the room, accept no substitutes.
We preview the long awaited GX700 before it goes on sale in March and discuss what went into to designing the machine and who it's meant for with ASUS Australia at their ROG Gaming House in Sydney.
Read on for our initial impressions and thoughts on this $8000 AUD notebook.
Contrary to popular belief, the desktop PC is not an innovator in efficient and innovative thermal cooling solutions, it is quite a poor at this function thanks to a legacy chassis design and is at the bottom of the food chain when it comes to engineering innovation.
Notebooks/laptops and to a degree all in one PCs require attention to their thermal design and engineering simply due to their size and weight. The heat must be extracted from the CPU and if fitted, the GPU while providing optimal weight and size. Cost and power draw are also secondary seconds.
From this, these form factors feature and receive very innovative heat pipe, heat sink and fan designs to optimise air flow and reduce hot zones within the portable PCs. With the exception of some niche notebooks from ODMs such as Clevo which use full power desktop CPUs, mobile CPUs are typically capped at around 60 watts due to thermal constraints. On the other hand, GPUs conforming to the MXM form factor - a plug-in-card standard for notebook graphics chips) to get high top out at around 100 watts typical.
A cooling system consisting of many heat-pipes and large blower fans is typically used to extract heat but this technology has its limits. This is especially true for higher spec laptops which enable overclocking such as those featuring the latest Intel unlocked Skylake 6th gen mobile CPUs and NVIDIA GTX 900 series "Maxwell" GPUs.
This is where the ASUS ROG GX700 comes into the picture, first unveiled at the IFA 2015 tradeshow, this PC wowed the enthusiast and technical press with its boldness and engineering. It is the first liquid cooled laptop produced in mass quantities, but is not the first ever liquid cooled laptop as there have been some prototypes featuring Asetek's liquid cooling solution.
For those unfamiliar with the GX700, it is a 'standard' high performance 17" gaming laptop with built in air cooling. Once plugged into its mated dock, the GX700 switches to liquid cooling which enables the user to overclock the CPU and the GPU should they wish. The NVIDIA GTX980 Desktop GPU switches to a higher performance mode given the improved thermal capacity.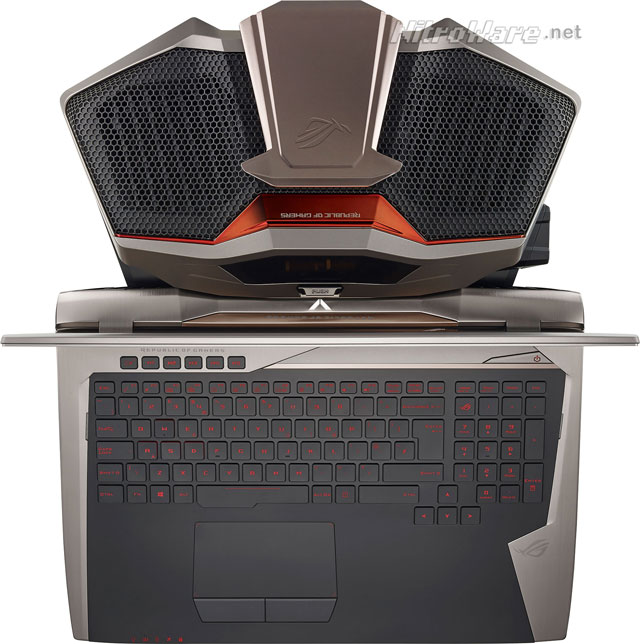 | Type | Spec |
| --- | --- |
| Processor | Intel® Core™ i7-6820HK Processor (Turbo to 3.6GHz, 8MB Cache), overclockable up to 4.0GHz |
| Chipset | Mobile Intel® CM236 |
| Operating system | Windows 10 Home 64bit |
| Memory | 32GB DDR4 2400, overclockable up to 2800MHz, upgradable to 64GB |
| Display | 17.3in anti-glare LED-backlit Full HD (1920 x 1080) IPS display with NVIDIA G-SYNC |
| Graphics card | NVIDIA® GeForce® GTX 980 with 8GB GDDR5 VRAM |
| Storage | Two M.2 PCIe® x4 NVMe 256GB in RAID-0 |
| Camera | Built-in HD camera and array microphone |
| Networking | 802.11ac, Bluetooth 4.0 |
| Connectivity | 2x USB 3.1, 3x USB 3.0, 1x RJ45 LAN, 1x mini Display port, 1x HDMI, 1x Thunderbolt port with USB Type C, Card Reader |
| Keyboard | Ergonomically-angled Keyboard, 19mm Full-sized Illuminated Chiclet Keyboard, Marked WASD keys 30-Key Rollover Design |
| Docking | ROG Hydro Overclocking System |
| Power requirements | Notebook only – 180W. Notebook with ROG Hydro Overclocking System – 330W |
| Size | 429(W) x 309(D) x 33 ~ 35 (H) mm |
| Weight | 3.6kg (with an 8-cell battery). 4.8kg (The docking - ROG Hydro Overclocking System) |
The GX700 is one of few gaming laptops on the market engineered and certified to take Intel's unlocked Skylake 6th gen mobile processors as well as the full fat, full performance desktop edition of the GTX980. What we mean by Desktop edition is the actual GPU chip itself is the full 2048 core GM204 based GTX980 part, not that the entire desktop GTX980 card is in the laptop. The GPU is clocked at 1190 MHz which is reasonable for the part.
The user can tweak the clock speed and fans for the laptop in both docked and undocked mode using ASUS's own software.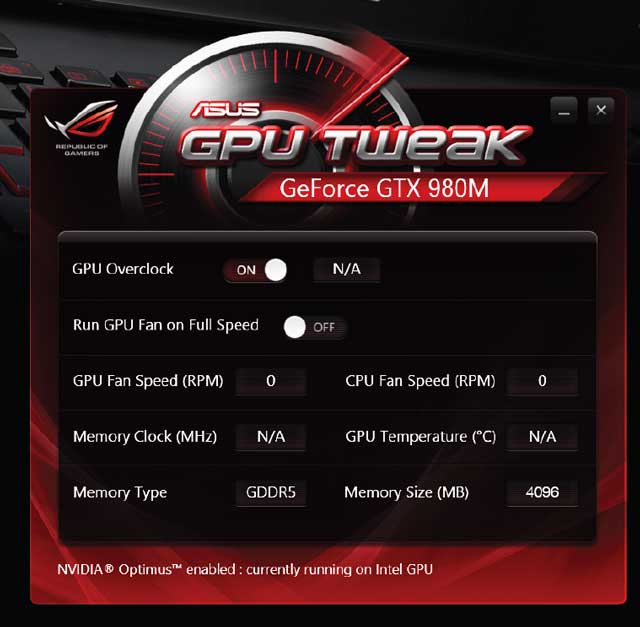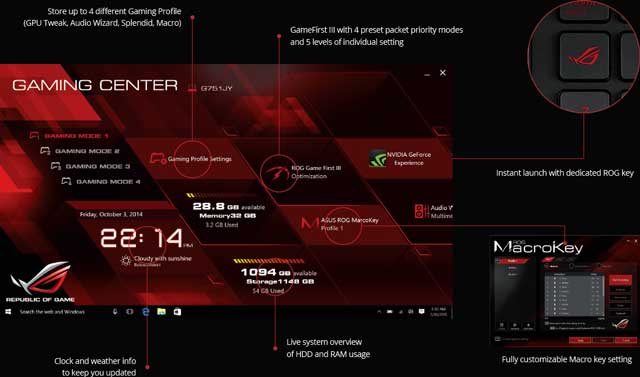 Several unique features are worth mentioning. The GX700 uses ASUS ROG's 2015/2016 Silver and Copper livery which replaces ye olde black and red. The understand is bevelled with 'circuit traces' like ASUS ROG's current gaming monitors, as if the device is a borg cube.
Connectivity wise there are two USB Type-C connectors on the laptop, with one supporting Intel Thunderbolt 3. The second USB Type-C port support standard USB 3.1 Connectivity without support for Thunderbolt 3. Otherwise the standard set of IO is present, including an Ethernet jack.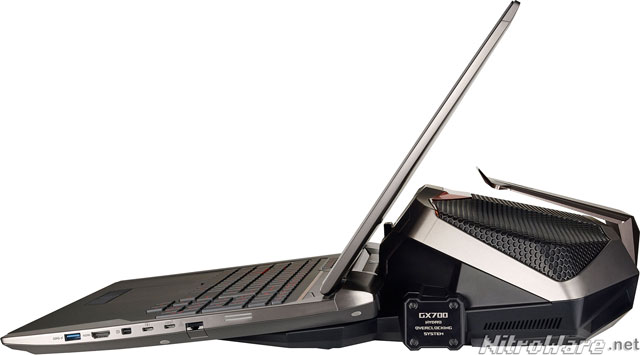 The notebook can be docked and ejected without shutting down using an electro-mechanical process. A lever and a satisfying beep accompany the docking process.
The dock itself uses two radiators each flanking each side of the dock plus a pump that resembles the one fitted to AMD's Fury X Graphics card. Perhaps Coolermaster is the supplier of the liquid cooling system? If the worst comes to worst, after the disappointing but typical for ASUS standard one year warranty runs out, enterprising enthusiasts may be able to repair or upgrade the liquid cooling system in the dock as it uses off the shelf parts as featured in mass market liquid cooling systems marketed to the enthusiast market.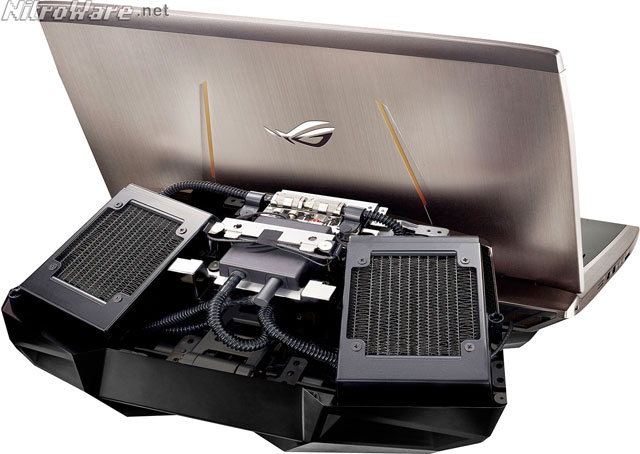 The six hose pipes carrying the cooling fluid in the dock comprise three pairs of hot/cold pipes. One pair each for each Radiator with the third pair going into the laptop. We suspect these are connected in a daisy chain fashion rather than one radiator each dedicated for the CPU/GPU or halves of the laptop.
Who is this laptop meant for given its price is $7999 AUD retail? Those who want a true portable gaming machine yet do not want to sacrifice performance and overclocking potential of a desktop. It can deliver this experience, however enthusiasts will find better value with gaming laptops in the $A4-6000 Range (including tax) such as ASUS's own G752 or competitor products such as the Acer predator, MSI GT72 Dominator G. For this money you get a simular Skylake quad core CPU in some cases also an unlocked one plus a GTX980M and a 1080p screen. Spring for the higher price points such as $5K plus and you can get the very same GTX980 desktop edition in a gaming laptop.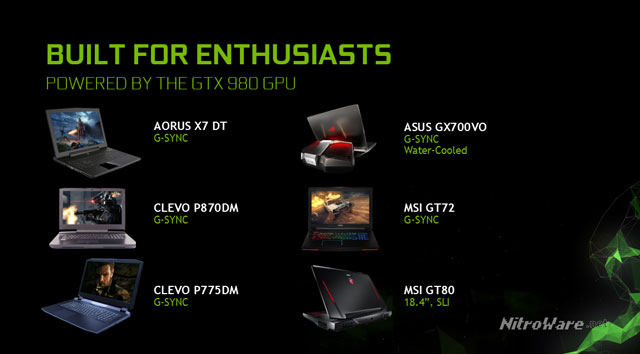 There are faster machines out there, for example MSI'S GT80 TITAN incorporates an 18" screen, TWO GTX980 Desktop GPUs in SLI and a SteelSeries full sized mechanical keyboard. In its form factor. It is not as portable as the base GX700 unit which weighs and is as large as a traditional 17" gaming laptop.
There are a couple of points of contention with the GX700 though. The sample we previewed in February was fitted with a 4K screen for demo purposes. While for A$8K one would expect a fancy screen, and indeed many cheaper laptops do have a 4K screen we need to consider the purpose of this machine. It is a gaming laptop. While the GTX980 Desktop edition GPU for notebooks (A mouthful, why couldn't you have just called it GTX980MX NVIDIA…)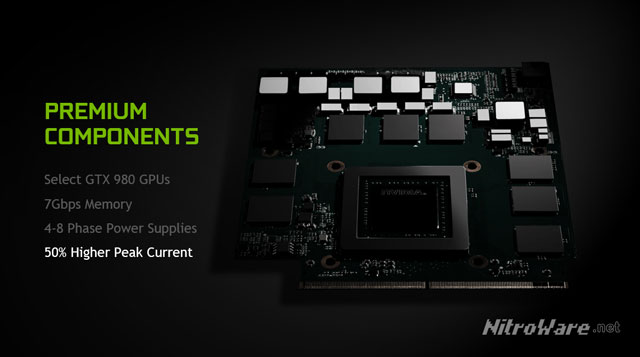 A single GTX980 cannot drive games at 4K at Ultra details at adequate details but at 1080p it can with high framerates plus support VR. Fitting a LCD screen with a better resolution is difficult at 17.3" as this size has not received the more modern resolutions we have seen with smaller screens - we have not seen a 1440p laptop LCD panel at 17". There are laptops with 2K and 3K resolution screens at lower sizes such as 12.5" through to 15", plus the ubiquitous mobile phone and tablet screens. 1440p would be a good middle ground comprise given the price of this device.
To clarify the sample spec situation, a spokesperson for ASUS advised us: "The GX700 that you previewed was a sample model and intended to give media a sneak peek at the design and specs. The GX700 is available with a FHD/1080p screen. Although it is not a 4K screen it does HDMI 4K2K output."
I need to address the elephant in the room though. High end gaming oriented laptops are not for everyone, especially if they support overclocking and we earlier mentioned especially with this liquid cooling solution.
The general consensus with industry commentators is ASUStek is a company who produces solutions to problems with don't exist. On a yearly basis they produce wonderfully niche lifestyle oriented computing devices which address some need that is not quite apparent in the market. They did it with the Zenbook Tai Chi, an Ultra-portable notebook with dual LCD screens as well as the ASUS Padfone, a feature packed android phone which was able to be docked into a larger tablet and finally the Transformer 3 in 1 which combined a convertible Intel PC as well as an Android operating system.
To a degree, the original Transformer book TF700 also comes under this category. The device was supposed to be a bridge between a traditional android tablet and a fully featured notebook but at least this device along with the Padfone lasted more than one generation.
The other devices mentioned above were not updated past their initial product cycles. While these devices are not gaming specific, the ROG line up is not immune.
In 2012, at Computex we recall, ASUS launched their flagship ROG gaming notebook touting a relationship with Broadcom to bring high end (3 stream) AC Wireless 'first' to their gaming notebook. Given the newishness of AC, released earlier that year this was warmly welcomed but when the advertised laptop shipped, in most regions it shipped with the cheapest Wi-Fi card available on the market, a single stream Wi-Fi n solution. A spokesperson with ASUS ROG in Taiwan told me at the time that I was 'only the third person to ask him about AC' and that 'gamers use a wire, not wireless'.
Thus far, it took a few more product cycles to get AC as standard on the ROG line and to this day to the best of our knowledge they are still not available with Wi-Fi in the premium 3x3:3 configuration, which is standard on Apple's MacBook Pro.
Extending this anecdote, the GX700 fits here, where ASUS have made a product to address a demand that doesn't exist, enthusiasts with disposable income who want the most bonkers, bat shit crazy laptop to show off to their friends and family, with focus on mainly the liquid cooling feature.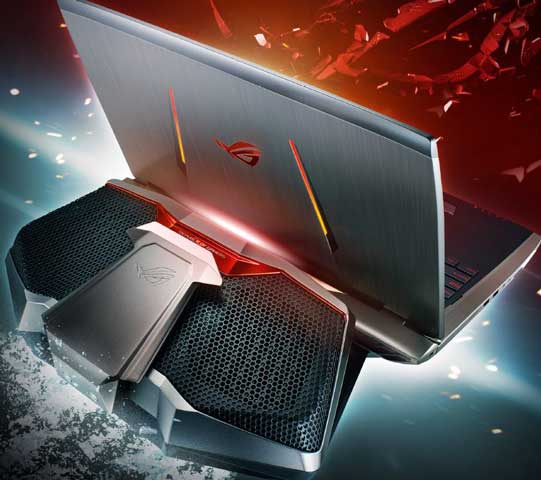 ASUS could have made a technically faster machine with dual graphics, a higher resolution screen, fitted with the best SSDs, Wi-Fi and Audio available on the market (all of which ASUS has in house and shipping in various products) but they chose to go in a particular direction, which is more a marketable halo approach to impress the media, industry and retailers.
Many vendors have told us "speeds and feeds" [technical specs] are no longer relevant or interesting to their efforts or customers and that's the case here unfortunately. The main thing with the GX700 is its eye catching cooling unit and design
If I was to compare the GX700 to a car, it would have to be the Bugatti Veyron. It is unique, up there in price, heavy in weight for its type, over engineered, luxurious and the fastest only in certain scenarios. It is also a statement, just as the GX700 is.
I absolutely applaud ASUS's engineering team for pulling off this design in a usable manner. The aesthetic, functional and technical design of the GX700 is absolutely remarkable and represents ASUS's engineers long standing commitment to and history of good design but the reality is and history has shown us that ASUS often doesn't stick with their products for whatever reason is applicable on the day, being marketing, sales or technical.
Never the less, we bring you this preview as many of you were quite interested in this device when it was announced at IFA 2015 even if you will not or cannot buy it.
We have indicated our interest to ASUS to conduct a full review of the GX700 and technical analysis but this is to be advised.