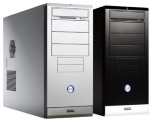 Choosing a Computer case is near impossible these days due to the multitude of brands, shapes, styles, finishes and colours available. The high end of the market is covered with very good enthusiast or niche cases but what about the bottom of the spectrum? Can a half decent case that works properly be found at an affordable price? We think we found one, Read on to find out more.
The Gigabyte GZ-X1 Mid Tower ATX Computer Case ticks most of the boxes and is a safe yet affordable choice for System Builders or DIY'ers on a budget.

Background
Some say the motherboard or the power supply is the most important part of a computer. We can make a statement against this stereotype by saying the case (or more correctly, called the chassis) of a computer is the most important component.
It is the skeleton or backbone of the computer. It holds all the components securely or properly in place (or not in some instances !), It regulates noise, thermals and cooling and vibration generated by the operating components inside it. It determines usability of the computer in terms of how the user will turn on and off the PC and plug peripherals in. When a user wants to move the PC chassis, its build quality and strength will show when the chassis is moved. If a component needs to be replaced or additional parts installed, the chassis build quality, engineering and design will make this a easy or annoying task.
A building, automobile or piece of industrial equipment is useless or even scrap metal without a good chassis or foundations. The same can be said for a computer.
PC chassis can be classified into three broad categories.
OEM cases such as the ones used by DELL, HP and Apple
Generic value cases such as falling below the A$100/US$100 mark
Enthusiast and Niche PC cases/chassis Such as Antec Darkfleet or Cooler-Master HAF. These chassis are really high end, fancy and advanced chassis designed for computing enthusiasts who wish to have full control over cooling, upgradeability and style of their PC chassis. Other niche cases include point of sales systems , small form factor or industrial cases.
The chassis we are previewing in this article falls into the generic value chassis category. This offering is an attempt from world top three PC main board and peripheral manufacturer Gigabyte to produce a low cost but above average PC chassis, breaking the stigma that all cheap cases/chassis are cheap and nasty.
A Computer case should be sturdy, well designed and built, provide adequate cooling ,acoustic and thermal management, allow easy access to the computer components for upgrades or repairs and have such an aesthetic that it does not appear to be a piece of industrial or lab equipment. This preview will highlight how this case meets these aspects.
This preview is our first impression of this Computer Case. NitroWare.net publishes previews or first impressions for products we were only able to evaluate for a short period of time and in a limited fashion. Therefore our subjective feedback and opinion is presented in this article with limited specifications, photos or videos.
Test Equipment
| | |
| --- | --- |
| Case/Chassis | Gigabyte GZ-X1 Mid Tower ATX case |
| Power Supply | Gigabyte GE-C420A-C2 ATX power supply 420W |
| CPU | Intel Core i5-2300 |
| Motherboard | Gigabyte H67MA-D2H |
| RAM | Corsair Value Select DDR3 |
| Hard Disk | Samsung Spinpoint F3 1TB |
| Optical Drive | Sony-Optiarc SATA DVDRW |
Packaging and Bundle
The case is supplied in a brown box which has full illustrations of the product and basic specifications. This allows the end user to know they are purchasing the correct product and to see the vital specifics of the case.
Other generic cases are shipped in a nondescript blank box with only country of origin and weight specified.
The case itself is covered in a foam bag within the shipping carton rather than a plastic bag to protect the case and its paint finish during shipping and transportation. Handles are cut into the carton for easy transportation and handling
Packaging was reasonably done and it was slightly difficult to get the case out of the shipping carton than other generic cases.
The case comes with the following bundle
An installation poster describing installation of components into the chassis as well as pin outs for the front port connections. http://download.gigabyte.asia/FileList/Manual/chassis_manual_gz-x_en.pdf
The digital copy of the manually accurately portrays the design of the case apart from the optional drive locks
What seemed to be more than enough screws to complete the installation with several disk drives installed. Some generic cases short-change on the screws however this case definitely had more.
Enough standoffs for all of the screw holes of a typical large motherboard. Some generic cases supply a minimum number EG six which requires some creativity to determine where the standoffs will be installed to safely install the motherboard
A single piece of double sided tape and a single cable tie - explained later
Localised AC power cord of typical length and build
Design and Build Quality
Styling
Gigabyte have tried to put some effort into an otherwise low cost/value case.
On the X1 specifically (other models have different styling) has clean lines and contemporary styling. It does not have any outrageous 'PC hardcore gamer' styling or unsightly ridges, lines or grilles. The bezel looks elegant and contemporary.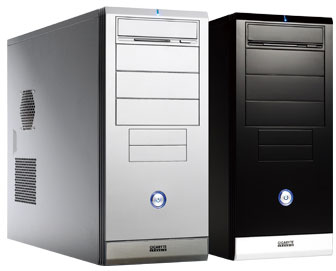 They provided a Optical drive cover that actually look OK for once and works properly.
The power button is metal, large, round and centre-lit blue power indicator that illuminates a standby icon as if the button belongs on a piece of expensive consumer electronics or hi -fi equipment.
Typically, OEM or premium chassis use a heavy duty or spring loaded switch to function the power switch in a chassis. On this case after pressing the push button a few times that it used a typical simple push button switch as other chassis at the price point use. These cheaper switches tend to break, the wires fall off and do not provide for a solid, tactile feel.
The metal power button would have been completed by a real switch quite nicely and ensured the push button on the case continue to work for many years.
The Hard disk activity LED is nondescriptly located at the top edge of the chassis bezel. Both LED indicators are not excessively bright or project light and are pleasing to put up with for day to day computing.
There is no reset button on the case, but this is typical of modern systems and reset is really a relic of the old days where the power switch on the front of a PC carried live AC mains power.
Chassis
The chassis is made from 0.6 mm SECC (sheet metal) nothing new here. Typically this type of metal can easily be bent or deformed by pressure by hand. Additionally, lifting such pc chassis incorrectly can deform the case.
To put things simply, cheap PC cases are flimsy, not sturdy nor very rigid.
Gigabyte have tried to alleviate this by stamping and extruding parts of the case to provide some rigidity to the walls. Some manufacturers do this, some do not. There was minimal unreinforced pieces of sheet metal inside the case that could be bent unintentionally or during assembly/maintenance of the computer
As a result of the stamping/extrusion there isn't a flat location on the back of the case to attach the Microsoft Windows COA (certificate of authenticity) licensing sticker and it must be stuck over an extruded part. The System builder should ensure the sticker is attached firmly.
The chassis is assembled using the typical one sided rivet method. These rivets are frequently never rounded off on the inside of a generic PC chassis causing the following issues. The rivet tends to pop out, The rivet may block installation of a card, the loose rivet may decrease rigidity and increase vibration in the case
On the unit we evaluated, none of the rivets were finished off and rounded and one rivet was half-popped out of the rear wall of the chassis which was unsightly and with continuous use, especially with temperature changes and vibration from the computer system may work this rivet loose.
The case has higher feet than other budget cases. This improves airflow, reduces vibration and makes the chassis sit more stability on a surface.
Labelling and Certification
Certification stickers are located on the bottom of the case. One would be lucky to find ANY genuine information regarding origin, and legal certification on a generic PC chassis.
A small bracket is installed to assist with installation of the power supply and to support its weight. Not all generic cases have this simple feature.
Guides are stamped into the base for the motherboard to indicate which screw holes should be used for particular sized motherboards. We did not find any slack screw holes when installing the standoffs into these screw holes [that are used to attach the motherboard to the chassis]
We have experienced slack screws[standoffs] at times when assembling systems with brand new generic cases right out of the box.
The case lids attached and detached from the case securely and fitted well. Thumbscrews are fitted to both case lids. Thank you Gigabyte.
The front ports (covered later under expansion) are covered with a sturdy spring loaded door €which is very unusual for this product. Usually port door covers are very very flimsy. The door is branded Gigabyte
Interestingly, the front door is coloured differently to the rest of the case to signify it is a door covering the user accessible ports. We have come across cases where the ports have been hidden or the door cover is stealth with the rest of the case
Cable Management
Cable management is both a design issue, quality issue and cooling issue. However we will cover it in this section.
The case is advertised as having cable management on gigabytes website
Point 7 :
"Cable-managed Interior Interior cabling all clamped and managed to allow tidy looks and internal airflow. "
http://www.gigabyte.com/products/product-page.aspx?pid=2360#kf
The case we purchased did NOT have cable management of any kind except for a single square of doubled sided tape with a loop for a cable tie, and a single cable tie provided.
The photo shows at least three cable clips (not cable ties) attached to the base of the chassis. This sort of cable management arrangement is what OEM vendors supply with their chassis.
When we first opened the case, a 'rats nest' of cables dropped from the cavernous interior, which required separation and determination of where best to use the ONE supplied piece of double sided tape and cable tie
We would have very pleased from a system builder point of view and a review/evaluation point of view if the illustrated feature was supplied !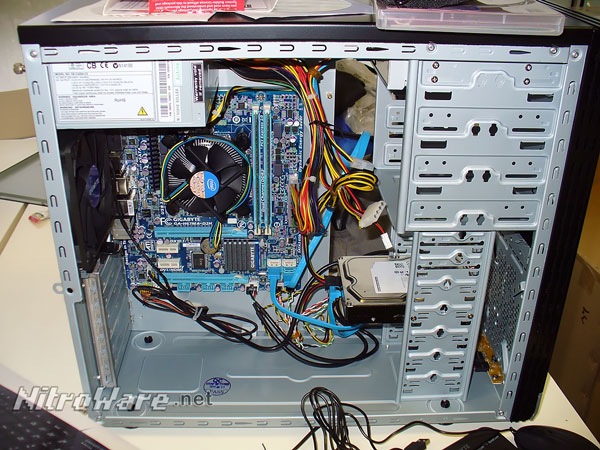 Sorry gigabyte, this is not acceptable in 2011. One cable tie and clip? Really?
I would have even accepted cable management clips stamped out of the sheet metal of the drive bays or motherboard base
Cooling and Acoustics
Cooling has been taken into consideration for the design of this case.
The chassis ships with a rear exhaust fan, branded GIGABYTE as standard. However unlike other cases the fan is a 3pin fan with an optional 2pin plug. Other cases provide a fan that connects to drive power which is a cheaper, less functional and elegant solution as not only can the computer not monitor the speed of the fan but it makes wiring a bit more messy
With the Gigabyte H67 motherboard we used to test the chassis we recorded 900RPM for the rear fan during PC start-up which is quite low, ensuring quiet computing. The fan was connected to the appropriate socket on the test motherboard.
Provision is made for a front mounted intake fan of different sizes and there is just enough clearance between the hard disk rack and the front fan fixture. Thee is no front intake for the fan. Air is drawn from the bottom of the case. this is both practical and helps eliminate dust build up but cannot move as much air as a traditional horizontal intake. It also provides for a clean aesthetic, where a fan intake (and its dust accumulation) looks industrial, nasty and dust build-up may be an annoyance to some users who experience allergies. As this chassis has a very high clearance, the front intake can work more efficiently than other chassis who have minimal clearance for the bottom air intake.

We can assure that the combination of this chassis, bundled power supply and a gigabyte H67 motherboard and its accompanying 'Sandy Bridge' i5 CPU provides a quiet computing experience. Even when we loaded up the test system with heavy duty applications such as applying system patches or running the popular Cinebench and 3DMark/PC Mark vantage tests fan spin up was minimal to non existent which was pleasing as we are used to older systems and chassis which spin up their fans both the CPU and chassis as well has transmission of vibration
For general cooling the chassis is fitted with slotted vents on the perimeter which Giga-Byte claims improve cooling characteristics. In a logical sense, the upper vents may facilitate the escape of rising hot air but without a full scientific test we cannot determine wether these are of any benefit
The case lid is fitted with the usual plastic 'Intel cooling guide' pipe designed to feed clean cool external air to the CPU which in our experience, can be a nuisance as it disturbs the function of the rear exhaust or it can even not line up correctly to the CPU itself. As Gigabyte frequently redesign their motherboards even their own boards may not align to their own cases. We have seen and used other generic cases which have adjustable vents.
Expansion and Connectivity
Add-In Cards
Expansion cards in the chassis are supported by a fixed tool less latching mechanism. Unlike other cheap cases which have attempted to use a level or single piece bracket which is detachable, this latch is fixed to the case,preventing it from being damaged or lost during maintenance of the system. The only drawback we see of this system is all expansion cards are unlocked or locked together, which may not be desired if only one card is going to be added or removed.
Disk Drives
Disk Drives are installed in this case in the typical style, front to back. As mentioned earlier there seems to be sufficient clearance for a front fan.
A gripe we had was that the chassis was designed to support tool-less locks for the disk drives however on the unit we purchased in Australia these were not supplied.
Gigabyte's website specifies these locks are optional, however other web-reviews of this family of chassis we have seen were supplied with these locks.
http://www.gigabyte.com/products/product-page.aspx?pid=2360#kf
Not supplying these parts is just penny-pinching to adjust the price for certain regions. We cannot see a reason not to supply this feature with each and every example of this family of chassis gigabyte sells that is designed to support the tool less drive locks.
Front Ports
The typical two front USB ports and two audio ports are fitted to the front of the case at the bottom of the bezel, covered by a spring loaded colour coded door.
The USB ports are not spaced widely apart which we would have liked to see, but this is not that critical
The following peripherals were tested with the front USB ports and all operated correctly.
WD Passport Hard Disk (120GB)
Corsair Flash Voyager flash drive
SanDisk Cruzer Blade flash drive
Gigabyte brand USB mouse
The particular WD passport drive we use is very sensitive to poor quality USB front ports, which is why we use it to test.
We tested the audio ports using a pair of current Sony entry level earphones and the distortion and EMI interference was no different to any other generic case we tested. Thankfully Gigabyte have correctly implemented the 'HD audio' function for the front ports and plugging of headphones and microphones correctly switches the audio system in the computer to the correct mode.
The plug connecting the cable leading to the HD audio ports is colour coded yellow and therefore should not be mistaken by the system builder for the legacy 'AC97' audio connector which is coloured black and is a pigtail off the main audio plug.
See our article series for further explanation about front audio ports.
A front firewire port is a factory option and not installed in the case. However as previously indicated cases reviewed in other regions had the port fitted.We would have liked to see the port fitted. A reason why some users don't use their firewire port is that they may not have a front port and not aware the port is in the back or cannot access the back port.
Some reseller and system builders prefer not to have this port in a case as it might confuse the end user if the computer does not actually have firewire but has a port for it.
The printed circuit board containing the USB and audio ports is a typical brown PCB with not much emphasis on reinforcement of the aforementioned ports which are susceptible to stresses of the user constantly plugging devices.
Look for our upcoming article discussing USB ports and how they work and why they break.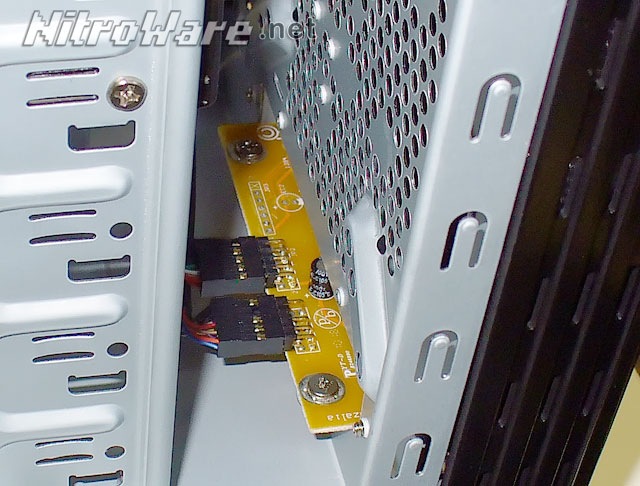 Power Supply
The case is available with and without a power supply. We elected with a power supply with the bundled unit being a Gigabyte branded supply of 420W peak power for 220/240VAC regions only. A single PCI express power plug is present as well as three SATA power plugs on two separate wires, which is more than the usual one or two on other generic power supplies.
The power supply started and shutdown our Intel Core i5-2300 test system correctly as well as operated under full load correctly with popular benchmarks.
We suspect the power supply was supplied from FSP as it featues FSP's infamous 'active PFC with noise killer' stickers in a serif typeface which has adored FSPs power supplies over the years.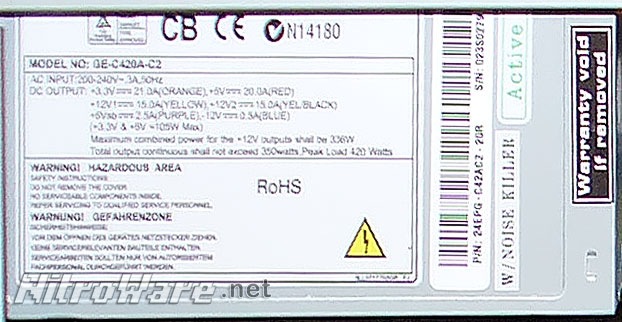 Gigabyte should know better than to sell a power supply with peak power mentioned as the primary specification, but this is for a value/entry segment PSU so for this particular segment only this can be excused for now.
The supplied power supply has been localised also. If a user decides to take their PC overseas to a 110V country they will need a new power supply. Auto ranging power supplies are more expensive to design and manufacture.
The PSU is labelled as follows, however labelling of wattages are vendor specific and can not be compared with other make or models.
| | |
| --- | --- |
| +3.3V | 21 A |
| +5V | 20 A |
| +12V1 | 15 A |
| +12V2 | 15 A |
| -12V | 0.5 A |
| +5VSB | 2.5 A |
| +3.3 and 5V combined wattage max | 105W |
| Continuous power | 350W |
| Peak power | 420W |
| Input Voltage | 200-240VAC 50Hz |
| Power Factor Correction | Active PFC |
Enthusiasts using the case for a gaming or graphics system will want to use a different PSU more suitable for heavy duty purpose and capable of supporting large graphic cards. The bundled power supply is a basic unit, suitable for light duty computing.
Support and Warranty
There isn't much to say about support for this product other than a user has the availably of gigabytes usual means of tech support available on their website,email, forums, telephone in different languages which is significantly better than lack of any support for a completely generic no name PC case.
The unit we purchased is covered by a 1YR warranty from the distributor. A small number of competing brands such as 'Ay-wun (A-1) brand offer two years.
Price and Availability
Gigabyte manufacture a line of almost identical cases and sell these cases with different bezels to differentiate them being GZ-X1 to X9. We reviewed the X1, although the rest of the series varies only in the layout and design of the front bezel and cooling intake. These are minor styling changes.
The unit we evaluated was purchased in Australia from a major distributor of Gigabyte products.
Worldwide pricing at the time his article is published are as follows. Sources used include Newegg, Tiger direct, Newegg Canada, NCIX, Scan UK, Static ice, Google.
Europe: From GBP 40 excluding a power supply.
Australia: From A$50 excluding a power supply. From A$70 including a Gigabyte branded 420W peak power basic power supply.
North America: From US$40 excluding a power supply.
Verdict
A well-rounded chassis with hints of good engineering thrown in that are lacking from some other value chassis.
Above average accessories and documentation kit.
Acceptable clean and professional styling. Good out of the box cooling however the X1 specifically features a bottom facing intake rather than a front mounted intake and grill, the above average if not excessive bottom clearance of the case(very large feet) ensures the bottom of the case is ventilated, stable and tries to reduce vibration.
Average expansion capabilities for the class. Above average audio and USB connectivity for the class.
Very good product packaging with a protective white bag for the case not just a plastic bag, full specifications, artwork on the product carton and carry handles cut into the box.
Pity the marketing department got to this case first and removed accessories such as tool less locks and front fire wire to lessen the cost that should otherwise not affected the price greatly. For this reason perspective purchasers should not rely on the slightly misleading specifications on the gigabyte website regarding this product.
The real litmus test of a product is how it performs for real world use, not for an enthusiast, and day to day long term operation. We do not just test how fast, quiet, efficient or cool something is, we use it in the way the product was intended and in some instances see how end-users like particular hardware or software. We test and use the products we test in the real world with real users and in most cases our evaluations decide what components we will sell and support in PCs we build and sell to our readers.
Strongly recommended for consumer and office builds. 'Hardcore Enthusiasts' would want something else.
Where a mid tower is not required and is too large for a particular computer build, Gigabyte offer the same feature set in a micro ATX form factor that is able to support full sized micro motherboards and large graphics cards.
Gigabyte cases in general are not that well known and even then enthusiasts or resellers may have only heard of Gigabytes earlier enthusiast oriented products
This chassis is cheap and cheerful. Like a Ford Focus its dependable, built and designed reasonably well, has a good feature set and is a bar above its competition being the $50 generic case.
The Gigabyte GZ-X1 Mid Tower ATX Computer Case ticks most of the boxes and is a safe yet affordable choice for System Builders or DIYers on a budget.
Specifications
Model no.
GZ-X1
Dimensions ( W x H x D )
185 x 410 x 480 mm
Material
ABS / 0.6 mm SECC
Color (s)
Silver / Black
Side panel (s)
CAG1.1 Air Duct
Drive bays
5.25" x 4, 3.5" x 2+5 (internal)
Expansion slots
7
Form factor
ATX / Micro ATX
I / O ports
USB x 2 / IEEE1394 (Optional) / 1 x Audio Set (AC'97/HD)
Fans
Front : 120mm silent fan x1 (Optional)
Rear: 120mm silent fan x1 (Optional)
Weight
5.2 kg / 11.5 Ib
Source: Gigabyte.com
Further Reading
http://www.gigabyte.com/products/product-page.aspx?pid=2360
http://www.expertreviews.co.uk/general/113359/gigabyte-gz-x1
http://www.nitroware.net/index.php/editorials/67-articles/159-fix-broken-front-audio-ports.html