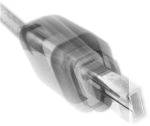 The specified power output of ATX Power Supplies can vary between particular makes and models. 
A 300 Watt PSU from Vendor A may not have the same output as a same unit from Vendor B.
To make choosing a power supply for a particular installation easier, This article provides a quick reference of the labeled currents of many popular and common ATX Power Supplies.
 
 
AMPS (A)
 
Vendor
Model / Link
3.3
5
12
-5
-12
+5VSB
Notes
Tervan Pty Ltd
( DEER ) 250 ATX 2.02
14.00
18.00
9.00
0.5
0.5
0.75
Model A
Tervan Pty Ltd
( DEER ) 250 ATX 2.02
14.00
18.00
9.00
0.5
0.5
0.75
Model B
Shinil
200 ATX
14.00
20.00
6.00
0.5
0.3
0.10
 
Raidmax
LP-6100C 300W
14.00
20.00
12.00
0.3
0.5
2.00
 
Component Pro
( Aopen ) ATX250-T
14.00
25.00
8.00
0.7
0.7
0.80
 
Tervan Pty Ltd
DEER 300W
16.00
22.00
11.00
0.5
0.5
0.75
 
Enermax
EG275AX-VE
22.00
22.00
11.00
 
0.8
2.50
 
Shaw
450W PFC 350XA
25.00
25.00
15.00
0.5
0.8
2.00

Carton: Codegen group
Website: Not listed

Raidmax
LP-6100D 400W
26.00
30.00
25.00
0.3
0.8
2.00
 
Reference
ATX12V 1.3 Recommendation
27.00
26.00
18.00
-
0.8
2.00
 
Enermax
EG325AX-VE
28.00
28.00
12.00
 
0.8
2.50
 
Reference
300W ATX12 v1.1 Recommentation
28.00
30.00
15.00
0.3
0.8
2.00
 
Reference
QDI ATX 2.03 Recommendation
28.00
30.00
15.00
0.3
0.8
2.00
 
Zalman
ZM300B-APS
28.00
30.00
18.00
0.3
0.8
2.00
 
ASUS
Atlas A-30 300W
28.00
30.00
18.00
0.5
0.8
2.00
ASUSWORLD Magazine
Issue 24 Jun 04
SeaSonic
Super Tornado 350W
28.00
30.00
19.00
-
0.8
2.00
 
SeaSonic
Super Silencer 460W
28.00
30.00
25.00
0.3
0.8
2.00
520W peak
OCZ
OCZ 420-ADJ 428W PowerStream
28.00
30.00
30.00
0.5
0.5
2.00
 
OCZ
OCZ-470-ADJ 478W PowerStream
28.00
34.00
33.00
0.5
0.5
2.00
 
Antec
SmartPower SL350 PFC
28.00
35.00
16.00
0.5
0.8
2.00
 
ASUS
Atlas A-36 360W
28.00
35.00
18.00
0.5
0.8
2.00
ASUSWORLD Magazine
Issue 24 Jun 04
ANTEC
SL400
28.00
38.00
18.00
0.5
0.8
2.00
 
Zalman
ZM400B-APS
28.00
40.00
18.00
0.3
0.8
2.00
 
OCZ
OCZ-520-ADJ 528W PowerStream
28.00
40.00
33.00
0.5
0.5
2.00
 
Ablecom
450W (Dual Opteron)
30.00
26.00
30.00
0.5
1.0
2.00
 
ASUS
Atlas A-40 400W
30.00
28.00
14.00
 
0.8
2.00
ASUSWORLD Magazine
Issue 24 Jun 04
Dual 12V lines, 14A+15A
ASUS
Pheobus 46GB (P-46GB)
30.00
30.00
14.00
 
0.5
2.00
ASUSWORLD Magazine
Issue 24 Jun 04
Dual 12V lines, 14A+15A
Enermax
EG375AX-VE
30.00
32.00
14.00
 
0.8
2.50
 
SlientX
350 <14 dBA PFC
30.00
36.00
16.00
 
 
 
 
ThermalTake
PurePower TWV480
30.00
40.00
18.00
0.3
0.8
2.00

Integrated Watt meter

Raidmax
LP-6100E 500W
30.00
50.00
25.00
0.3
0.8
2.00
 
Enermax
EG365AX-V
32.00
32.00
26.00
1.0
1.0
 
 
Enermax
EG425AX-VE
32.00
36.00
15.00
 
0.8
2.50
 
Antec
TruePower 550
32.00
40.00
24.00
0.5
1.0
2.00
PFC
Enermax
EG475AX-VE
34.00
40.00
33.00
 
1.0
2.50
 
Enermax
EG701AX-VE 600
36.00
45.00
18.00
 
0.8
2.50