Consumer Networking Products with Gigabit switching capability still not as common as we hoped for...
Our report on new ADSL and Networking developments from D-Link.
D-Link is a regular exhibitor at CeBIT as they have quite a large market presence in Australia as well as partnerships with large Internet Service Providers and retail stores.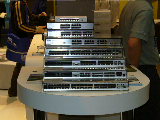 D-Links's line-up of Ethernet switches.
With ADSL2+ broadband services increasing in popularity and availability in Australia due to rapid expansion of services, NitroWare.net discussed ADSL2+ strategy with D-Link and investigated innovation and availability of networking products with Gigabit Ethernet capabilities.
On the ADSL2+ Gateway front, The D-Link DSL-G604T in revised form will continue to be the mainstay of D-Link's ADSL2+ product offerings and we were pleased to hear that D-Link have delivered the latest DSL drivers (version 7.03) for the Texas Instruments/Infineon chipset which is used in this Modem/router in a recent firmware release.
We attempted to obtain an official statement from D-Link's product strategy manager regarding firmware updates for older products but D-Link's point of view on the matter is that it is hard to draw the line on where/when do you stop supporting older products even if the chipset vendor is continuously supporting and releasing updates for the chips in these products.
Additionally we were told there is little benefit continuing to support older versions of products that are now End of Life if the vendors of the DSLAMs, the networking equipment that provides the broadband access to your ADSL modem or gateway are not as proactive into fixing issues on their end, in other words support for DSL equipment is depending on both the vendor of the Customer's Equipment and the ISP's equipment both delivering updates and support.
As some readers may be aware, one advantage of the design of contemporary broadband modem/routers is that these units are basically a mini computer - they have CPU, Kernel, Memory and system buses and boot an operating system (such as VxWorks, Linux, BSD or a propriety OS) and require specific device drivers for the various networking interfaces in the unit.
This design philosophy makes developing and supporting such devices easier for all parties involved and allows evolution of hardware while still maintaining backward compatibility and support for older products containing the same or similar hardware.
On the Wi-Fi N front, with Wi-Fi 802.11N Draft 2 gaining popularity thanks to its dual channel feature which preserves wireless networking performance when WiFi-G and WiFi-N co- exist on the same router, D-Link has their DSL-2740B all in one ADSL2+ Wireless modem gateway with dual channel WiFi-N. This product uses a processor from Broadcom and does not have gigabit switching.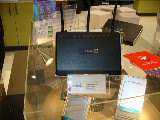 This product uses a new style of casing which will replace the traditional D-Link silver casing that we have known for the last five years. We think the new casing does look better and are pleased that this vendor (and others) are attempting to make all the numerous devices that make up the digital home more aesthetically pleasing.
Expanding upon the 'Gamerlounge' Gigabit router (a Gigabit broadband router with built in firewall and QoS profiles for most popular games) that was launched several years ago now, D-Link have a new offering under this brand that includes a status LCD similar to Belkin's competing 'N1' broadband router.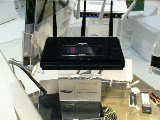 The DGL-4500 Xtreme N Gigabit router is available in piano black, has three Wi-FI Antennas to facilitate the dual channel Wi-Fi wireless networking, the mentioned programmable status LCD status. Another new feature is the USB port for file sharing over the network. The 5 GHz 'Xtreme N' band is avalible if the appropiate D-LInk Xtreme N adapters are used exclusively.
 
The DGL-4500 is available now with an RRP of $429 AUD, however it can be found at a street price of $300 AUD and above as of June 2008, verified by NitroWare.net.
We thought this unit was innovative and significant enough to review and we will be covering this unit in the coming weeks.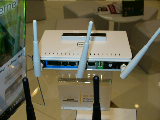 The DIR-855 Xtreme N Duo Media Router succeeds the DIR-655 and offers the status display in addition to simultaneous support of both the 2.4Ghz Wi-Fi G and N bands as well as the 5GHz Wi-Fi N band.

The quad-band DIR-855 will therefore allow Xtreme N Wireless Adapters and standard Wi-Fi 54G/Wi-Fi N adapters to co-exist and operate simultaneously.

This is achieved by including two dual-band (2.4GHz and 5GHz) radio transceivers in the router, so that each band can operate independent of the other in hardware.

Typically, for routers which feature a chipset vendor specific 'super', 'extreme' or 'turbo' bandwidth booster ( Including the DGL-4500 ) only the standard or the proprietary band can be used at any one time. In mixed mode operation these high speed wireless adapters will fall back to the standard band. The DIR-855 will solve this problem.

D-Link believes that by leveraging the lesser used 5Ghz Wi-Fi A/N band (both Wi-Fi 802.11a and 802.11n can use the 5Ghz band), users will have a better Wi-Fi N experience as the occurrence of conflicts and interference between wireless devices and networks is reduced due to the adoption of the less crowed 5GHz RF spectrum.

The DIR-855, and suitable Wi-Fi 802.11n adapters featuring the 5Ghz band from D-Link are currently not announced for the Australian market, however according to D-Link, the DIR-855 should be available in Australia by Quarter 4 2008. The router is currently available in the European and Americas markets.
 
Verdict
Gigabit Ethernet networking has been a mainstream technology in the PC industry for the last five years and as of 2008 wide spread adoption by vendors and consumers is still not as high as it could be, which each vendor citing different reasons at a different point in time for lack of take-up of gigabit switches/routers such as cost, speed, and technology issues.

With the mainstream consumer and enterprise desktops coming with Gigabit networking as standard, we think it is time for vendors to include gigabit switches as standard leaving cheaper 100TX fast Ethernet product for entry level.

We hoped to see a wider variety of Gigabit networking devices in 2008, but perhaps this will not happen until the new Wi-Fi N wireless standard is finalised.