Multinational speaker start-up breathes new life into stagant multimedia speaker market
Our report on Edifier's Multimedia and PC speaker lineup from their Australian Agent.

Update: See the following link for our S550 in-depth review - Edifier S550 5.1 Multimedia Speaker In-Depth Review
Edifier is a ten year old Canadian-Chinese multinational manufacturer of consumer audio products. Relatively unknown to the general public, the brand has won recent innovation award at the American Consumer Electronics Show (CES) and some enthusiasts may have heard of the brand through product reviews of some earlier multimedia speaker set offerings.
Having picked up a new Australian Agent, Audion who are trying make inroads to the now less competitive compact speaker market with their Edifier brand.
We were pleased to see some innovative products in the 2.1 speaker segment, 5.1 speaker segment (something which all of the traditional Consumer Audio manufacturers have ignored of late) and the desktop audio/portable music player segment.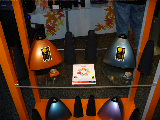 The E3350 is Edifier's award winning 2.1 speaker set with an innovative subwoofer cabinet featuring a down-firing 5 ½" inch subwoofer driver, 2 way satellites with 3" mid range and ¾" tweeters. The units connect to audio source via 3.5" input and available in 10 colours.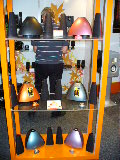 While this model is an example of a stylish and colourful speaker set that does not necessarily have the 'cute' factor that some other 2.1 sets may have with their styling, the paper specification for power output for the satellite speakers could be higher for the price point.
Power output : RMS 2 x 9W + 32W (THD=10%)
Frequency response : R/L: 190Hz ~ 20kHz, SW: 30Hz ~ 130Hz
(Edifier E3350 Specifications -
Audion
)
For gaming and PC audio enthusiasts, Edifier has the S series of 5.1 surround speaker sets, namely the S550 and S750
These sets are reminiscent of the flagship speakers of several years ago, which have seemed to slowly disappear from the marketplace such as the highly acclaimed Kiplisch Pro Media Ultra 5.1, Creative Labs/Cambridge Gigaworks Line and more recently various surround sets from Logitech such as the X680 or X5500.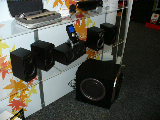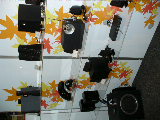 Consideration has been taken into the design to cater for both desirable features and performance, rather than just build a bare bones performance speaker system.

The system comprises of a wired controller with blue LCD and I/O connectivity that resembles a portable media player, Passive radiators on the subwoofer chassis to complement the 10" driver , Dolby Digital decoder and use of regular Oxygen Free cable to connect the satellite speakers to the main unit rather than captive cables
Power output : RMS 35W x 5 + 120W (THD=10%)
Frequency response : L/R: 140Hz ~ 20kHz SW: 20Hz ~ 133Hz
( Edifier S550 Specifications -
Audion
)
We noted that the subwoofer/amplifier is quite a large unit which should satisfy the enthusiast gamer market and that the satellite speakers are two way compared to single dynamic offerings by some competitors
We were pleased with the design and styling as well as paper specficiations but we shall have to evaluate these claims.
The Recommended price of $699 AUD for the S550 is quite high for a 5.1 speaker set, considering that 'home theatre in a box' sets can be picked up in this price range but this pricepoint hovers around what the target market will and has paid for a 'quality' 5.1 channel multimedia speaker system.
A higher power version, the S750 will be avalible from Quarter 4 2008 in Australia

Power output : RMS 75W x 5 + 180W (THD=10%)
( Edifier S750 Specifications -
Audion
)
Edifer's iF360 lifestyle CD combo system caught our eye as it offers some features that are hard to find in a single unit, as well as offering Digital Audio Broadcasting (Digital Radio) reception.
This unit offers SD card, USB, iPod dock with video out and MP3/WMA CD decoding capability with a white on black LCD. Typically it is difficult to find such an all in one device and DAB support which is being rolled out in Europe and Australia is even more difficult to find.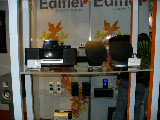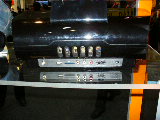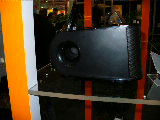 The unit's bass porting has been supposedly designing using techniques learned from premium audio vendors such as Bose.
Power output for the iF360 is 2 channels, 50 watts using Class D amplification technology. Price and availability $299 AUD starting from Quarter 3 2008

Verdict

It is refreshing to see some competition and innovation in the multimedia and PC speaker market segment even if the price points for premium offerings are towards the higher end of the scale, as well as lifestyle speakers and audio devices with some unique features.