UPS units with standard AC outlets are more common than reported
Our invesgation into Uninterruptable Power Supply connectivity and suitability for local market at CeBIT Australia 2008
A notable member of the Australian I.T press recently wrote an on his website about some difficultly experienced with regards to UPS connectivity in that special hook up cables were needed to connect UPS units which had 3 pin IEC sockets on them to various devices which also featured these 3 pin IEC sockets.
NitroWare.net investigated this issue and two [competing] vendors we spoke to at CeBIT offered UPS solutions with Australian standard AC outlets, meaning that no special hook up wires are needed and electronic devices can be connected directly to the UPS. This design trait was present in both 'brick' style UPS units as well as power boards with built in UPS backup
Eaton | Powerware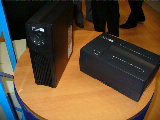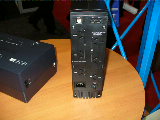 Eaton were not able to demonstrate to us their consumer or small business UPS units in action nor the control and monitoring software that complements these units.
We were advised that the units on display were meant only to protect a computer system itself and not a monitor.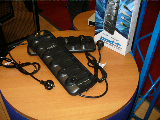 Eaton's surge protector board features a large number of network and television protection features but users would require a number of these boards to fully protect their equipment. Using one single board and running extension and patch cables from modems, phones and televisions just to connect to the protection feature is not an elegant solution and can cause some reception or signal strength issues with filtered signals.
With Eaton|Powerware's products available through distribution channels and bricks and motar stores such as Dick Smith electronics, it shouldn't be too hard to obtain a UPS that uses standard Australian AC outlets
KStar Australia
KStar Australia is the local branch of a Chinese manufacturer of UPS solutions and is strengthening its brand presence in Australia.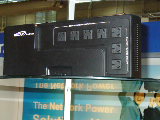 Integrated UPS/Surge power board with USB connection
KStar's representatives were also not able to demonstrate the functionality of their product nor the software required to operate these units, however they claim their units are tailored for Australia due to adopting of local standards such as the AC outlets rather than IEC outlets found on some other imported UPS units.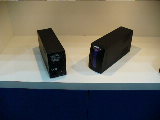 600VA Home/Small Business UPS with USB connection
Obtaining device drivers and software for third party or 'generic' UPS units can be difficult, and this software is critical for optimal performance and operation of any UPS unit.
At time of going to press the relevant device drivers or software was not available for download from the KStar group websites.  
Verdict

While it is beneficial for consumers to see more competition and cheaper, value for money power protection products in the Australian market, the vendors of said equipment should be doing more to educate customers on why UPS units are necessary for them especially for users who have unstable power.

An Unstable power supply can cause havoc with a broadband connection and or risk a computer system and its contents.