Page 1 of 4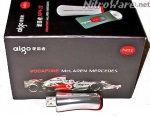 We evaluate aigo's McLaren MP4-22 2GB USB disk and determine whether it lives up to its namesake.
Since aigo's announcement to Sponsor the Vodafone McLaren Mercedes F1 Racing Team, keen computing users and motor racing enthusiasts have waited for a branded USB storage product to complement this sponsorship, aigo has finally delivered.

Exclusive Review
Manufacturer
aigo
Product
Vodafone McLaren Mercedes U Disk
Supplier
Westwell
Model
MP4-22 2GB
Price
$59.95 AUD RRP as tested
Background
T
he sport of motor racing is one which is widely regarded to be embodying the pinnacle of technological achievement. The usage of computing technology, especially within the top classes of the sport is not a new concept and has been used successfully over the past twenty years.
Through the 2000s the majority of the major leading hardware and software vendors have directly sponsored and supported the top teams as a tool to showcase their innovation, leadership and technical prowess. Computing, IT and technology vendors have finally taken the plunge to be directly involved in this somewhat expensive but remarkable sport.
Without computing, motor racing especially classes such as Formula 1 would not be possible in this current day and age. Computing is used to tune and diagnose cars, monitor race progress, simulate races, calculate aerodynamic efficiency and fluid dynamics, produce parts through rapid prototyping and designing the cars from a 'blank sheet' using Computer Aided Design and Manufacture.
Major vendors who have sponsored Motor Racing of late have included Acer, Aigo, AMD, Canon, Compaq, Computer Associates, HP, Intel, Fujitsu, Microsoft, Motorola, Nokia, Nortel, Oracle, Philips, SAP, SanDisk and Siemens amongst many others.
Some of these companies have offered consumer oriented products which represent the high level of innovation, engineering, design and style that is ever present in classes of motor racing such as Formula 1.
Acer offer their range of Licensed Ferrari branded Notebooks and Monitors, SanDisk have their Ducati styled USB drive and now aigo, a Chinese manufacturer of Digital Media Players who sponsors the Vodafone McLaren Mercedes Racing team has unveiled their own line of USB drives which have been styled to resemble the unique styling and 'silver arrows' livery of the McLaren Formula 1 team and their cars.

Product Bundle
NitroWare.net evaluated this USB disk prior to mass availability in Australia/New Zealand and as such the included documentation may vary in retail.
Aigo have tried to emulate the packaging for designer watches by styling the product packaging in the form of a black gift-box, emblazoned with aigo and Vodafone McLaren Mercedes branding as well as the device feature and specification list. The gift box is thick enough to protect the contents from shipping damage. The box art and marketing text make mention of 'MP4-22'. The MP4-22 was the model for McLaren's successful 2007 Formula 1 Racing car, as driven by World Champion Fernando Alonso who is also depicted on the box.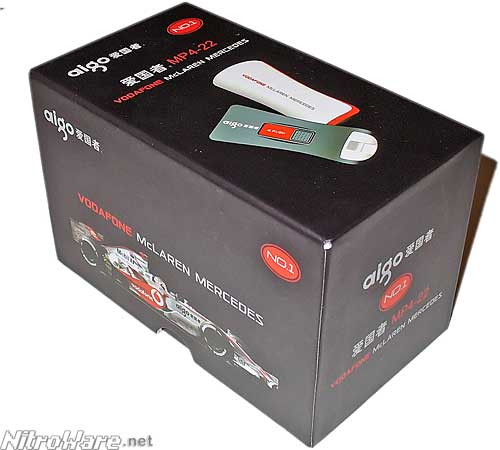 Some Typographical errors were noticed in the marketing text on the box.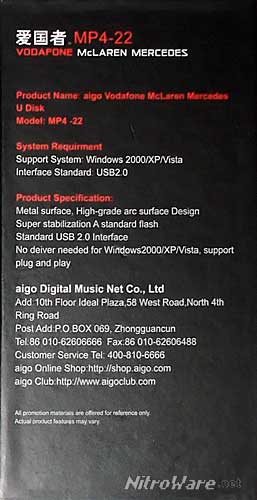 The USB disk is held in an upper faux suede and plastic holder with plastic wrap protecting the polished aluminium finish of the USB disk. The product documentation, nylon neck strap/lanyard with quick release clip and USB extension cable are contained below the tray and take up only a fraction of the available space.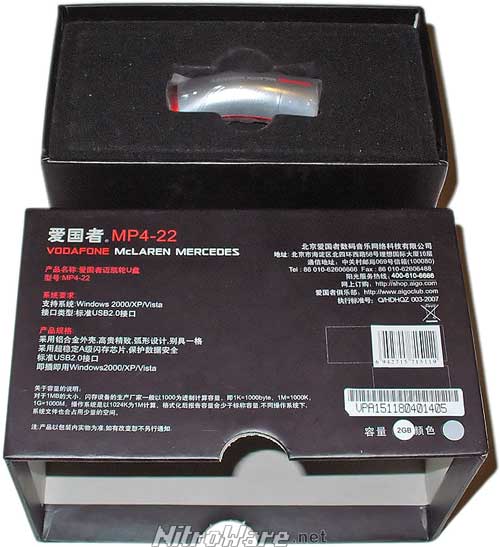 For a premium product, the bundle is sparse and only contains the bare essentials, being the mentioned lanyard and extension cable. Device Drivers for legacy systems such as Windows 98 are not provided. In 2008 support for legacy operating systems at least where USB Mass Storage devices are concerned is no longer necessary as Windows Me and above, Mac OS 9.x, Linux with Kernel 2.4.2 and Consumer Electronics devices with USB ports all natively support USB Mass Storage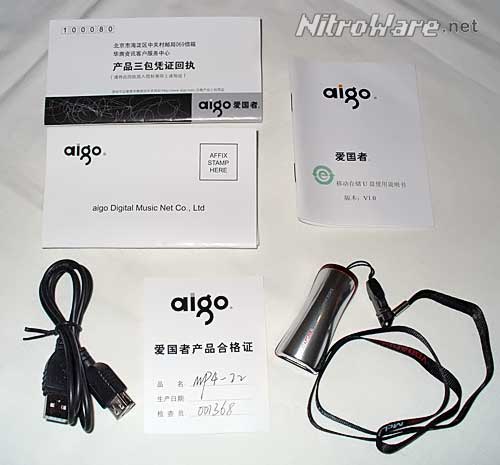 No bonus application software such as recovery utilities or games is included however the USB disk contains a selection of professional photographs totaling 2MB relating to the McLaren Formula 1 Team.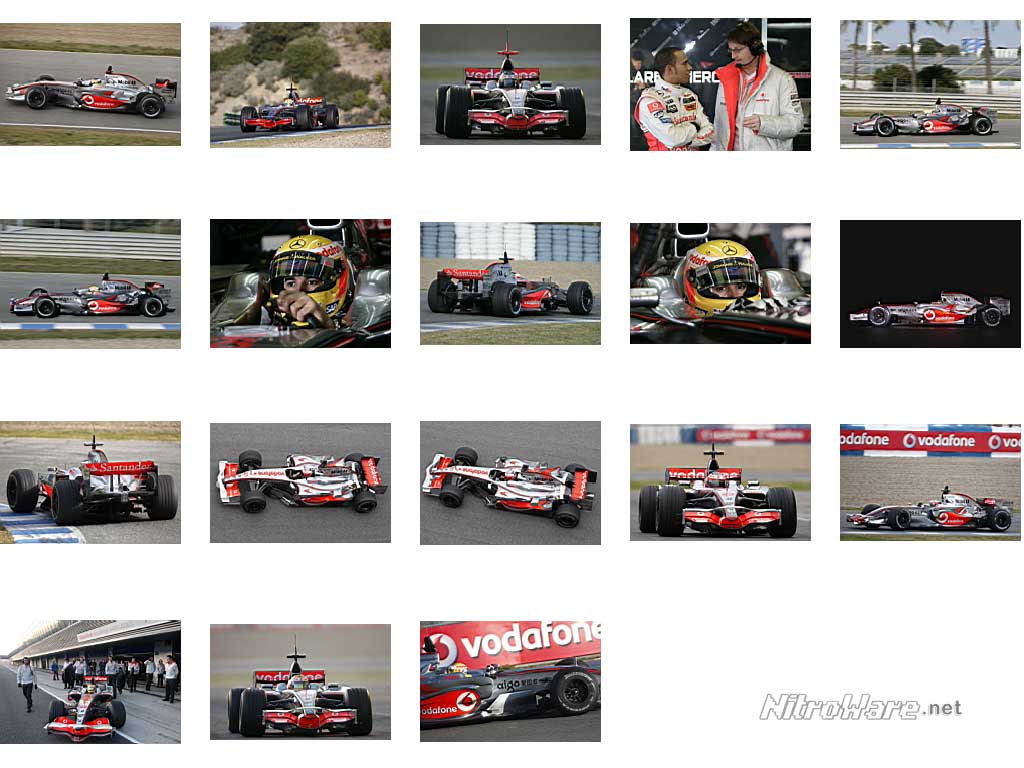 The provided documentation is mostly in Chinese and what English portion is present is at the rear of the booklets, containing some marketing text and describing the safe ejection procedure for the disk in the Windows Operating System. The documents makes a note of that the disk is X-Ray protected which may put some readers minds at rest concerning the longevity of their data when traveling. For purposes of this review this claim is not tested.