Page 4 of 16
AMD 2011 Mainstream Platform | A6-3650 APU and Gigabyte A75 Motherboard
The AMD A-Series APU takes over from their previous Athlon and lower end Phenom CPUs as AMD's mainstream computing processor for 2011 intended for mainstream desktops and full featured/size notebooks. The APU retails from between A$100 to A$200 depending on the model and specification.
We will be looking the A6-3650 which fills the second highest tier of AMD A-Series line-up, providing a cheaper albeit slower offering to the flagship A8-3850 ideal for those users who want high performance an office PC, home pc or Home Theatre PC yet and would like to save some money at the time same.
At around $120 USD retail, the A6-3650 competes with the Intel i3-2100 on price and overall performance. This price allows either to be used as the basis of $500-$600 PC systems. A-series delivers performance in the following areas according to the manufacturer " HD, gaming and media; personal supercomputing up to 500 gigaflops and application acceleration"
AMD's VISION branding launched in July 2010 and updated in February 2011 reorganised and rebranded their future products by tailoring products towards particular usage rather than speed. From this outlook the A-Series was introduced as AMD's first desktop fusion processor, which uses a slightly updated version of AMD's 'Stars' quad core CPU that was used in its Athlon and Phenom products for its CPU cores. Comparing an Athlon II would to the A6 would be comparing the A6's CPU against itself in a manner of speaking. Some other publications will be or have included older AMD products in their review and they would be correct to do so. However we wanted to mainly compare how the new AMD products compare to older and new Intel chips.
APU - Accelerated processing unit
A-series provides for a dual, triple or quad core CPU and Mid-level Radeon graphics. The model naming/number can be a little confusing to grasp. A4 is dual core while A6 can be either triple or quad core while A8 is quad core only. We wish that manufacturers went back to naming their products to reflect their specification, which will make purchasing, recommendation easier.
We will not be focusing on product specifications in this article more so on what these systems can do and how they perform.
The A6 we are reviewing is approximately 20% relatively slower in overall performance than the flagship A8 before we have even started we already have a 20% deficit in possible performance.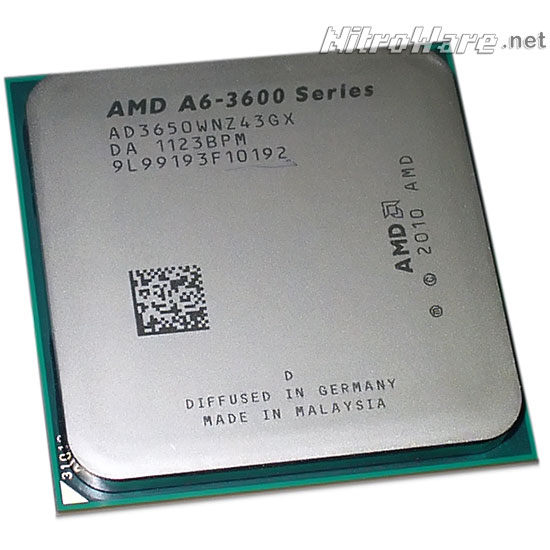 It is worth noting that the A6 we are reviewing is rated for thermal power of 100 watts. To those who are familiar with such specifications may think 100 watts is high for a budget CPU but the APU includes several major building blocks of the PC each contributing to the thermal budget. System chipset (Northbridge) 13 watts, Discrete DirectX11 GPU with video processor 30 watts and quad-core CPU 65 watts make up AMD's A-series APU.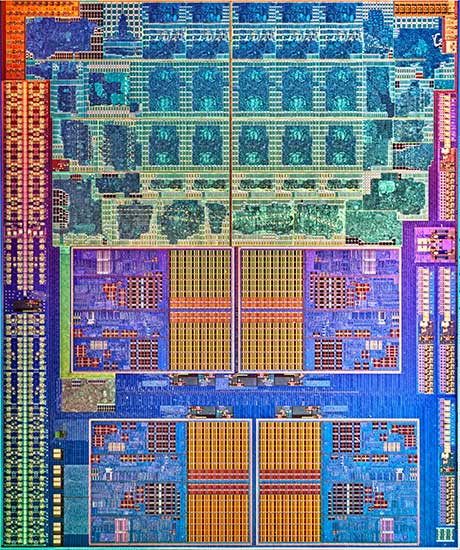 Motherboard
The AMD APU reviewers kit included a Gigabyte GA-A75M-UD2H motherboard compatible with the APU. As such most AMD supported media reviews use this motherboard with some reviews using an equivalent motherboard from ASUS or other vendors.
Although a micro-ATX format motherboard, it supports all the features of the AMD platform and even has good support for overclocking. the UD2H model is the equal best motherboard for AMD A-series APU that Gigabyte currently offers with the UD4H model featuring a full size ATX format and additional expansion slots. For around A$120 the A75M-UD2H not only offers all the features you will ever need but includes Gigabytes attention to quality and reliability with their Ultra Durable series products.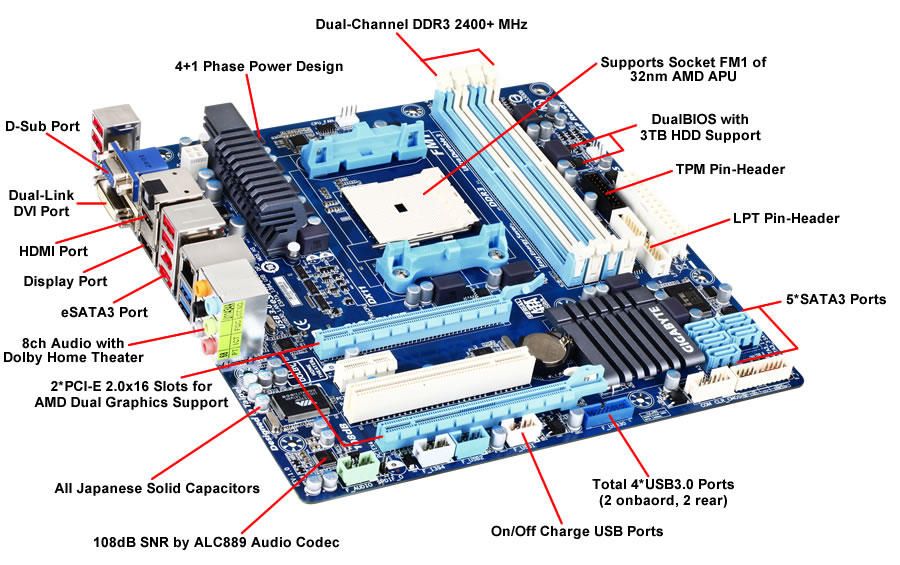 Our experience setting up and learning the 'ins and outs' of the new AMD A75 chipset in the Gigabyte motherboard was very positive with very minimal annoyances or items to critique. The reliability and 'polish' of Gigabyte boards would have been a major contributor to AMD selecting Gigabyte boards for their media review kits.
We had some minor issues the motherboard layout. Due to the layout of the circuitry on the AMD motherboard, the memory slots are pushed back somewhat towards the front of the motherboard. This can cause a conflict with the 3.5" Drive cage/bays in a standard reference design five year old micro-ATX case of which three identical units were used for this review.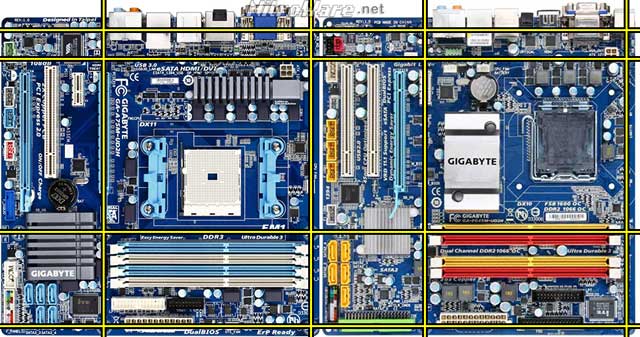 If your case is smaller and especially if a third party heat sink is being used fit will be very important. Worst case the hard disk in a 5.25 bay or alternative arrangement. For slightly larger cases which have rotated drive bays or standard size mid towers cases which have extra depth the layout of A75 AMD motherboards will not be a problem. Examples are Cooler master's RC340 series or a number of recent releases from Lian Li
Users who need the upmost compact or smallest case and would like to use the AMD APU may want to look at an ITX format system. We demoed an ASUS ITX format A75 motherboard with the AMD A8 APU in an Antec case and were satisfied with the size and performance of the setup.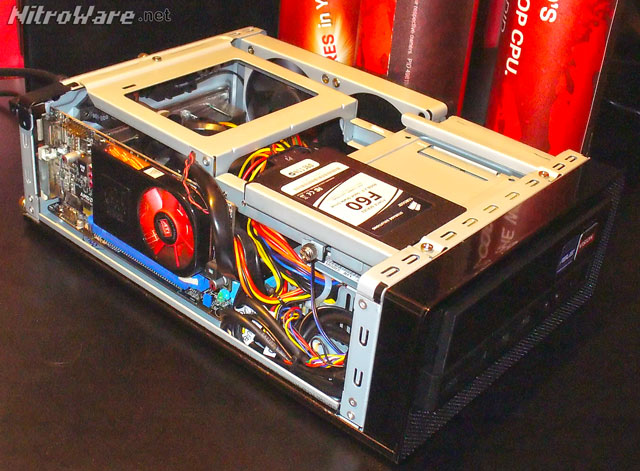 Like recent Intel motherboards since 2009, no IDE port is available. The A75M-UD2H motherboard specifically does not include a IDE port so users who want to use an older DVD drive or spare HDD will not be in luck. It does however have provision for Serial and Parallel ports for business or industrial users who need these ports to connect to older or specialist devices.
The AMD A75 chipset includes four USB3 Super Speed ports. Two of these ports are on the rear of the board and the other two routed to a header for front ports (see the above diagram). Cases with Two USB3 ports are still relatively uncommon and no accessory is bundled with the motherboard to use the extra ports unlike the ASrock board which includes a front USB3 port accessory. Although an inconvenience it is not a deal breaker as most Micro format motherboards INTEL and AMD only have two USB3 typically anyway. Wether the user ends up using the USB3 is another story.
The A55 chipset is a cheaper version of the A75 dropping the four USB3 ports in favour of USB2 ports. This is aimed towards system builders and users who wish to save a little money. We feel that the A55 should not exist however I can accept and understand the reasoning behind having it. Intel has an alphabet soup of models in comparison being H,Q,P and Z 61/65/67/68 plus additional variants for notebooks so two chipsets is not an issue.
Memory
The AMD "Lynx" Desktop platform comprising of an A-Series APU and A75 or A55 system chipset supports up to DDR3-1866 memory, of which is domain of enthusiast components.
Four memory modules at 1600MHz or Two memory modules at 1866MHz are officially supported out of the box without tweaking or overclocking. Many third party motherboards such as the Gigabyte board we used support overclocking the memory up to 2400MHz, in fact for this platform if a enthusiast wishes to overclock the system the fastest memory possible is recommended not only for performance but ease of overclocking.
Since we are focusing on mainstream computing in this review, we used a specific memory product from KINGSTON which is designed to automatically enable the best memory speed on 2011 PCs without any tweaking of settings or overclocking. Kingston's HyperX Plug and Play DDR3 memory kit model number KHX1600C9D3P1K2 will automatically setup the system to use DDR3-1600 mode without any setting adjustment. The version we used is a 8GB kit comprising of two 4GB DDR3-1600 modules with CL9 latency at 1.5 volts . This kit supports DDR3-1866 at CL11 timings officially however this is not the default mode. Kingston sell a model which sets up 1866 speed by default.
In comparison, most cheaper DDR3-1600 available on the market such as from Corsair, G-Skill and even those from Kingston themselves only support DDR3-1600 or higher via overclocking. The user needs to set the appropriate speed or increase the memory voltage. Kingston is not the only vendor with 1.5V high speed memory and many vendors such as Corsair and Gskill are bringing 1.5V affordable memories to market however to the best of our knowledge this the only kit whose main feature is to ensure maximum speed is enabled without user intervention.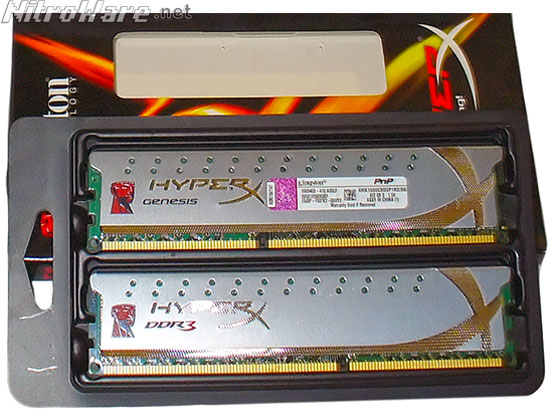 Compared to older systems, A-series needs faster memory for several reasons. Performance graphics card traditionally have faster memory than what a CPU may need. For example the GTX460 in this review uses 3600MHz graphics specific memory. The integrated GPU uses the system memory for its requirements therefore the faster the system memory the better the performance with intensive applications since we have a integrated graphics that actually has some kick. When we consider CPU-GPU computing where the CPU and GPU both share memory faster memory can speed up GPU accelerated applications additionally.
Some additional CPU instructions have been included in the APU such as 'Zero Copy' which allows the CPU and GPU to directly accesses data assigned to each other in fast system memory (15 to to 27GB/s) without going through the relatively slow PCI express system bus (8 GB/s). This feature is one of the small things that put the 'Fuse' in AMD 'Fusion'.
Graphics
As headlined, the AMD A6 APU includes a Radeon HD 6530D GPU. On paper, price, specification this part is mid level in AMD's graphics line-up. If we looked at the same graphics on an add in card we wouldn't think much of i as it would be suitable for entry-mid level graphics.
Since APU is manufactured using the latest 32nm manufacturing process, AMD has been able to shrink the size of their discrete GPU so it could be put inside their APU. In fact if we look at the photo of the die the Graphics circuits take up more room than the x86 CPU cores.
The APU does have a 'discrete' GPU integrated on the silicon die, however it was been customised to best suit the requirements of the processor. The Radeon 6530/50 is not available as a stand alone add in graphics card, hence the D in the model name. A Radeon 6570 is available as a desktop graphics card with similar specifications but much higher graphics throughput performance.
On paper the 6530's specifications are in the same ballpark but half of those of its nearest add in card sibling the 6570. Even without understanding the technobabble in the following table we can numerically see the theoretical performance differential.
AMD Graphics
Core
Clock (MHz)
Shader
Cores
Texture
Units
(TMU)
Render
Units
(ROP)
Pixel
Fill Rate
Gigapixel/s
Texture
Fill Rate
Gigatexel/s
Memory
Bandwidth
Gigabyte/s
Compute
Power
Gigaflops/s
Radeon HD 6530D
AMD A6 APU
443
320
16
8
3.54
7.08
DDR3-1600: 26
DDR3-1866: 30
284
Radeon HD 6550D
AMD A8 APU
600
400
20
8
4.8
12
DDR3-1600: 26
DDR3-1866: 30
480
Radeon HD 6570
Add-In Card
650
480
24
8
5.2
15.6
DDR3-1800: 29
GDDR5- 2000: 64
624
If these specifications are not enough for power users or gamers, the AMD dual graphics feature (CrossFire) of the AMD llano APU can be used to boost its graphics performance for DirectX10 and 11 games up to 75% by means of an additional add in graphics card. AMD recommends the add in card be within a range of 1x to 2x the performance of the integrated graphics. In real terms this means the 65 and 6600 series of Radeon cards. The feature is not available if the add in graphics card is less than 0.5x to 3x then the APU graphics or for OpenGL.This review is integrated graphics focused and for more information stay tuned for our upcoming review on Dual Graphics.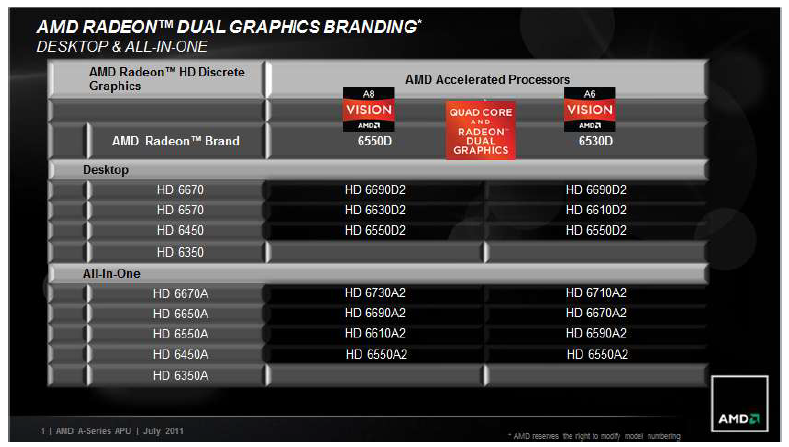 The AMD Fusion platform supports TWO displays at a time only out of a total of four when the Included Radeon HD graphics are used. Future versions of this product may have this limitation removed. This limitation becomes important when consumer awareness of the product they are buying comes into focus.
New monitors such as those from Apple, Dell's prosumer and professional lines such as the newly released U2412M as well as Samsung's 2011 consumer monitor line-up all feature multiple inputs including a DisplayPort input.
The problem with the display restriction with AMD Fusion is not that certain combos will not work (that caveat is present with solutions from other vendors) but that an end user will purchase an AMD Fusion computer and assume all the four display outputs are useable at the same time.
To use two digital monitors with the AMD Fusion graphics system, a HDMI to DVI adapter is used for the HDMI output or a DisplayPort to DVI/HDMI adapter for the DisplayPort output .
The following combos will work

VGA and DVI

VGA and DP

HDMI and DVI

HDMI and DP

The following will not work

VGA and HDMI

DVI and DP
If you would like to combine a VGA connected monitor and a HDMI connected TV, you are not in luck. However not all is lost. If you require VGA and HDMI, use VGA and DVI and obtain a DVI to HDMI adapter. This may not be optimal for some users and an adapter is extra cost of around $15-$30, but at least such adapters or cable are passive, small and require no power. The alternative is to fit a graphics card into the system for extra monitor support but this involves some more setup and further checking of limitations.
If the DisplayPort output is used, optional adapters such as from Zotac can split the DisplayPort output into two HDMI outputs suitable for two monitors. Two screens will be driven off the DisplayPort output via the adapter and one screen driven off either the VGA or HDMI output. HDMI to DVI adapter would be needed. Pricing for this specific adapter is in the $50-$60 AUD range.
This compatibility issue is due to the APU only supporting two display outputs which are fed through a switch on the motherboard to which the four outputs are connected. We have seen this limitation with several brands such as Gigabyte and Zotac AMD motherboards but unsure if there is a way to overcome this limitation and allow any two outputs to work without caveats.
Like all modern ATI Radeon GPUs, the APU has the full UVD3 video engine which provides for full HD playback in hardware of all modern video codecs plus 3D and hardware video encoding. This video engine has been covered in depth by other reviewers and we will not be going in depth here.
For the APU implementation AMD has added a featured called 'AMD Steady Video' which uses the GPU's compute capability to stabilise shaky videos the way your cell phone or video camera may. However with the very shaky test video which was filmed from a moving train and supplied by one of our readers, we did not notice much if any improvement to the video regardless of how we set the steady video options up.
The feature is designed to fix simple videos only and only for playback. It does not repair any offline files. We feel it is more of a gimmick for now but over time with better software from ISVs it may prove useful, The video AMD showed us to demonstrate the feature was that of an aircraft carrier jet take-off which did seem to work. The notes for the feature indicate that the feature may not work on letterboxed video which the test video we used was.
For those who already have an APU and would like to test the Steady Video feature the test videos we tried are:
Particularly 7:20 to 7:50
Videos copyright of James Brook of Victoria, Australia.
Interfaces, Expansion and Storage
The Gigabyte A75 motherboard has a 16x PCI Express 2.0 slot, a 4x PCI Express 2.0 slot a 1x PCI Express 2.0 slot, Four 'Native' USB 3 ports and Six Native SATA 6.0 Gbit/s ports. Crossfire using the 16+4 x slots is not supported, use the APU graphics for Crossfire instead.
Since this is a mainstream board, it seems Gigabyte and even AMD have overlooked the ability to upgrade to PCI Express 3.0 via installing a future CPU. There is no mention or hint in any official or press documents indicating that this is possible where as Intel 2011 motherboards can be upgraded to PCI Express 3.0 with a CPU Upgrade. From what we understand, future AMD APUs should be compatible with the first generation /motherboards. This is a shame as Radeon HD7000 series and upcoming NVIDIA GPU as well as 2012 INTEL products all support PCI Express 3.0. If AMD really was the leader they claimed to be they would have ensured as least PCI Express 3.0 add-in graphics could be supported on the Lynx Platform, they already have SATA 6 and USB3, PCIE3 completes the trifecta..
A75 chipset (Codenamed Hudson) isn't the first AMD chipset to have SATA 6.0gbit/s but the first to have USB 3.0. To use USB3 we need the device driver. This is only available from the driver disc with the motherboard or the chipset driver package available from the motherboard vendor or OEM. The drivers for the USB3 and Hudson specific RAID is not available from AMD.com for download. AMD have advised us that putting these drivers up isn't a priority for the time being due to OEM customisation of hardware.
As with gigabyte's other motherboard 3x USB power is supported however on this particular board it is vaguely documented in the manuals/packaging and is not printed on the motherboard either. It is printed on the IO shield however. We had no problems running power hungry devices such as old external HDD or Battery charging from the front USB ports.
Power and Cooling
Modern mainstream generic and brand case PC cases/chassis come with power supplies of a mild capacity, enough to run a modern PC but insufficient for a high end or gaming PC that uses several hard drives or large video cards.
A basic case from Gigabyte ships with a 420 watts power supply while Antec use 380 watts for some of their models.
We had no problem running the AMD A6 system under load for extended periods with a 300 Watt 24pin generic ATX power supply with a typical load such as 1 or 2 hard drives, Optical drive and USB devices. Users with small form factor cases that have limited power supply should have no issues running the APU with any compatible, properly working power supply. We did not try any smaller power supplies as it is best to use a proper 24pin power supply with native SATA power cables as we did rather than use a very old or questionable 20pin supply and unreliable 5.25 to SATA power adapters.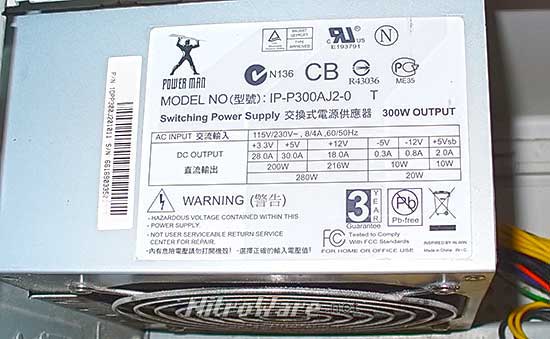 For cooling our sample chip we used the Cooler master Hyper TX3 air cooler which for the specification of the APU is a bit overkill as 32nm CPUs run cooler than older chips. During testing even under heavy extended loads the cooler was never hot to the touch,and the system chipset heat sink was always warmer than the CPU cooler.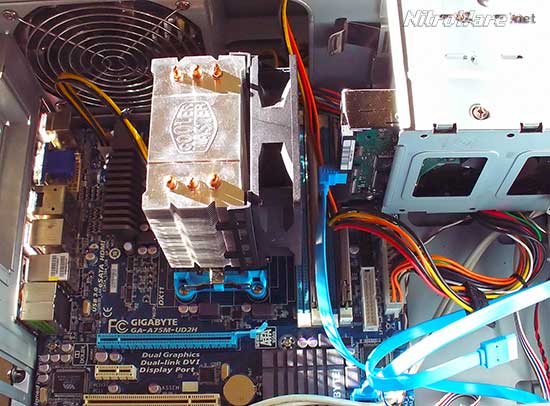 However we did see anomaly with the temperatures reported by the system when idle were below ambient temperature. We believe this is due the more powerful cooler however have not been able to confirm this as we don't not have the factory OEM cooler for the APU and AMD were not able to provide us with one in time for our review neither did they have an explanation for the temperature results we were seeing, suggesting that the software may be reading the sensors incorrectly. This is not the case as the BIOS and Easy Tune report the correct numbers.
Considering the APU contains many processors we were impressed and satisfied with the thermal performance however we won't be satisfied until we see actual performance with the factory cooling.