Page 10 of 16
Audio and Video Benchmarks
We ripped the Queen - Greatest hits CD album using iTunes 10.4 and Windows Media Player 12's default settings, timed the process using a stopwatch, repetitively to gain consistent results, and recorded the average. Although using different codecs, we can see the difference in results and performance between iTunes and Windows Media Player mainly due to design and optimisation of software, iTunes leans more towards Intel since INTEL is the native platform for Apple Computers and is optimised for these CPUSs. Although ripping CDs is a common and daily task for many users, it is decreasing due to digital downloads.
We also recorded the maximum conversion speed achieved during the ripping, which reflects the system speed
For Windows Movie Maker 2011, to gauge the real-world performance we created our own test project. We downloaded the 'Big Buck Bunny' open source test movie in 1080p resolution and H264 .mov format and imported this video file into Windows Movie Maker 2011. We then trimmed the movie to total 60 seconds length, added the contemporary auto movie pre-set which automatically adds titles and fade/wipes and finally saved the project using the 'computer' pre-set those results in an outputted WMV video file of 480p resolution. We timed the export process using a stopwatch which we performed repetitively for consistent results and recorded the average.
Movie Maker 2011 uses the full capability of Windows 7 Graphics framework including GPU acceleration to speed up the video conversion process. The results we achieved on the AMD A6 system were poor and not what we expected given the specifications of the system as well as comparative results with the four systems in our review as well as other systems. We reported our findings to AMD and Microsoft who were not able to advise us of the cause of the poor results in this test by the time we went to press.
Movie Maker performs very well on modern Intel systems however on the AMD system the result was well 'crap' for lack of a better word. AMD were not able to provide us with an explanation for the poor performance of their APU in Windows Movie Maker, which is slower than even the slowest desktop Core2Duo processor Intel has made.
Cyberlink Media Espresso 6.5 is an easy to use one-shot video conversion tool designed specifically to convert videos from one format to another, especially to specific phones, tablets or game consoles. It supports GPU acceleration for all major hardware vendors. Intel 4-series (blue) does not support GPU assisted conversion only playback and was not tested. We encoded the same big buck bunny video to 'Apple Generic' and 'Google Generic' format and used the software's built in timer to benchmark the performance. We performed the test repetitively and recorded the average. We tested with and without GPU acceleration. Media Espresso formally supports NVIDIA PureVision, VISION and Intel Quick Sync hardware accelerated video conversion, however Intel's superior video converter wins out SIGNFICANTLY between FIVE and SIX times faster than AMD Fusion.
Other technology journalists have written about the merits and astonishment with the results Intel's Quick Sync technology found in the 2nd generation Core processors/Sandy Bridge but this is something that needs to be seen to be believed. We were in awe of the rabbit Intel has managed to pull out of their bag. Five to Six times faster is unheard of.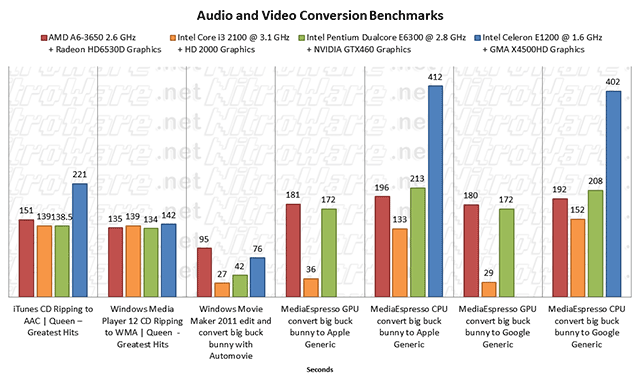 Handbrake is a popular DVD and video converter for PC and Mac, however this transcoder does not support GPU acceleration so reflects the CPU only conversion speed.
TechARP x264 4.0 is a benchmark made by review website TechARP to automate benchmarks using the x264 video encoding tool. x264 is the core of many applications which support h2.64/AVC format video. TechARP has a full database of system scores on their website. Handbrake and x264 benchmark are CPU oriented tests.