Page 8 of 8
Verdict
As far as positioning goes, AMD's view is the 290 is comparable with the GTX780 as these cards are in the same performance bracket. Efforts have been made to ensure the 290X is not compared with NVIDIA's GTX TITAN. Despite having different price points, TITAN is an enthusiast, not professional product so comparisons can be made if taking into account price points.
AMD loves to hold the 'fastest GPU in the world'. When evaluating this claim we must look at all single board solutions, consumer and professional.
All R7 and R9 Volcanic Islands based products are not eligible for Never Settle which makes older HD 7000 cards more attractive especially at discounted price points.
If you are in the market for an upgrade from an older board including a HD 58/5900, 6900 or 7970, 290X is a fine upgrade path.
Do not sell your current high end Kepler card especially a GTX780 thinking the 290X is a NVIDIA killer. Even AMD's own reference scores show 10-20 FPS in many scenarios, which does not justify a signficant investment.. Dual Kepler in SLI or Dual 290/X in Crossfire is the correct upgrade path from a single high end NVIDIA Kepler based GPU.
A future Dual Hawaii based '290X2' would be a price/performance competitor to the TITAN, however the debate over single v dual GPU comparisons loom. TITAN still has superior texturing fillrate.
Hawaii's GCN design coupled with 28nm process can't be scaled up apart from clock speeds or power limits. All Shader and compute units are enabled on the 290X. What you see is what you get for at least the next few months.
In raw crunching power alone, dual 7970s still exceed the performance of a single 290X.
Raw teraflops should not be used a sole metric for choosing a graphics card as other aspects of the design affect game performance. Those with dual 7970s should consider upgrading to dual Hawaii cards to maximise their investment and graphics performance headroom rather than a single flagship GPU.
On paper, the 290X is AMD's well-received GCN architecture with the knob turned up to 20. Some icing on the cake such as overhauled PowerTune controls, bridgeless Crossfire and a new visual identity sweeten the deal, but AMD could have offered much more in hardware and software this time. Perhaps these will arrive on next time.
The Hawaii chip is an evolution not a revolution, where as Tahiti was a revolution bringing many new features to the table for the first time. NVIDIA's Kepler is the same here, Kepler in GeForce 600 form was a revolution while GeForce 700 and TITAN were evolutions.
AMD and independent reviews may claim victory for 290X with better price/performance over GTX 780 and GTX TITAN , but NVIDIA has sweetened their deal in time for AMD's launch with a game bundle. Their bundle has THREE of the latest AAA titles with its performance GPUs, Batman Arkham Origins (A$50), Assassins Creed IV Black Flag ($A70) and Splinter Cell Blacklist($A70), giving A$190 total value if these are purchased on STEAM.
NVIDIA did not comment regarding ANZ/APAC game bundle avalbiilty by press time.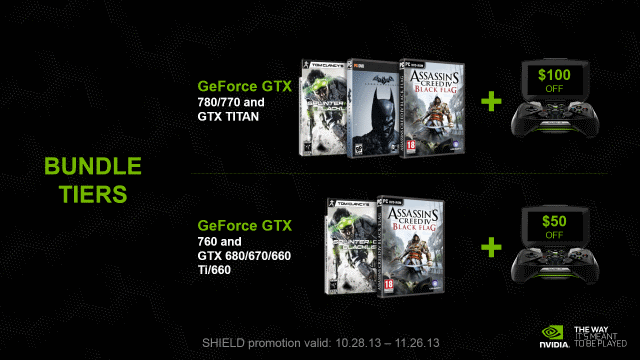 When considing the NVIDIA package, including the SHIELD gaming discount, games and NVIDIA specific features such as near perfect Frame Pacing, PhysX, G-Sync, TXAA and others make the GeForce GTX offering competitive if not better choice than AMD's. Which package suits you depends on wether you are interested in the game bundle.
AMD needs to try much harder in all aspects of company operations and product development both for CPU and GPU. However, stay tuned for news about the cheaper R9 290, which should offer very good better price/performance.
On a nostalgic note...
Exactly ten years ago, we had the succesful ATI Radeon 9800 ..and the infamy of 'GeForce Flow FX' aka dust buster' that NVIDIA successfully rectified wih its NV40 based GeForce 6800.

64-bit mainstream computing also appeared with AMD's Opteron and Athlon 64 processors during 2003.

1280x1024 (1.3MP) resolution was commonplace and consumer GPUs that consumed above 30 to 50W simply did not exist at the time.

Ten years later the equivalent product at the same $300 pricepoint draws up to 250W, can drive 4-8 megapixels at playable frame rates with near maxed out details. Gone are the days when quality was sacrifical and games had artifacts.

The past decade of PC and console gaming is somewhat unrecognisable to the early 90s when consumer 3D games first appeared. The adjacent meme sums this up perfectly.

We are sure the Hawaii GPU and 290 series will be remebered ten years from now as the first GPU series that was designed and specifically marketed for 4K gaming. What PCs we will be using in 2023 who knows.