Page 3 of 9
Test Setup
Since these are cheaper GPUs which appeal to the upgrade market, who typically have older CPUs and mainboards, we also used an older platform to compare the GeForce GTX 950,960 and 1050.
Although Intel's 3rd Gen Core 'Ivy Bridge' i7 is over four years old, the i7-3770K part can run all of its cores at 3.9 GHz(and higher with overclocking), providing more than ample performance even for the most demanding games and is not much slower than the latest i7. Additionally the Z77 platform supports high-speed DDR3 and PCI Express 3.0. We should not have any CPU bottlenecks on this system for typical gaming tests and the platform supports the full standards of the GPU as well as full Windows 10 compatibility.
Several high-end GPUs in SLI, Crossfire or DirectX 12 Multi Adapter may run into a CPU bottleneck, but for single card scenarios, the 3770K is more than adequate.
Type
Model
CPU
I7-3770K at 3.9GHz all-core Turbo
Motherboard
ASUS P8Z77-V Pro
RAM
16GB - Corsair Vengance 4GB x4 DDR3-2400 C10
PSU
750W - Cooler Master GX750 80 Plus Bronze
Storage
240GB Intel 520 Series SSD
500GB WD Green HDD
Graphics
Gigabyte GeForce GTX 950 Windforce OC 2GB : GV-N950WF2OC-2GD
EVGA GeForce GTX 960 SSC 2GB
ZOTAC GeForce GTX 1050 2GB : ZT-P10500A-10L
1080p HDMI Display
Software and Settings
BIOS set to XMP mode - 3.9GHz all core Turbo + 2400MHz RAM
Windows 10 Pro Nov-2016 Update – Cortana, Defender disabled. XBOX enabled
NVIDIA Drivers 373.63
Intel Drivers 4425
Both the GIGABYTE and EVGA cards are factory overclocked, however, the Gigabyte card has a unique quirk in that the card will not boot at its highest factory OC setting. If you want to use those clock speeds you have to Install Gigabyte's OC GURU tool and select the higher OC preset or manually dial in the clocks using an alternative tool such as EVGA Precision, MSI After Burner or others.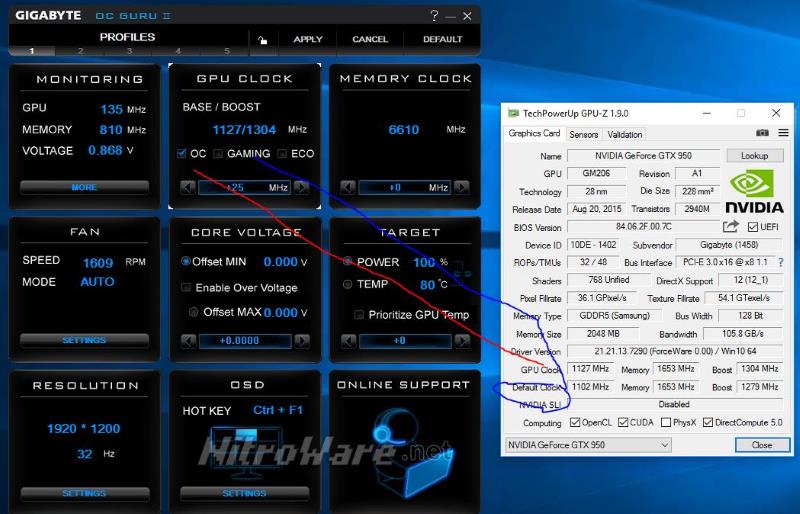 Since we want to test the cards 'out of the box' we did not use the Gigabyte GTX 950's highest OC setting despite those clocks being the advertised ones.
We have only included Intel Graphics as a data point for power consumption, the HD 4000 graphics in Ivy Bridge is old and compared to current iterations pathetically slow so we did not bother to benchmark especially since the graphics are no longer supported by Intel with newer drivers. I doubt there are many gamers with a 3770K and actively gaming on the HD 4000 Integrated Graphics. Lower-end Core CPUs sure, but the 3770K is and was the high-end enthusiast desktop part and typically paired with a GPU even a low end one.
By including power consumption for HD 4000 graphics, despite rendering almost Slide Show I can show how efficient modern GPUs are per watt to the Intel solution. I did not want to provide a integrated graphics versus $100 add-in graphics comparison here, but that can be subject of a future topic especially when considering the latest integrated graphics.