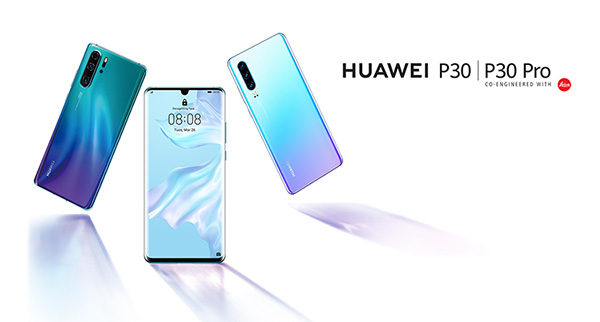 NitroWare.net was given an exclusive hands-on preview of the Huawei P30 and P30 Pro phones before their worldwide unveil in Paris on March 26.This time around, Huawei has outdone itself again with their hardware evolution and technical prowess with attention to in product engineering and silicon design. P30 continues the trend set the past few years with each of the previous P series devices.
Although my first impressions are based on very limited time with the P30 and despite it including some innovative and industry leading features which I will go into detail further in this review, I don't think the P30 is a slam dunk over its competitors especially the Samsung S10 series but don't write it off just yet.
Our preview experience was intended to give us some hands on time with the new camera system as well as having a look and feel of the device. We were not able to run any benchmarks or do any in depth analysis or testing of the device due to conditions of the preview and the available time. Huawei is not fully 'at fault' here, it just reality that one of the main uses of a modern smartphone in western society is photos and videos. We are all reliant on our phone camera it so it would be pointless to deny a primary use of a modern smartphone.
Huawei themselves are advertising the phone with the following words "REWRITE THE RULES OF PHOTOGRAPHY, Brighter, wider and closer. See the world from new perspectives. Discover the unseen surprises and turn them into your treasured memories. The HUAWEI P30 is pushing the envelope of smartphone photography."
READ ON to see my sample photos taken with the P30 Pro against the P10 Plus and the moto g6+ in a variety of photographic scenarios as well as my thoughts on the new Huawei flagship that many commentators are raving about...
Specifications
Specifications
P30
P30 Pro
DISPLAY
SCREEN SIZE
6.1-inch diagonal
6.47-inch diagonal
RESOLUTION
2340 x 1080
TECHNOLOGY
OLED Display
PIXELS PER INCH
422 ppi
398 ppi
CAMERA
REAR CAMERA
Leica Triple Camera:

40 MP HUAWEI SuperSpectrum Sensor (Wide angle, f/1.8)
+ 16 MP Ultra-wide angle (f/2.2)
+ 8 MP Tele lens (3xTelephoto, f/2.4)
Leica Quad Camera:

40 MP SuperSpectrum Sensor (Wide angle,f/1.6)
+ 20 MP Ultra-wide angle (f/2.2)
+ 8 MP Tele lens (f/3.4)
+ HUAWEI Time-of-Flight (TOF) Camera
FLASH
Rear Single LED
Rear single LED flash
ZOOM
3 X Optical | 5 X Hybrid | 30 X Digital
5X Optical | 10X Hybrid | 50X Digital
AI SCENE DETECTION
Yes
FRONT CAMERA
32MP (f/2.0)
SPLASH, DUST & WATER
WATER AND DUST RESISTANCE
No
IP68 Rated
BATTERY
CAPACITY (typical)
3650mAh
4200mAh
TALK TIME (3G)
Up to 24hrs
Up to 26hrs
INTERNET USE
Up to 15hrs
Up to 19hrs
VIDEO PLAYBACK
Up to 23hrs (using earphones)
MUSIC PLAYBACK*
Up to 160hrs (using earphones)
Up to 107hrs (Using Earphone)
SUPERCHARGE
Huawei SuperCharge
Huawei 40W SuperCharge™
CERTIFICATION
TÜV Certified Charging
CHARGE TIME
1.35hr
1.1hrs (Wired Charge using Huawei SuperCharge Charger)
WIRELESS CHARGE
No
15w Quick Wireless Charge
REVERSE WIRELESS CHARGE
No
Supported
SECURITY
FINGERPRINT
Front - In-screen Fingerprint sensor
MEMORY & CPU
RAM
6GB
8GB
ROM
128GB
256GB
EXPANSION
Nano memory (NM) card up to 256GB, sold separately
PROCESSOR
HUAWEI Kirin 980 processor with AI

CPU: 2 x Cortex A76 [2.6GHz]
+ 2 x Cortex A76 [1.92GHz]
+ 4 x Cortex A55 [1.8GHz]-processor

GPU: Mali-G76
AI PROCESSING
Yes. Built-in Dual Neural Network Processing Unit (Dual NPU)
OPERATING SYSTEM
OPERATING SYSTEM
Android™ 9.0 (Pie)
CONNECTIVITY
NFC CAPABILITY
Yes
Wi-Fi BANDS
802.11 a/b/g/n/ac (wave2), 2.4G/5G, support Wi-Fi direct
BLUETOOTH
BT 5.0, BLE, aptX, aptX HD, LDAC HD and HWA Audio are supported.
USB TYPE-C
Type-C, USB 3.1 GEN1
PRODUCTIVITY
KNUCKLE GESTURE
Yes. Knock screen twice with knuckle to screen or enable scroll capture
DOCUMENT SCAN
Yes
BUSINESS CARD SCAN
Yes
EASY SCREEN CAPTURE
Knuckle Gesture | Video screen recording capable
IN THE BOX
EARPHONE
3.5mm
Type-C digital headset
CHARGER
Huawei SuperCharger
Huawei SuperCharger 2.0
CABLE
Type-C x 1
CASE
Clear Case x 1
QUICK START GUIDE
x 1
Warranty card
x 1
SIM EJECT TOOL
x 1
WIDTH
71.36 mm
73.4 mm
DIMENSIONS
LENGTH
149.1 mm
158.0 mm
DEPTH
7.57 mm
8.41 mm
WEIGHT
165 g
192 g
WARRANTY
2 Years - Free door-to-door pickup and delivery within Australia
HUAWEI CARE
Infra-Red
No
IR blaster
Docking
Wireless Desktop Mode
Wireless Desktop Mode
Display
P30 follows the Premium form factor route of late offering a 6 and 6.5" device in a taller form factor
| | | | | |
| --- | --- | --- | --- | --- |
| Handset | Screen Size (Inch) | Screen Resolution | Screen Aspect Ratio | Screen Pixel Density (Pixels Per Inch) |
| Huawei P30 Pro | 6.4" | 1080 x 2340 | 19.5:9 | 388 ppi |
| Huawei P30 | 6.1" | 1080 x 2340 | 19.5:9 | 422 ppi |
| Samsung S10+ | 6.4" | 1440 x 3040 | 19:9 | 522 ppi |
| Samsung S10 | 6.1" | 1440 x 3040 | 19:9 | 550 ppi |
| Samsung S10e | 5.8" | 1080 x 2280 | 19:9 | 438 ppi |
| Huawei P20 Pro | 6.1" | 1080 x 2240 | 18.7:9 | 408 ppi |
| Huawei P10 Plus | 5.5" | 1440 x 2560 | 16:9 | 540 ppi |
| Moto G6 Plus | 5.9" | 1080 x 2160 | 18:9 | 409 ppi |
Moto offers the now 'classic' taller aspect ratio of 18:9 or 2:1, meaning the screen is twice wide as it is high. Wider than standard 16:9 HDTV but not quite 21:9 Cinemascope or higher (2.35:1 or more)
Think of an ultra-wide display as a standard HD display with sides attached, making it wider. Noticed that when you go to the movies that the curtains on the sides of the screen retract to reveal more of the screen? That is the same as we are discussing here
When I say wider here, this is interchangeable with taller, as the phones dimensions are swapped based on if it held in its landscape or portrait orientation.
Huawei went just a touch taller with the P20 Plus as did Samsung with the entry S10e. The P30 series goes taller again and can consider the G6Plus, P20 pro, S10e and both P30s as somewhat equivalent in screen resolution (but not pixel density – that is another matter as shown in our table)
However, given they are flagship devices Samsung went with Wide Quad HD resolution instead of Wide Full HD whereas Huawei did not with both the P20 Pro and p30Pro.
Note that Samsung S10's default resolution is Full HD+ and can be changed to Quad HD+ in Settings. This is likely for battery life but my gripe here is how many will know they can change the setting.
Phone makers need to balance the shape of the phone with the display that can possibility used. A phone that is too wide or too tall would be uncomfortable to use as well as complicate how photos and video are displayed. These attempts are shown in our table with the variances between devices.
In my opinion, P20/P30 should have received a wide QHD screen just like the Samsung, which would be a step up from the P10
Jeez, make up your minds Huawei,
Thanks to their screens, the Samsung S10/+ have the highest density of pixels of this bunch, which means text and graphics will be displayed sharper as the pixels are closer to each other. The larger the screen for a given resolution, the worse the pixel density and the more coarse the pixel density
If it is worse then why do this? This is typically done to make the text and graphics easier to read as they will be larger with a coarser pixel density and a larger screen. However, some tricks are done in software to compensate for this, which is called scaling but generally the better the ppi (or dpi) the better, the image.
Camera
Despite being a 'phone', the focus on the P30 is its upgraded camera system. In terms of semiconductor engineering, more progress can be made on an annual basis with imaging processors and sensors than the main chipset in the device, which while offers high performance; advances are plateauing due to design challenges faced by all processor vendors.
Briefly, the P30 Pro uses a four-camera system with each camera having its own lens-pack optimised for a different type of photography such as telephone or wide.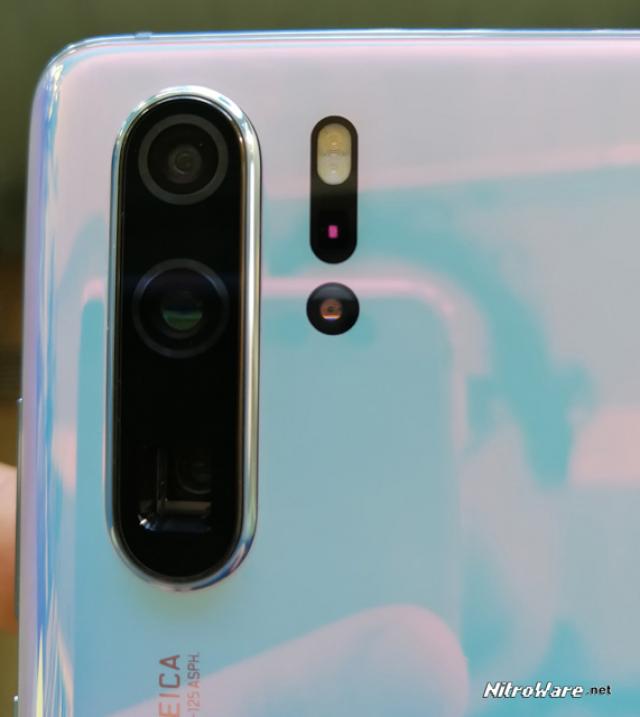 The camera sensors themselves (often also called CMOS sensors, based on the semiconductor process they are manufactured using) have been developed in house by Huawei and their HiSillicon divsion versus sourcing these from a third party vendor such as SONY. Huawei claim they have spent two years developing their own sensor. Uniquely they are also using their own custom bayer pattern to capture the image verus an industry standard RGB type. Huawei captures yellow with their sensor instead of green and the image processor develops the captured colors into useful picture and colur data.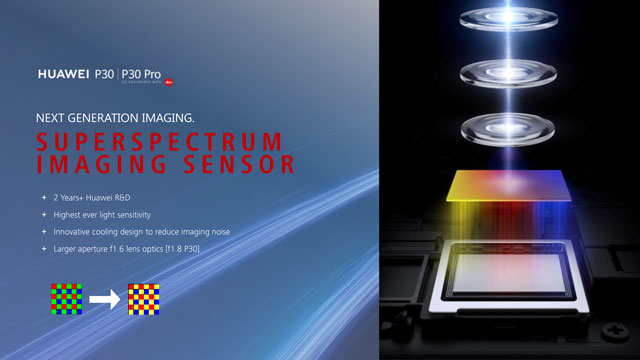 The enemy of a imaging sensor is pixel noise such as what is capctured during low light photography. The longer the sensor has to work in its on state to capture an image the hotter it gets and generates more noise. This applies to any imaging device or camera. Huawei claim by extending their phone cooling system to the inaging sensors (these are often heatsinks and heatpipes) they can cool the sensor and reduce noise.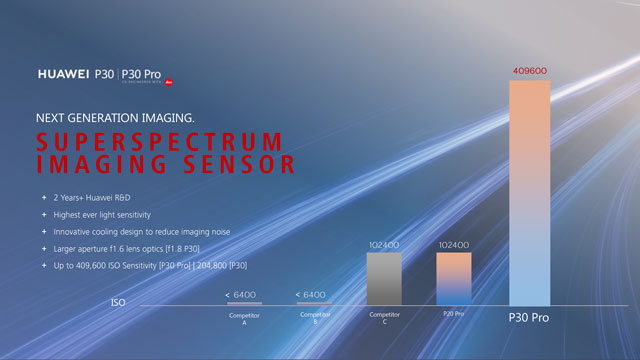 A smartphone is just too slim to put a universal lens such as found in a point and shoot camera which would add unwanted thickness. The solution is to make use of the 'unused' surface area on the phone and dedicate fixed lenses for each photography mode, with the hardware and software seamlessly blending for a unified photography experience.
The forth sensor, a "time of flight" sensor is new and unique and needs to be explained.
The 'T.o.F' camera is a depth sensor. Depth sensors have been used in other phones and PCs in the past but in the Huawei implementation, it assists with depth sensing, skeletal track and real time motion capture. 3D Motion controlled gaming; shaping and AR apps can be enabled with this
The newer Huawei devices such as the mate20 and P30 have a feature called AI focus, enabled by the chipset in the device as well as trained AI models of commonly photographed objects to speed up and assist with focusing. If you try to focus on a flower or greenery, the device will run image inferencing using its AI processing routines and detect a flower or greenery.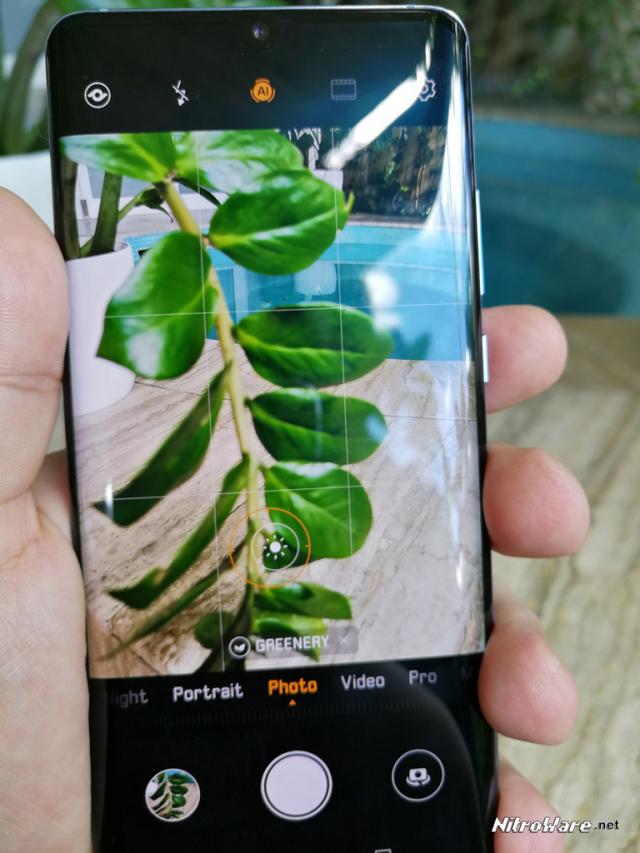 To test the camera performance in the P30 I have simply performed a A-B-C comparison between three phones spanning the past few years, Huawei's former flagship P10 Plus, Moto's mid-range g6+and the Huawei P30 Pro.
If you want raw specs see our table, but otherwise I am not going to discuss those here. There are excellent benchmark references out there if you want to compare these and other phones photos such as DxoMark but here, a semi subjective test is just how the end user will experience.
These samples out of the three phones are close to possible to the originals apart from watermarks added and images saved back out using Adobe Photoshop's very high JPEG pre-set (80% quality)
Before viewing these samples please those this disclaimer.
Android devices ship out of the box with the camera resolution setting (megapixels) set to LESS than the maximum and advertised setting for a particular device.
In the case of Huawei's P10 the available resolutions are 6 MP (16:9), 8 MP (4:3), 9 MP (1:1), 9 MP (16:9), 12 MP (4:3) and 20 MP (4:3).
Although I remembered to change the setting on the P30 I was testing, I forgot to check it on the P10 especially due to limited demo time. I assumed it was at the maximum setting as it is a set and forget thing. However earlier this year P10 received Android 8.0 update and it is likely this that reset the camera to 9MP.
As a result, the samples you are viewing are not a fair comparison but I have left the P10 in anyway. Despite the less megapixels the differences in fidelity.
Despite my mistake, it is somewhat a representation of the end user experience as this is how they will see their devices – with the camera setting not in the maximum resolution. iPhone users also need to check their settings.
Click on the thumbnails to view the full resolution pictures
Sample Photos | General Photography
moto g6+ versus Huawei P10 Plus versus Huawei P30 Pro
Lounge
Pool
Greenery
Sample Photos | Telephoto and Zoom photography
My zoom shots were taken from the same spot and at the same time. Huawei devices have a notch in the zoom slider which indicates the magnification at which optical zoom is available. I selected this and shot a far skyscraper.
Compared to advances in low light photography, improving optical zoom on modern flagship smartphones 'isn't that big a deal' not to put it lightly. However, comparing the P10 and the P30's optical zoom gives us a huge creative difference, with optical stabilised zoom on the p30 providing a very crisp, low noise and high fidelity zoomed shot
On the P30 we can further combine digital zoom with the higher factor optical zoom and create some amazing shots.
---
Sample Photos | Macro and close-up Photography
Orange slices are a very interesting test subject to use for macro/close-ups. They use many textures, and the flesh has a translucent structure, which affects capture of colour and light. The General rule here is that lighting is the biggest factor in taking great close up pictures. Although we used a light box for this test it still had relatively low level of LED lighting. These phones still use a single LED flash and compared to a Xenon flash on a point and shoot camera or a ring/diffused external flash on a DSLR or interchangeable camera you are still going to be light limited for these types of shots.
You do not have to believe my words as you can try this for yourself, a 4 or 8 MP point and shoot camera with a traditional flash and dedicated macro mode will give better macro results than many flagship phones.
---
---
Sample Photos | Low Light and Night Photography
The P30 shines in Low light and night photography.
The P30 picked up all the correct details in this scene at the expense of heavy noise, but the subject was in focus, highlights not blown out and shadow detail correct.
Other launch reviews threw in a Google Pixel 3 for comparison showing the P30 beat even that device, where google has gone to efforts to advertise its flash free night shot feature.
My P10 struggled in this scenario. Using comparable night pre-set and no flash it tried to take a 60 second long exposure to capture the night scene. For that long of an exposure, a tripod would be needed. For this experiment, a tripod is moot as the stabilisation and low light capabilities are compared. I stopped the long exposure after a few seconds, which would have been just enough to get an 'acceptable' result.
The P10's result is barely and borderline usable. In one of the shots the model's face and hair is washed out against the dark background but her clothing was in focus. The other shot only a silhouette of her head was visible with body and clothing just out of focus. This was likely due to blurring during the attempt to take a long exposure.
Although being a mid-segment phone and a year newer than the P10, The Moto G6+ achieved a result similar to the P10. This device is based on a Qualcomm chipset so uses their Image Processor, Stock Android Operating system and Moto's own Camera app.

Highlights
Ingress
Pre-release Specifications provided to NitroWare.net state that the P30 Pro is IP68 rated to dust and water ingress but no rating was provided for the standard P30. Anandtech in their report claim the P30 non-pro is rated to IP53 standard. Samsung's S10 is IP68; the older S5 is IP67 as is the Huawei P20 Pro. P10 and Moto G6+ are "splash proof"
IP68 - dust tight and protection from fresh water to a max of 1.5m for up to 30 minutes
IP67 - dust tight and protection from fresh water to a max of 1.0m for up to 30 minutes
IP53 - dust protected and protected from water spray for 10 minutes
IP53 should be sufficient for a rain shower where as IP67/68 simulate dunking in a pool or even the toilet.
Moto noted to us that one of the most common ways people ruin their phones is a leaking water bottle in their bag or backpack.
Battery
A short demo session with the Mate 20 last year and now the p30 does not give us a way to objectively test the claimed battery capacity (4200mah for the P30 Pro) and talk time (26hrs 3G and 19hrs Internet) but I can talk about the real world battery life I get for my daily carry P10 Plus.
With the P10 Plus, For Wi-Fi only and all radios and notifications enabled 2.5 days between charges. For mixed 4G, Wi-Fi, mobile internet use and camera, a typical workday with a commute I can get 24hrs between charges max with 12 hours worst case with heavy internet use. Note the P10 Plus has a 3750mAh battery versus 3650mAh for the P30 and 4200 mAh for the P30 Pro
Memory and CPU

P30 carries over the RAM upgrade the P20 received but takes the Kirin 980 processor from the Mate 20 rather than the 970 from the P20. The HiSilicon Kirin 970 was the first generation to contain a Neural-processing unit for AI computation tasks with the 980 having Dual Neural Engines to speed up AI computation tasks such a AI focus or Face unlock.
Clock speeds are unchanged for the Kirin 980 between the Mate 20 and both P30/Pro have the same processing platform. Huawei could have adjusted the clocks up or down given the form factor and battery but remarkably did not.
Modern Huawei platforms use a 'Balong' modem sourced from HiSilicon, Huawei's semiconductor division instead of Qualcomm and increasingly more core logic is being brought in-house rather than using third party merchant silicon from the likes from Qualcomm or Broadcom.
The P10 takes a standard micro SDHC card as well as being dual-sim compatible. However since the Mate 20 and for the P30 Huawei have switched to a proprietary "NM (Nano Memory)" storage card. It is not a rebranded SD card to save royalties. It is shaped like a Nano SIM and the contacts resemble a SIM card more than a SD card.
Why Huawei Why. Samsung did not go down this path for the S10 and still support a 'standard' Micro SDHC card.
In this article I am not going to debate or contrast the merits of Samsung's own custom developed in-house ARM CPU cores (their Exynos M series) versus the standard Cortex ARM cores used in the Kirin SOC but I do want to mention one important concept with a modern phone chipset.
These days, chipset performance in high-end devices is at a high level nearing desktop PC class performance in certain tasks but these advances are plateauing. As such performance is similar between flagship devices in the Android space however Apple has different ideas by focusing on single threaded performance in their chipsets rather than add more computing cores. This comes down to a efficiency versus raw power discussion. Apple has the human talent and finances to develop its own in house ARM based cores while other vendors make their own chipset using Compute cores licensed directly from ARM themselves and add value to these chipsets with other means such as improved image and AI processing.
Software
If you are unfamiliar with Huawei devices, they use their EMUI skin on top of Android. It is a slight skin on top of vanilla Android. Out of the box, EMUI does not use the 9-point drawer icon and the Home Screens are your app launcher just like iOS devices where you align, group or delete your applications.
If you do not like this, you can change to the 'default' android behaviour in settings.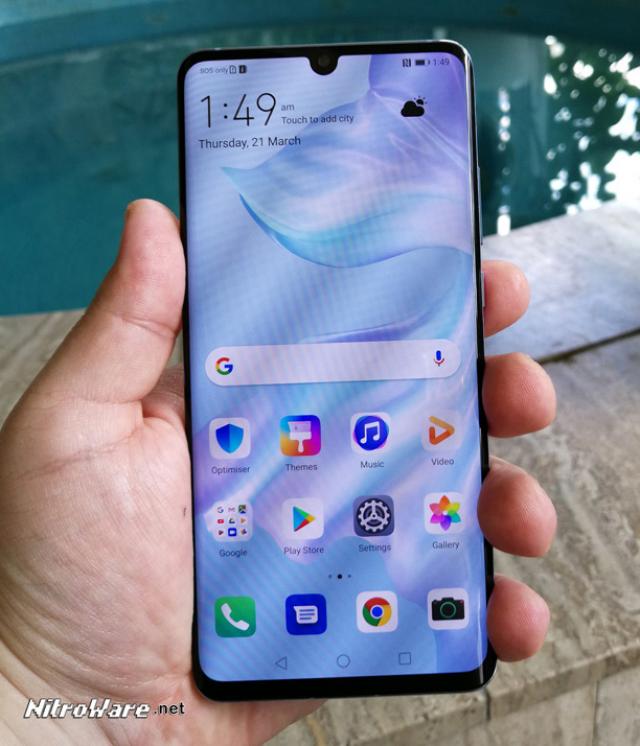 Additionally an easy mode is available. As a now seasoned android user, I prefer the EMUI/Home screen approach of managing icons and applications. Why have both an application drawer and shortcut home screen apps unless you have 1 zillion apps and only want to shortcut the most important ones.
Having used the S8/S9 and Note 9 but not the S10, I find Samsung's UI confusing compared to near-stock Android experiences from Moto and Huawei especially where settings panes and application options are concerned. In addition, the Samsung branded "browser" has a weird interpretation of website DPI compared to standard browsers like chrome. It seems to ignore it to display websites in a desktop like scaling experience, which is not very useable on a mobile screen.
P30 Pro comes with Android Pie 9.1 out of the box. Huawei's P10 Plus shipped with Android 7 but later got an upgrade to Android 8.0. At time of publishing, this article, P10 was only patched to January 2019 Google security updates. Moto's one-year newer mid-tier G6+ has up to date patches.
The P30 should get monthly or at least quarterly security updates and one major OS update if the past cadence of Huawei devices is followed.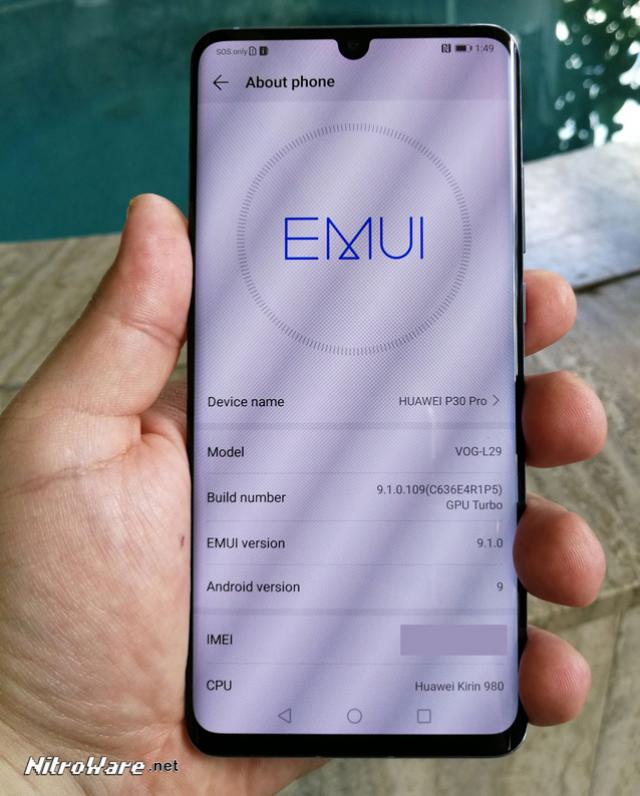 Connectivity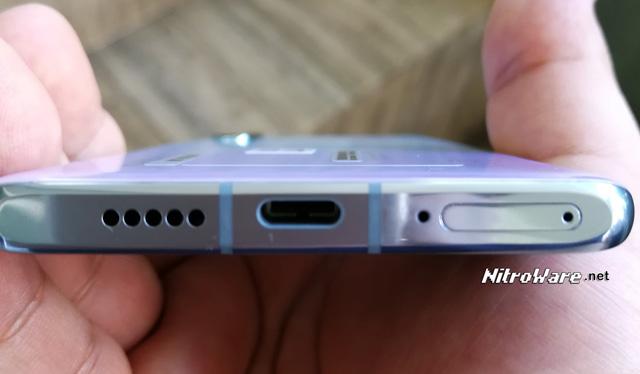 Wi-Fi support has been updated to 802.11ac Wave 2 but 802.11ax aka Wi-Fi 6 is not supported by the P30 but is supported by the S10 and only by the S10. Therefore, I guess we will have to wait for the next Huawei device refresh such as the Mate 30 to see if Wi Fi 6 turns up, it should but nothing is certain.
Strangely, Huawei have highlighted their support for High Res and lossless audio CODECs on the P30. HTC, Sony and LG have tried in different ways via hardware and software but it is refreshing to see a phone vendor clearly define what audio CODECS are supported for Bluetooth. aptX, aptX HD, LDAC HD and HWA audio are supported over Bluetooth.
USB connectivity is provided by a Type-C 3.1 Gen1, which means a maximum of 5gbit/s is supported, meaning high speeds. The P10 Plus was only supplied with a 480mbps Type-C USB 2.0 cable.
P30 Pro still contains the IR blaster (Infrared remote control) form the P10 Plus. It is an uncommon feature that we first saw in the HTC One *seven* years ago. It has some usefulness but not to the mass of users. I have used it to replace a Fetch TV set top box remote but modern TVs such as those from Samsung or Panasonic use Wi-Fi for their mobile remote control apps so the feature is redundant going forward.
Wireless Desktop mode is available with compatible streaming devices not just by docking the phone to a display using the USB cable. Desktop Mode means a PC like desktop is displayed rather than the phones usual 'cramped' interface, allowing basic productivity using the phone and a keyboard and mouse.
Accessories
P30 Pro comes with Supercharger 2.0, Type-C Digital headset/earphone (Type-C headsets can be analogue or digital) and a clear hardback case that is not fitted to the phone to protect it yet show off its colours. P30 comes with standard 3.5mm analogue earphones and Supercharger 1.0
The supercharger bundled with the P10 Plus supports 5V @ 2A, 4.5V @ 5A or 5V @ 4.5A unlike the Qualcomm developed Quick Charge used by the majority of the industry supporting 9V.
Supercharge 2.0 for the P30 Pro is a step up and is a much larger charger physically but like its sibling it's very difficult to impossible to find a third party supercharge compatible charger because my understand is Huawei do not want to open the spec up to others.
Note the new supercharger's relative large size and how it has thumb grips, which will conflict with other power plugs adjacent. Something to note if travelling and you do not have a power strip.
Dimensions and Weight
Note the huge difference in viewable area between the P10 and P30 – the space taken up by the upper chin, which houses the earpiece and selfie camera, and the lower chin, which has the nav key/fingerprint sensor. It is almost a third wasted space in the face compared to the P30
Due to the different shape, or aspect ratio of the devices. The taller but slimmer P30 Pro is a similar height to the wider but shorter P10. The light box Huawei provided was not perfectly flat so there is some slight difference to the devices.
For AUS market, pre-orders start 27 March (AEST) for 16 April availability. Worldwide launch is 26 March, Paris time,
Handset

Price

Stockists

P30 Single SIM

AUD $1099

Vodafone

P30 Pro Single SIM

AUD $1599

Telstra
Vodafone

P30 Dual SIM

AUD $1099

Optus

JB Hi-FI

Harvey Norman

Kogan

Mobiciti

P30 Pro Dual SIM

AUD $1599

Optus

JB Hi-FI

Harvey Norman

Kogan

Mobiciti
For Australia, retail partners as well as Optus will sell the Dual SIM variants whereas Telstra and Vodafone will stock Single SIM variants. Typically, telcos prefer not to stock dual SIM handsets as these are seen as a competitive threat to their business if the end user is 'allowed' to insert a SIM from a competing telco and have it coexist with their SIM.
Dual SIM is old hat now, and the industry is transitioning to eSIM (embedded SIM) technology. IN addition, some chipsets such as those from Qualcomm even support Triple SIM. Telecommunications providers need to get over their paranoia and look at how past innovations have been adopted and embrace these new technologies. Once upon a time MP3 ringtones were software blocked by telcos as this was seen as competitive to their own ringtone stores and some telcos still block device tethering.
Note that the P30s are Dual 4G active SIM, which means both SIM cards will be connected to 4G and be online simultaneously. Older devices such as the P10 Plus and devices from Motorola are 4G+3G, meaning one SIM will connect at 4G and the other 3G.
Huawei did not discuss with us any 'P30 Lite' model or Mate 30 but given Huawei's record of accomplishment, it is safe to assume a P30 Lite will be released but its availability may be region dependant. Ditto the next generation of the Mate family, which should include the new advances and features from the P30.
Huawei themselves are providing a bonus Sonos One Smart speaker available via redemption which has been on sale in AUS for A$250+
There is two years pickup and return warranty on the P30 due to this device being a flagship and available on contracts compared to cheaper prepaid phones. Most phone plans in AUS are two years and there are regulations to ensure phones supplied under a plan versus bought outright are covered by warranty. https://www.abc.net.au/news/2014-10-17/mobile-phones-engineered-with-built-in-obsolescence/5818410
The free pickup and return is a very appreciated feature in light of people becoming more time conscious and for those in remote areas.
Verdict
If you have a several generation old device and want to upgrade, now is the time and the P30 is an ideal candidate. It offers performance improvements in leaps and bounds over a several year old device in the areas of processor, imaging and display.
With the camera alone, the main feature for this new phone the difference in capabilities compared to the older devices is night and day.
The imaging sensors have better low light sensitivity, 'AI', plus Telephoto assist focus and wide optical zoom modes are introduced. Just a single photo is enough to show a big difference between the P10 of 2017 which supports only 2X Optical Zoom and the P30 of 2019 and its superior performance.
The P30 Pro is feature packed but what is it missing compared to the Samsung S10+? The S10 does not have a controversial 'notch', instead having a floating camera aperture (fine, call it a notch) that houses both front sensors. P30 Pro and S10+ Front selfie cameras are not the same and cannot be compared based just on megapixel count.
S10+ has Wi-Fi 6 connectivity, otherwise known as 802.11ax, the absolute latest Wi-Fi standard with the highest throughput speeds, while this is attractive to early adopters; the fact is Wi-Fi 6 routers are almost non-existent. There are a few on the market, but.
P30 comes in two vivid pearlescent colours, while S10 comes in a prism finish (versus Huawei 'crystal'), white, black and green and ceramic finishes which are choices that are more conservative for some people. S10 has a glass or ceramic finish
Only the P30 Pro is water and dust resistant rated to IP68 while all three versions of the S10 are.
P30 comes with a 2340x1080 OLED screen while S10 has a Quad HD screen
All 3 variants of S10 have a 3.5" headphone jack while only the P30 does, the P30 pro comes with USB headphones.
Me personally? I want a headphone jack, Wi-Fi 6, FM Radio, Full HDR display and capture and guaranteed Android software updates for a time period, but that is just me and my own preferences and given other devices may have these I am not far off track.
As I said at the start of this review the focus of the P30 is the camera and it's results speak for themselves and the phone does deserve the accolades and hype surrounding it. The P30 is so good as a camera that the case for replacing a point and shoot camera keeps getting stronger if not already decided.
As with these things, especially in the imaging department there would be something better coming this year but from who remains to be seen, but one thing is for sure Huawei have established a camera track record going back several generations of P series handsets now and this trend should continue.