Haswell with a [Corsair] Vengeance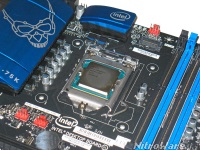 New computer architecture can often offer debatable performance benefits at launch time. We look at what speed-up Intel's i7-4770K offers over 3770K as well as the integrated HD Graphics performance. Haswell's CPU architecture delivers what was predicted, moderate performance improvement with significant power savings, i7-4770K achieving 40 watts at idle and 15 watt reduction in CPU loads.
Despite these CPU improvements it is the updated graphics performance that provides shock and awe. Haswell's integrated 'GT2' HD Graphics 4600 GPU delivers one-third to half the performance of NVIDIA's GeForce GTX460. Has Intel has finally delivered on its promise of better graphics? With such promises in tech land, the more things change the more they stay the same. Read on to find out why and more detail on Haswell's Desktop performance.
Background
Technical details surrounding Intel's 4th generation 'Core' Processor, codenamed 'Haswell' have been known to the industry for a few years now as is the nature of Intel's gradual disclosure of technical details as it progresses through its development cycle for its new processor architectures. What has been not known was how these new technologies would be implemented into the final product. Power savings, new instruction sets, changes to the platform chipset/mainboard, enthusiast tuning features and so on.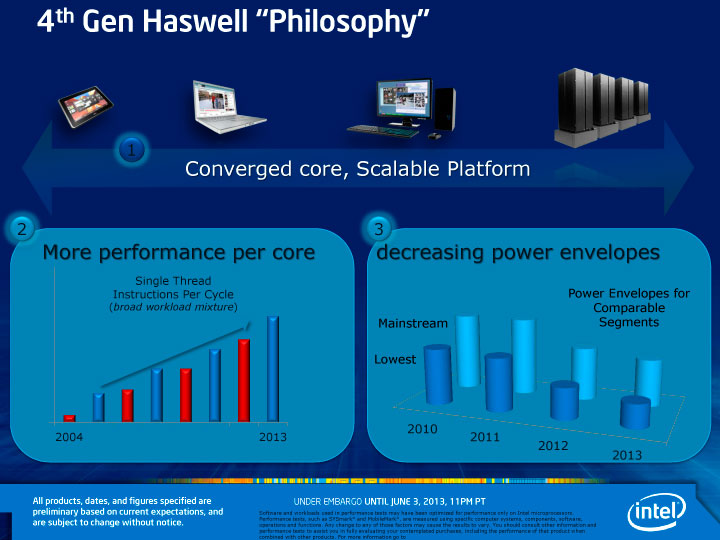 Much hype, hope, praise and controversy was put on Haswell and its successor Broadwell during the past 2 years especially with regard to its mobile versions and graphics capability and performance.
It is easy to be cynical of promises in the hi-tech sector especially given past performances but if it is one thing that can be banked on in the computer industry is never ever underestimate Intel. Other vendors may be first to deliver a technology to customers such as AMD but Intel has always taken the long road and tried to deliver an optimal and robust feature set. Intel's delay to implement USB 3.0 is a good example of this, despite being shrouded by controversy.
But Haswell does bring tangible improvements, however the bulk of these will me more noticeable on mobile devices.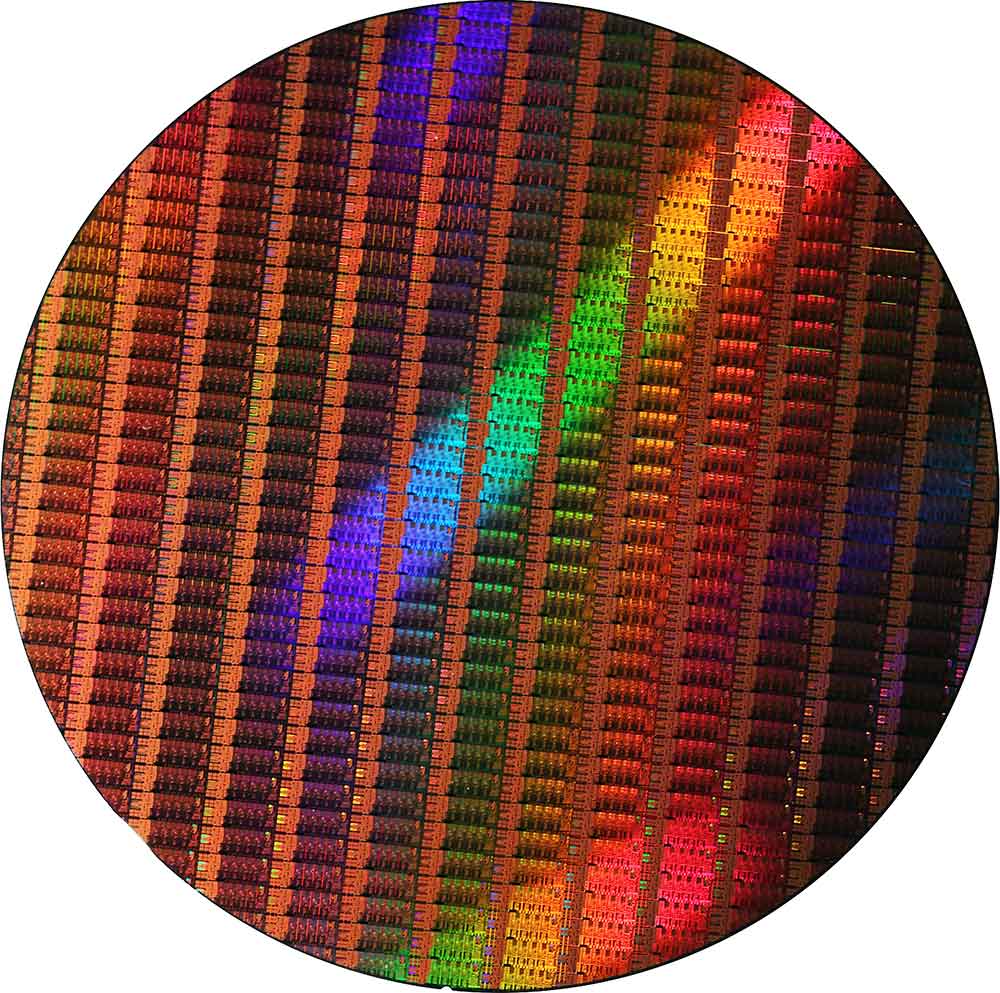 Haswell Architecture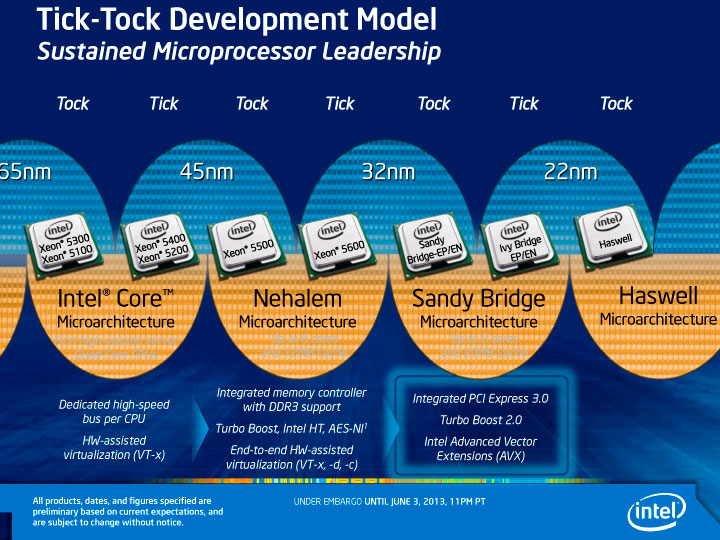 Although Haswell is a tock in Intel's Tick-Tock development cadence, it is not a significant re-design of the Intel 64 Compute cores. It is more an evolution as the pipelines are largely unchanged from Ivy Bridge.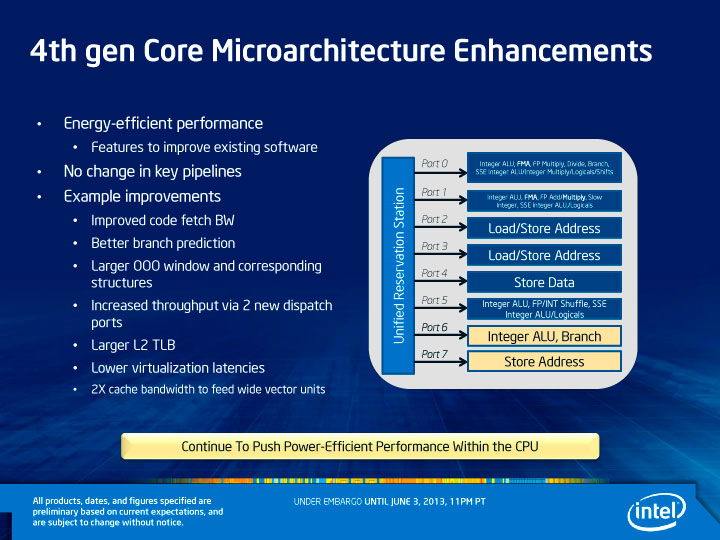 However since it is a new architecture, they have added a number of new features which do classify it as a new major node
Power Management states
Integrated Voltage Regulator
Support for optional eDRAM (L4 Cache)
Haswell New Instructions (AVX2, FMA3, Gather and Integer Instructions)
Improved code fetching and branch prediction
Widening and increasing internal data paths, structures and buffers for improved bandwidth and throughput
Two additional ports for instruction and code dispatch
For specific mobile parts, a single system-on-a-chip package incorporating chipset.
Chipset enables more SATA 6gbps and USB3 ports for the end user.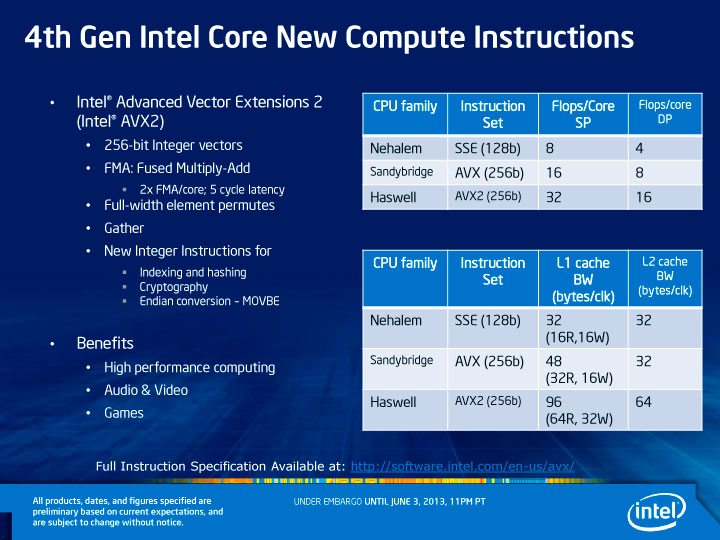 While this may seem all nice and good to some power users or enthusiasts, there is a catch. Just like every other mainstream desktop Intel platform since 2008 the platform is restricted; there are not enough PCI lanes available to support a large number of devices operating concurrently, especially graphics cards.
Haswell supports 18 PCIE lanes total in the CPU whereas Sandy Bridge-E, Intel's workstation/server/extreme enthusiast part has 40 lanes, making Triple graphics cards with extra peripheral cards work much better without comprising bandwidth or auxiliary PCIE lanes.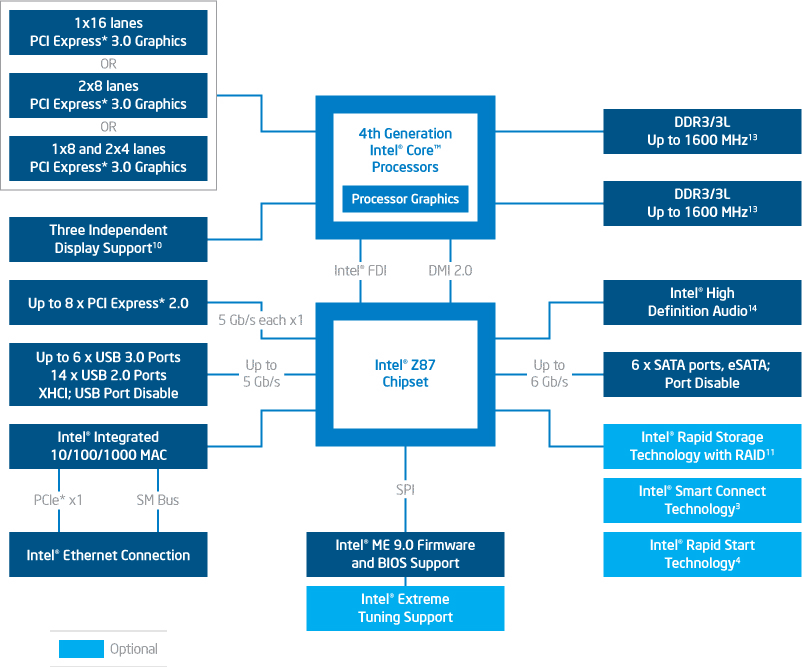 However, Base Clock overclocking is brought across from X79, allowing for speeds of 125 to 200MHz, combined with the Integrated Voltage Regulator and Ring Bus allows an interesting overclock experience. We achieved 4.6GHz CPU and 1.5GHz integrated GPU stable with our sample review kit however our cooler was borderline at this speed. 4.3GHz is a more manageable overclock.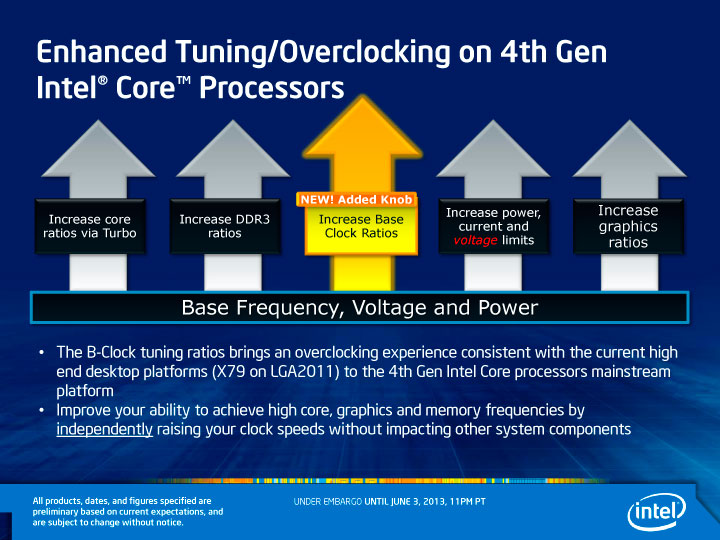 In a nutshell, HD Graphics 4600 uses the same SIMD based 'slice' architecture as Ivy Bridge's HD4000 (and Sandy Bridge before that). However Execution Units are doubled as is the clock speed. These two key elements plus the improved Quick sync make up the performance advantage for the GPU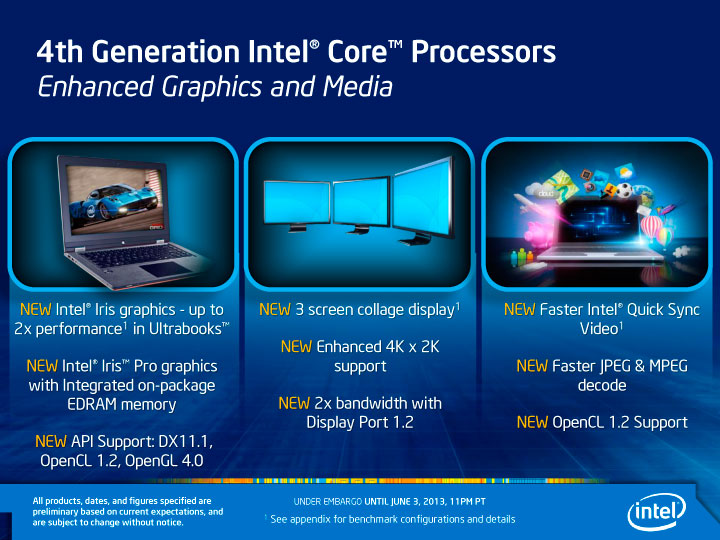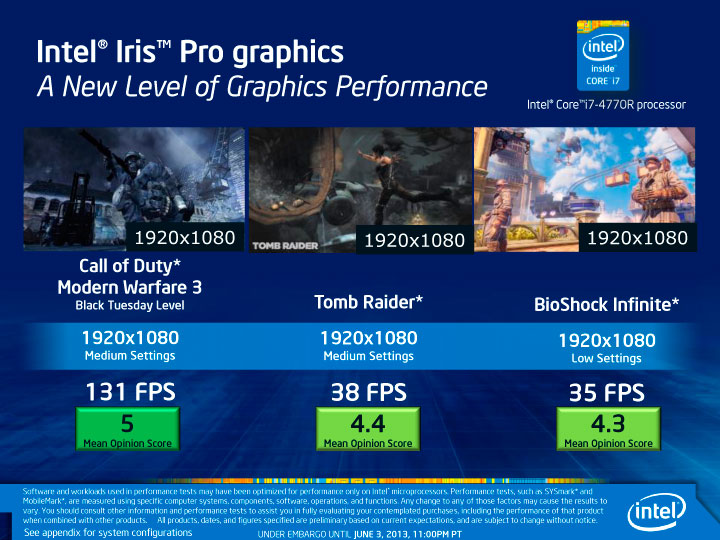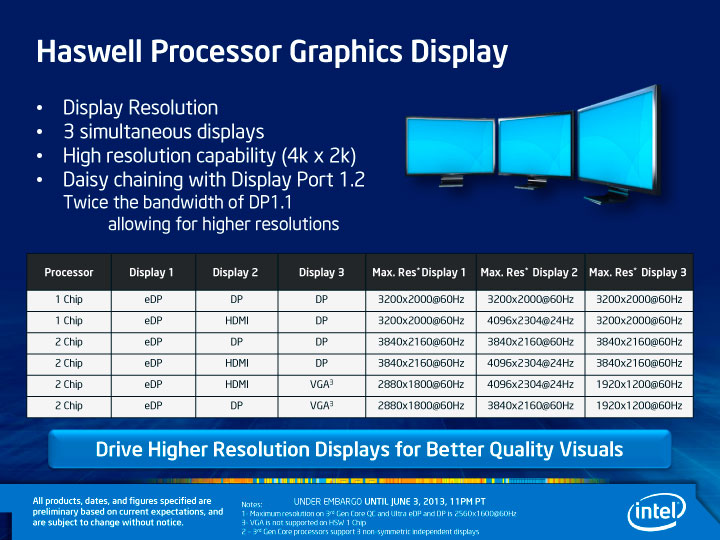 Quad core 4th gen CPU product line-up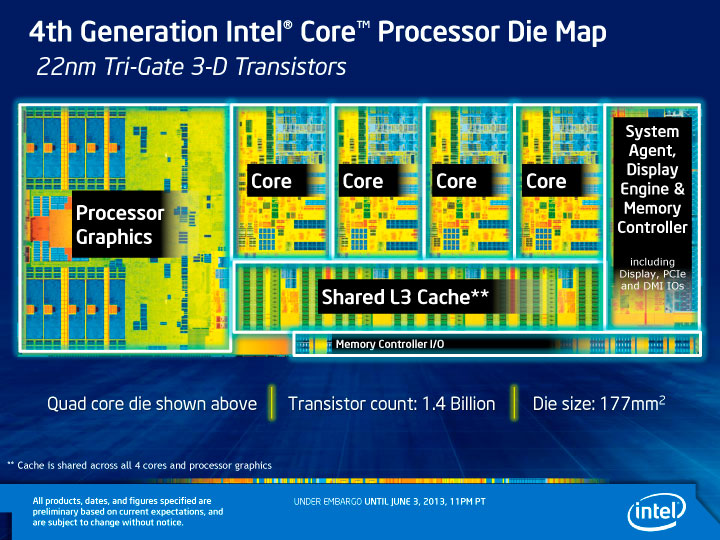 For the quad core parts, from an overall view we have a similar top to bottom mix as 3rd gen Core. Full power/clock parts and reduced power S and T parts. S parts have traditionally been intended for SFF cube or All in One system which have limited thermals. T parts go even further and are ideal for niche uses such as embedded or HTPC.
With 4th gen, the main differentiator on desktop parts is clock speed and hyper threading as per 2nd and 3rd gen but also the L3 Cache amount
All i5 and i7 desktop models except 4770R feature the 'GT2' HD4600 graphics as featured in our Haswell review series, at varying clock speed.
4770R is the interesting part as it trades turbo speed for graphics capability. This part is for OEM consumption only to be fitted to All-In-Ones with high Res screens. In this application graphics performance is important and cost can be reduced by omitting a discrete GPU in lieu of the 4770R.
Unfortunately, the 'Crystal Well' L4 cache which can be used for CPU cores or graphics is omitted from all parts except the 4770R. IF the 4770K had hypothetically been fitted with the on-package L4 cache, TDP would rise from 84W to 90, 95 or 100W depending on the end configuration. This is a trade-off that Intel was likely uncomfortable with both on cost, binning and thermal/power considerations.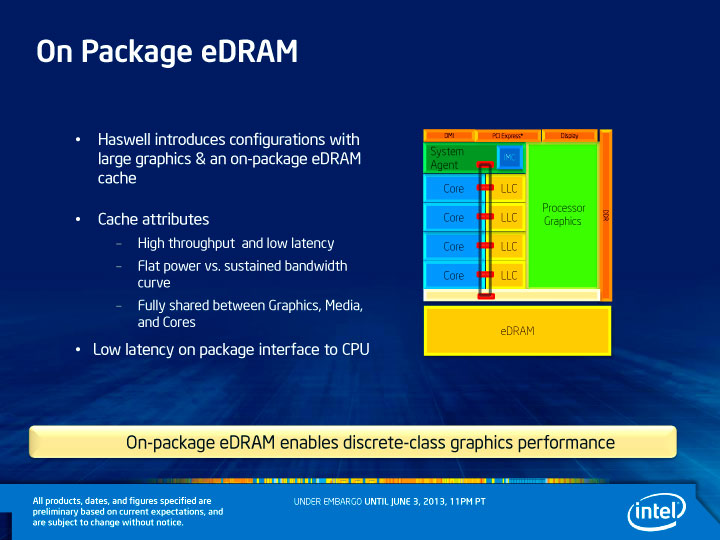 The extra performance would have been beneficial generation to generation; although over clockers have enough concern about Haswell overclocking at the moment without the extra overhead of more cache.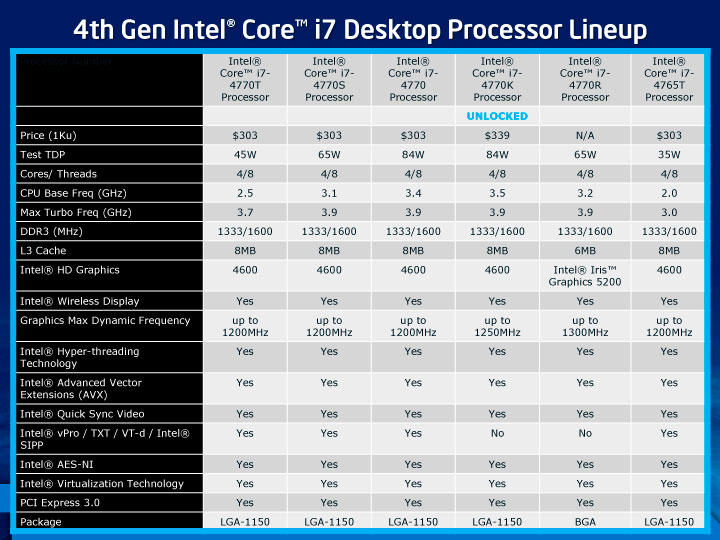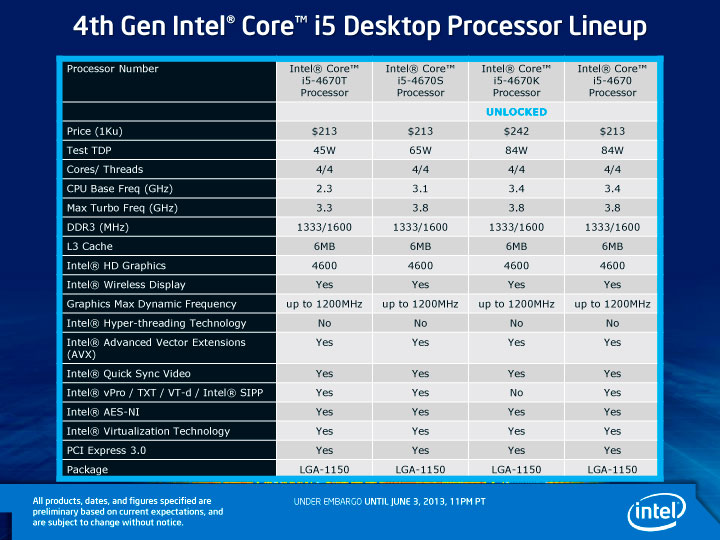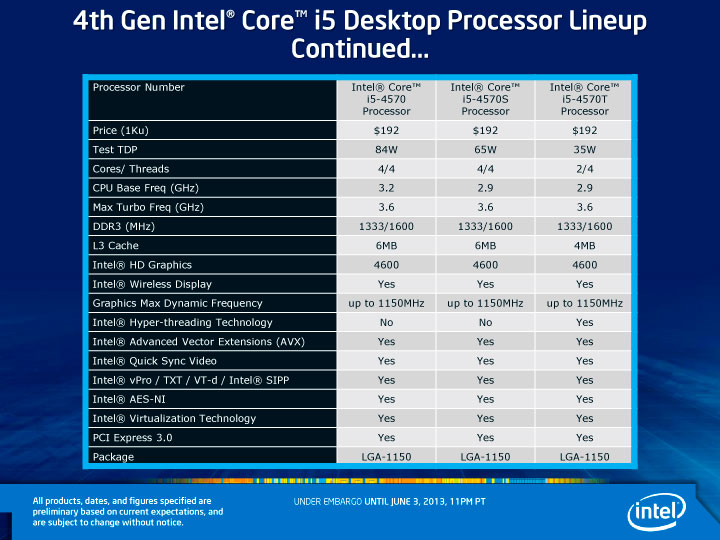 For mobile 4th gen, the alphabet soup increases with new SKUs specific for mobile, enabling high performance graphics and single chip packages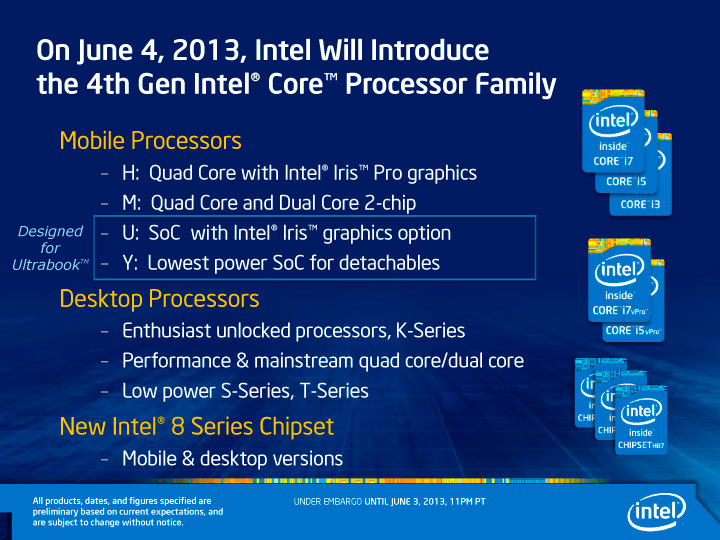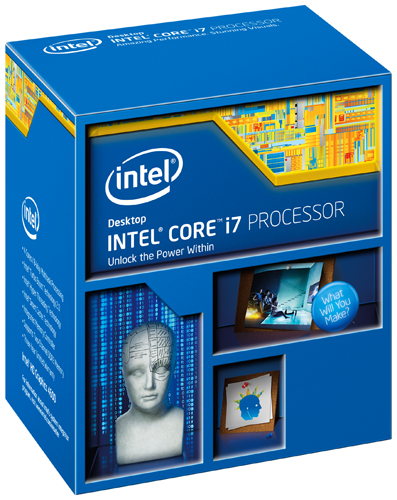 Z87 Chipset and Intel DZ87KLT-75K Desktop Board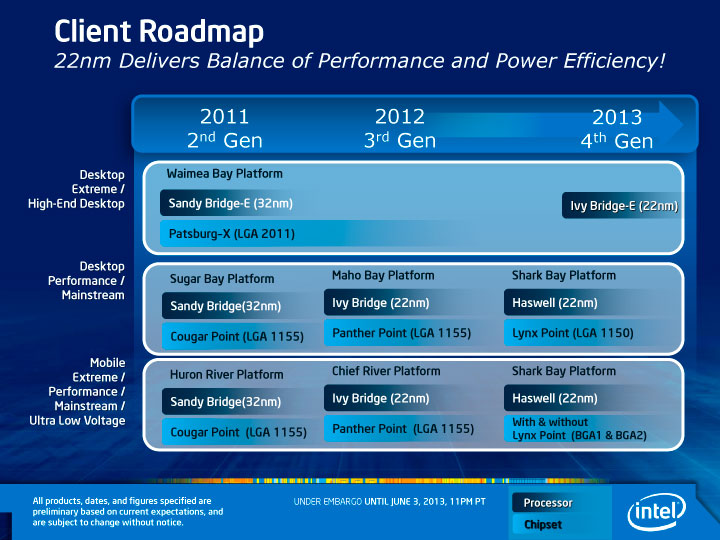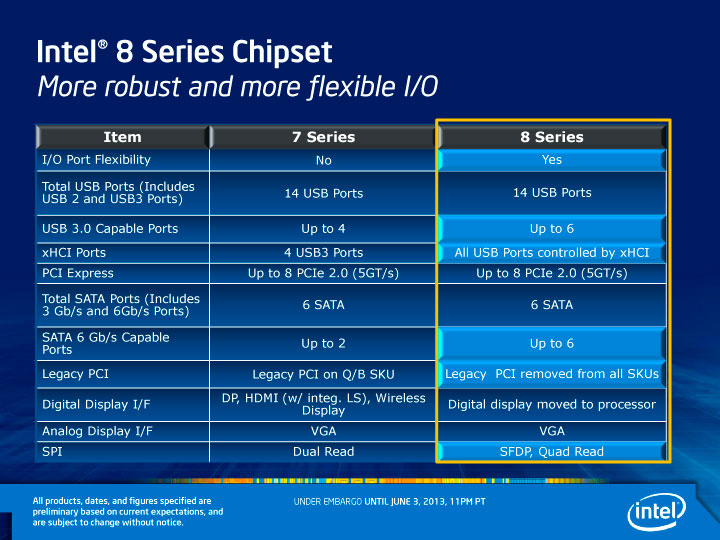 To test the 4770K CPU, the Intel review kit was bundled with a pre-production sample of Intel's "Kinsley" motherboard. This board exposes all of the features of the Z87 "Lynx Point" chipset but Kinsley is not that revolutionary compared to the black and blue Z77 examples from 2012.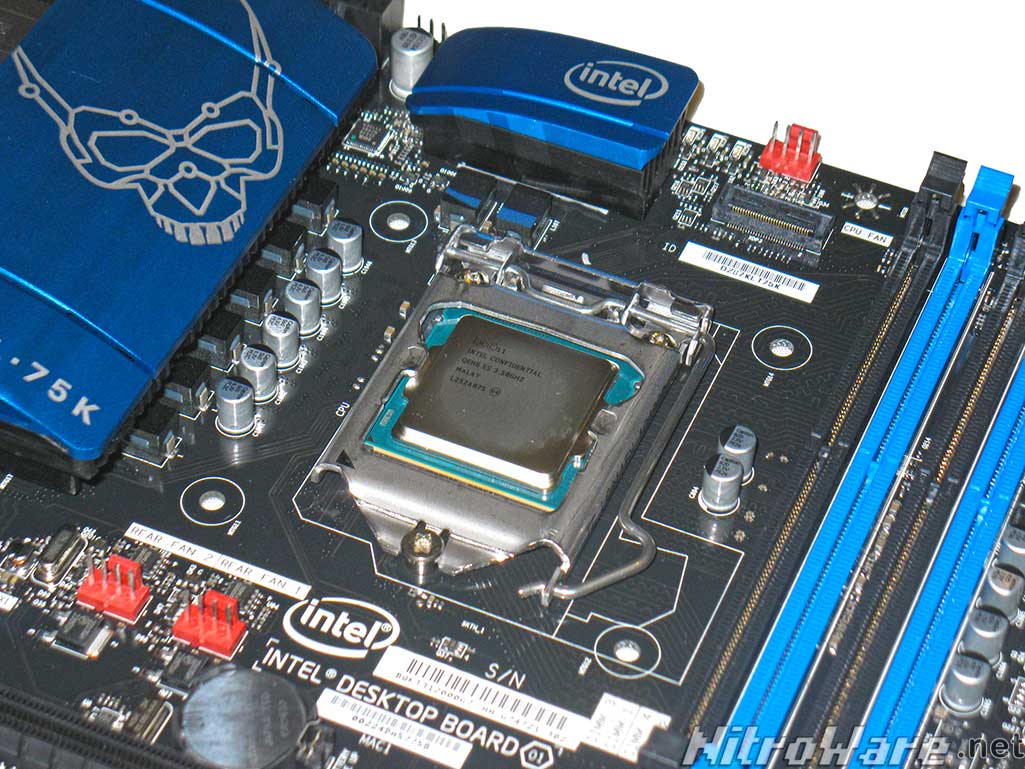 There are four high current charge ports (2 back panel, 2 header) which supply 1A if the data lines of the ports are shutoff completely or only in standby/power off using a BIOS switch
The Z87 provides six USB 3 total plus USB2, all powered by xHCI. On the rear panel, six USB3 ports are provided via two 3-port Genesys USB HUBs. The use of hubs provides flexibility but means total bandwidth is limited.
The Six SATA 6Gbps ports now supported by the chipset like prior chipsets only support one mode, AHCI, RAID or IDE.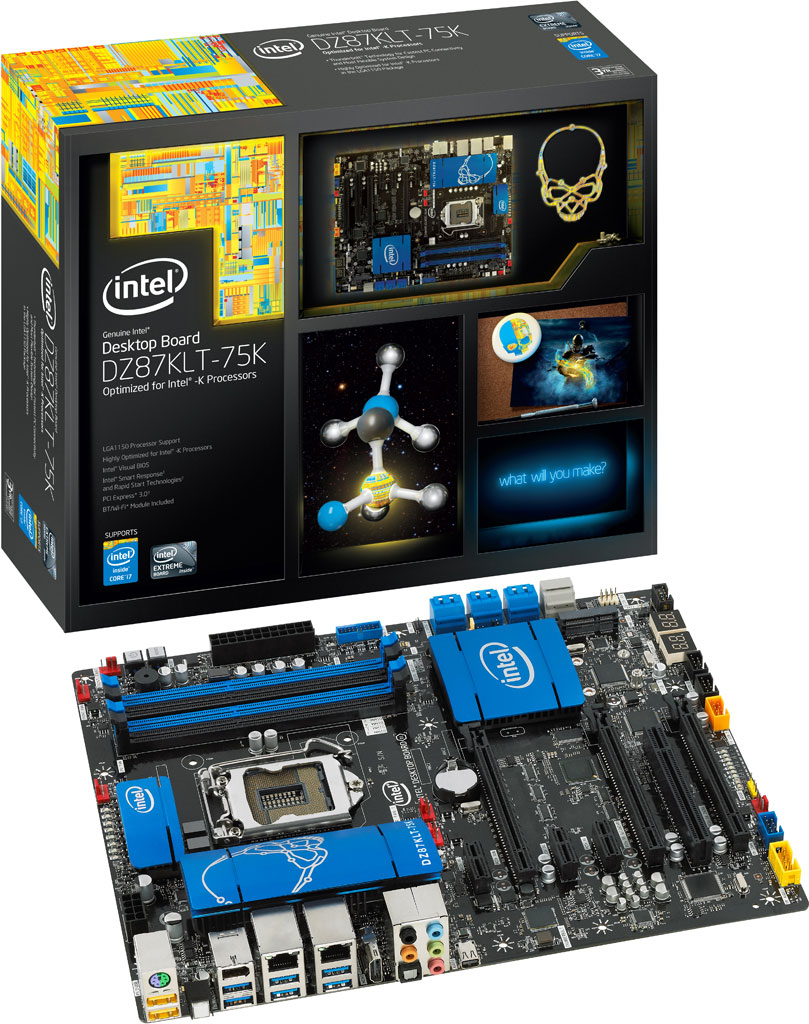 Two further ports with a separate mode selection powered by Marvel make up the 8 ports.
An ASMedia ASM1061 powers the combo mSATA/mPCIE slot. USB 2.0 is supported so 3G, TV Tuner or Bluetooth can be used. Next Generation Form Factor AKA M.2 cards are not supported on Intel's best board yet ASUS support it on select models of their Z87 boards.
Since this an enthusiast oriented motherboard, the only on-board displays out are HDMI and Display Port/Thunderbolt and we expected nothing different.
On-board Thunderbolt is via the older Redwood chipset, meaning the board is Thunderbolt 1.0 only.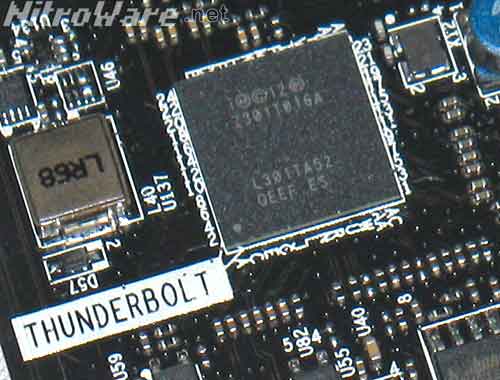 Audio is nothing fancy here, Realtek ALC898 with an ordinary audio layout on the PCB. DTS audio is not supported.
Interestingly a PLX PEX8606 PCI Express switch is provided to provide six additional PCIE 2.0 lanes, all of which are populated. http://www.plxtech.com/products/expresslane/pex8606 a power user can easily run into bottleneck with this motherboard.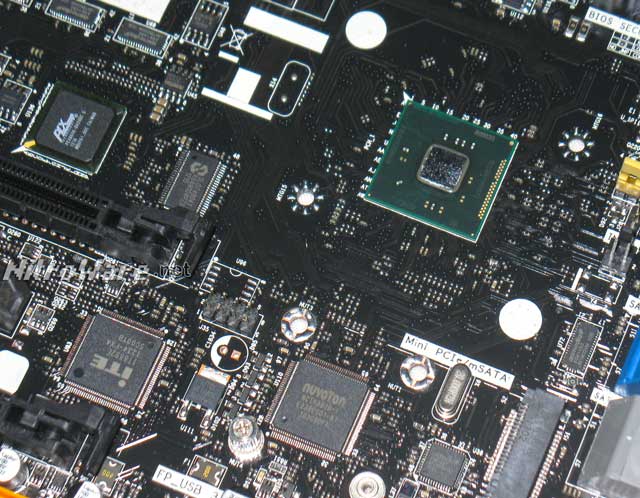 Kinsley's power delivery is quite conservative, as Intel thinks 8 power phases on the 75K board is sufficient for overclockers.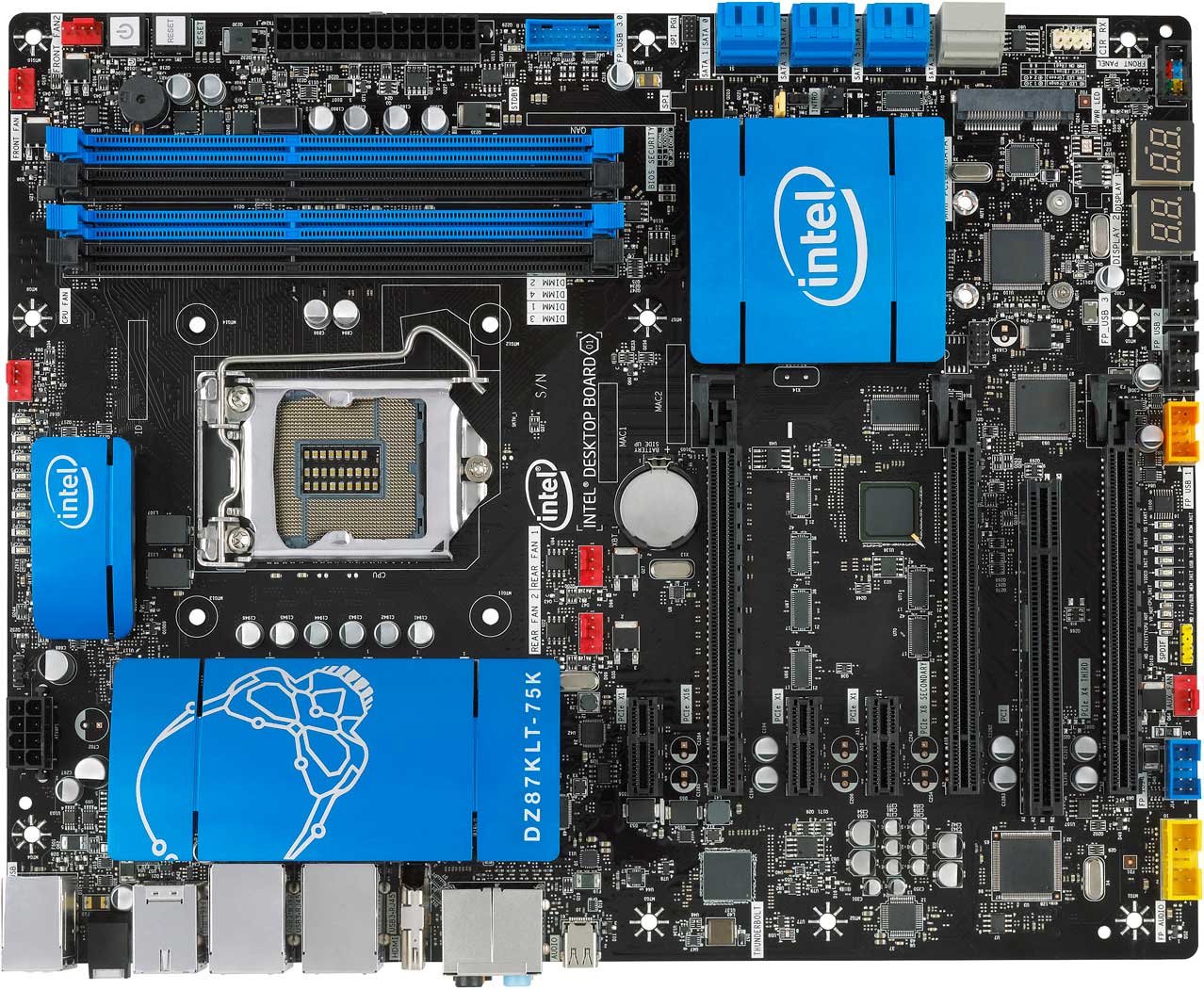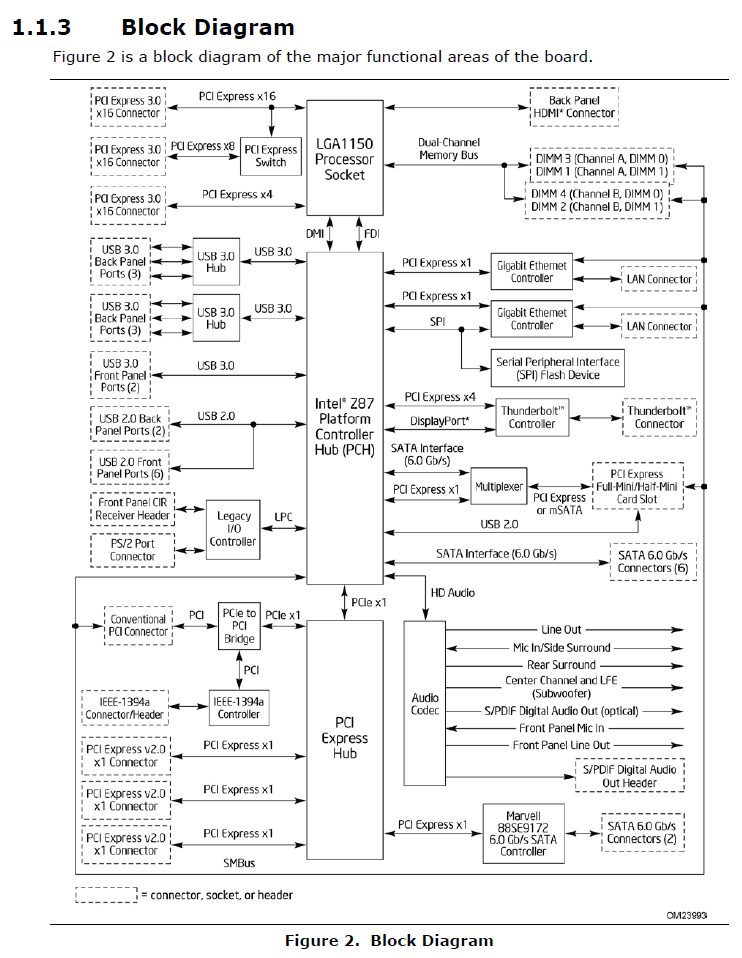 Test Specs and Methodology
Processor

Intel Core i7-4770K 3.5GHz
(3.7 to 3.9GHz Turbo)

Intel Core i7-3770K 3.5GHz (3.7 to 3.9GHz Turbo)

Intel Core i7-2600K 3.4GHz
(3.4 to 3.8GHz Turbo)

Motherboard

Intel DZ87KLT-75K
BIOS KLZ8711D.86A.0334

ASUS P8Z77-V Pro
BIOS 1908

ASRock Z68 Professional Fatality Gen3

Memory

8 GB - 2x 4GB Corsair Vengeance
DDR3-2400 C10 CMZ16GX3M4A2400C10

4 GB - 2x 2GB Kingston HyperX
Genesis DDR3-2133 CL9

Cooling

Cooler Master Hyper TX3

Intel Boxed

Graphics

Gigabyte NVIDIA GTX460OC 1GB

System Drive

KINGSTON HyperX SH100S3120G 120GB SATA 6Gbit/s Solid State Drive

Aux Drives

Seagate Barracuda ST3000DM001 3.5" 3TB SATA
Seagate Backup Plus 1TB 2.5" External USB 3.0
WD My Book 3.0 2TB 3.5" External USB 3.0
PIONEER DVR-216 DVD-RW SATA

Case

Corsair Vengeance C70 Mid Tower

Cooler Master CM STORM
Enforcer Mid Tower

Power

FSP 'Aurum Series' AU-750M 750 Watts Power Supply

Display

DELL Ultrasharp U2412M 24" LED backlit LCD Monitor

Operating System

MICROSOFT Windows 7 Ultimate Service Pack 1 64bit
May 2013 updates and Internet Explorer 10

Graphics Driver

NVIDIA GeForce 314.22

Storage Driver

Intel Rapid Storage 12.5

Intel Rapid Storage 11.7
The aim of our initial launch review of Haswell is to determine what advantages the new platform (CPU and Chipset) provide over the previous generation if we exclude the integrated graphics and rely on a baseline add in graphics card, a GeForce GTX460.

Overclocking and Integrated graphics we will cover in a follow-up review.
We selected the Corsair C70 case and 2400 RAM for their value proposition. The C70 offers excellent cooling with its three bundled fans with option for more and is enthusiast friendly. The RAM kit is an affordable entry point for high speed memory and Haswell/Z87 is able to utilise these speeds more effectively than older generations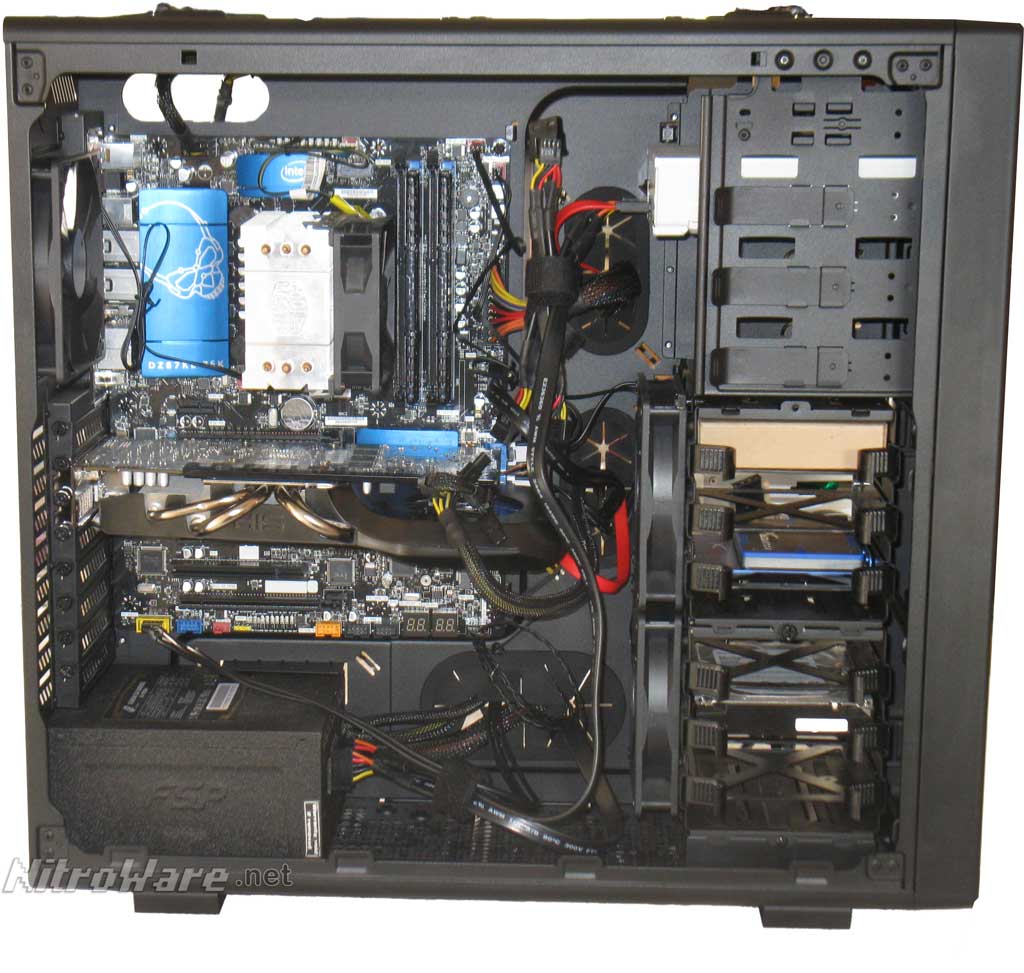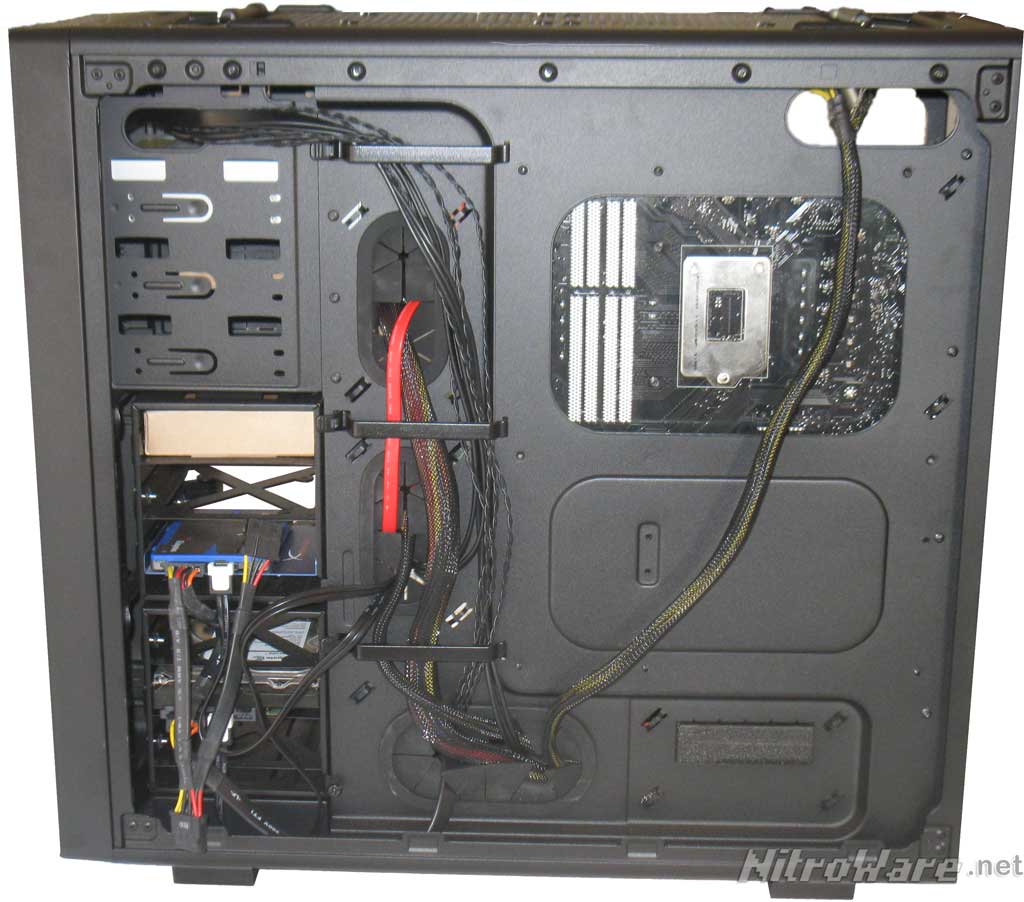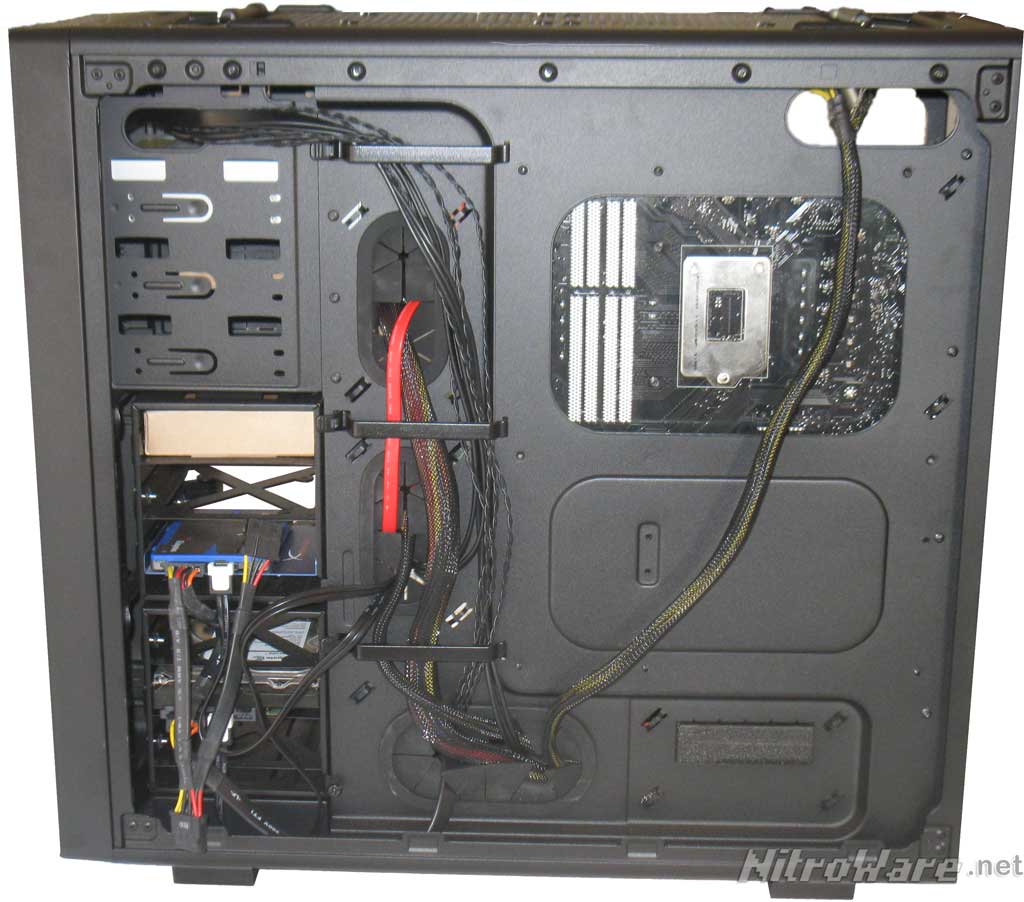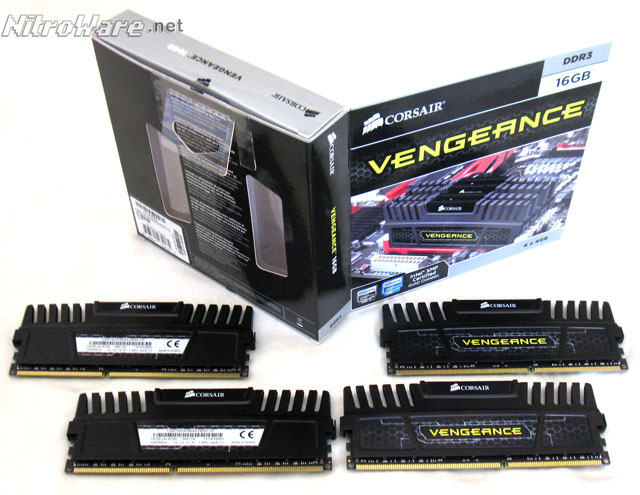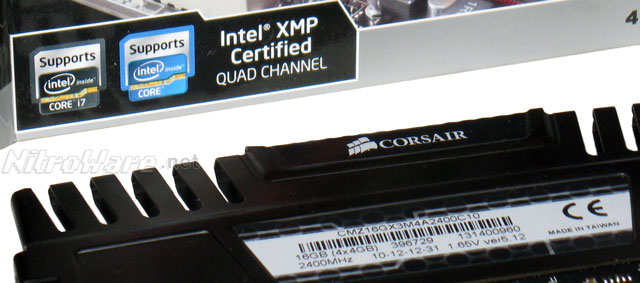 The motherboard supplied as part of the Intel Haswell Review Kit is a pre-production sample and during our testing we experienced some cold boot issues. The board's watchdog feature would unnecessarily fire on POST and shut the system down or power on failed randomly. Disabling the watchdog feature fixed most but not all issues.


However the overall stability of the board was correct. Performance was down a few % due to the early BIOS and PCB compared to the Retail ASUS Z77 board for Ivy Bridge. In many tests, Z87 was slower than Z77 in pure graphics performance. The board is included for the purposes of running tests on Haswell and we will not focus on it in this specific review.
Our original aim was to test both Ivy Bridge and Haswell with 4 DIMM of 2400 DDR3 as per our Corsair Memory kit to show the strength of both chips memory controller. However the Haswell review kit has a documented errata where 4 DIMM of 2400 or above would cause the CPU speed to drop by 100MHz overall. We therefore tested with only 8GB/2 DIMM in both Haswell and Ivy Bridge
Limited time with the review kit meant we could not do a deep-dive into SATA and USB performance. Basic checks were performed for the USB 3.0 sleep issue and C6/C7 sleep states issue.
For the Intel 'Kinsley' board, the official fix for the USB3 sleep issue is to disable power management on both USB 3 hubs used on the board in windows settings.
Additionally, Kinsley ships with C6/C7 CPU power states off by default as do most other third party boards. Desktop Haswell chips only utilise C7, Intel advised us mobile chips feature up to C10 CPU power state.
We adjusted the following BIOS settings from their defaults.
Disable watchdog
Disable boot sound
Disable network boot
Disable UEFI boot
Change cooling to balanced
Change memory to XMP
The SSD in our machines under test uses the SandForce SF-2281 controller which suffers from poor random I/O performance as well as severe performance degradation especially when the drive fills up.
The Trim feature in SSDs only clears deleted LBAs, it does not reallocate (De-fragment) fragmented files not does it defragment free space. Sequential and Random performance suffers when the drive is in such a 'dirty' condition especially when many write and deletes have been performed on the drive.
Our 120GB Kingston-Sandforce SSD delivers worst case performance of 470 Sequential Read/Write and 160MB/s Random Read. Best case is over 500MB sequential read/write and 220MB/s Random read.
One way to clean the drive up is to delete the partitions before re-imaging the drive. This way the whole drive is 'Trimmed' and cleans for imaging.
The natural actions of running disk intensive tests and installing applications to the test drive degrades it down from the clean state. Suites which incorporate disk tests such as PCMark or Passmark are affected by the different performance.
It is not a real-world use if we cleaned the drive up between each individual test. Not only would it wear the drive out, but the typical user expects dynamic performance from their new SSD
Older benchmarks such as 3DMark2001 are included for legacy comparisons.
Apps and Settings
Software

Version

Test Settings

Alien V Predator

Aliens vs. Predator D3D11 Benchmark V1.03

Texture Quality 3, Shadow Quality 3, Anisotropic 16, SSAO 1, Tessellation 1, Advanced Shadows 1, MSAA 4

Batman Arkham City

2012

DX11:MVSS & HBAO, High Tesselation, Very High Detail, All details on, Normal Physx

DX9:No Dx11, High , No Physx

Bioshock Infinite

1.1.21.59082

Pre-sets Selected via benchmark menu

Blender

2.67 build 57131

BMW1M-MikePan

CPUZ

1.6.4.2_x64

Crysis

1.2.1

1920x1200, Game Preset

Cyberlink MediaEspresso

6.7.3521_45765

Both Hardware Encoding and Decoding Enabled for GPU, disabled for CPU
big_buck_bunny_1080p_h264.mov

Deus Ex Human Revolution

1.3.643.1

1920x1200, MLAA, 16x AF, Soft Shadows, High SSAO, High DOF, Triple Buffering, Post Processing, Tessellation

Dirt2 / Dirt 3

1.1 / 1.2

1920x1200, Ultra Pre-set, 4x MSAA

Futuremark Benchmarks

All patched to latest versions

Grand Theft Auto IV

Title Update 7

1920x1200, Maximum details, 16x AFX, Detail distances 50,50,100, -norestrictions switch used if necessary

Handbrake

Quicksync: Nighty Build svn5466, OpenCL: 5476

HWmonitor

1.22.1

Just Cause 2

Demo 1.0.0.2

1920x1200, Maximum Details on NVIDIA, 4x AA, 16x AF.

LinX

LinX_0.6.4_-_10.3.7.012.zip

Lost Planet 2

Benchmark

1920x1200, Maximum Details Including Motion Blur, 4x AA. DirectX 11 Mode.

Metro 2033

1.01

DX11:Very High Quality,Tesselation,DOF ENABLED

Prime95

v279

Resident Evil 5

Benchmark 1.0.0.29

1920x1200, Maximum Details Including Motion Blur, 4x AA. DirectX 10 mode

SPEC

SPECviewperf 11

1920x1200 , 4x AA enabled

Street Fighter IV

Benchmark 1.0.0.1

1920x1200, Maximum Details except Ink,4x AA, 16x AF

Total War: SHOGUN 2

All Ultra,MLAA, Soft Shadows, Tesselation, HDR,SSAO

Trackmania Nations Forever

2.11.26

1920x1200, VHQ Pre-set, 4x AA 16x AF

Warthunder

1.3

Game pre-sets

World In Conflict

Demo 1.0

1920x1200, Maximum Details, 4x AA, 16x AF. DirectX 10 Mode

wPrime

2.09
Software Installation and Math Benchmarks
The purpose to this benchmark is to measure real-world software installation times of popular software. It is desirable to the user to have these popular applications (Adobe Reader, iTunes, Live Essentials) install as fast as possible. Our 2600K Sandy bridge tests were conducted some time ago with older versions.

Windows performs some complex caching and archiving of the installers and their contents. We timed install times using a stopwatch and recorded the times of repetitive consistent installations, uninstalling in between runs. This test is an approximation.
However for pi Calculation we can see a consistent delta between 2nd, 3rd and 4th generation processors.
CPU Computation Benchmarks
This suite is a collection of CPU intensive benchmarks
We have used two versions of WinRAR, 4.2 and above introduce significant multi core speedups, which our scores for WinRAR 5 demonstrate. These different versions cannot be compared with each other so we have shown both.
Our numbers show WinRAR is highly optimised already so does not show much improvement on the newer architecture, future updates to support Haswell's updated instructions should improve performance.
7-Zip and WinRAR's built in throughput based benchmarks are replicable PC to PC, User to User. If we setup our own test case which we zip and time, this becomes heavily dependent on the condition of the storage drive and difficult for others to replicate
Fritz is a synthetic benchmark based on a chess game. It utilises the AI from the game to achieve a score. On AMD's first generation Bulldozer architecture, excess of 11,600 is achieved despite also using 8 threads.
We do not test TrueCrypt with AES acceleration disabled as the end-user would never disable this function apart from scientific compression of the way the AES instruction is implemented in a processor. Testing only with TrueCrypt on shows any improvement in AES throughput.
We note TrueCrypt's benchmark is highly sensitive to being cached and much higher cached/burst throughput can be seen. When overclocked to 4.6GHz, Haswell achieves 5GB/s mean throughput.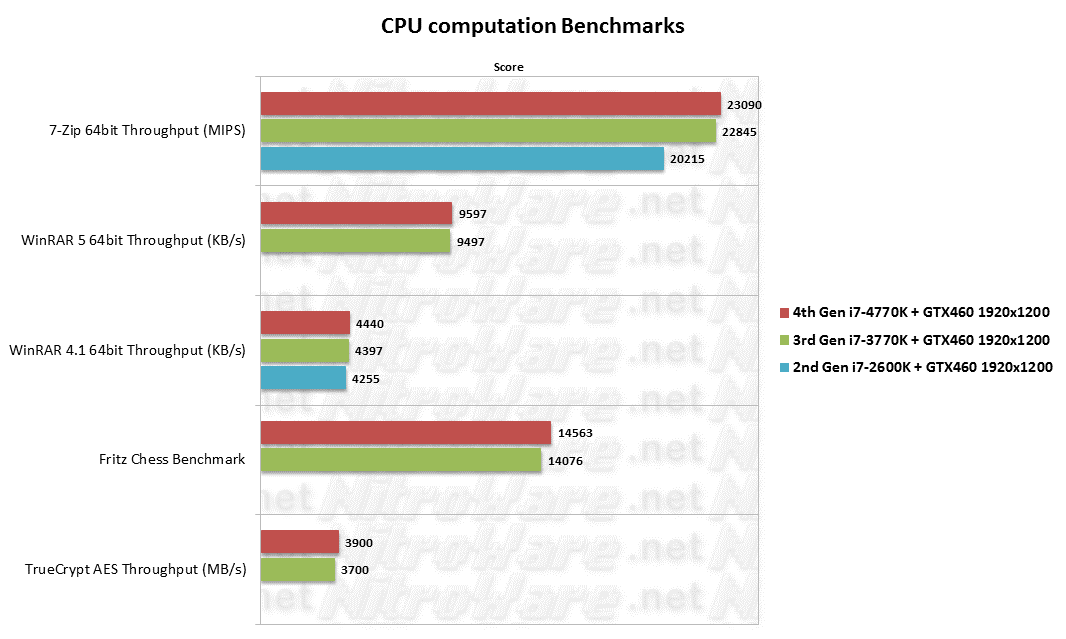 GPU Computation Benchmarks
GPU computation measures GPGPU, Specifically OpenCL and DirectCompute on the GPU. These tests are less CPU centric and more platform/GPU centric. We are deliberately GPU limited in these tests with our baseline GTX460; however we can see the performance of Intel's OpenCL 1.2 enabled HD Graphics 4600 in raw compute using these tests. Like our game tests, the Intel solution runs at an impressive half the speed of the GTX460 in GPU Compute
Computemark and DirectCompute/OpenCL Benchmark are synthetic tests
Luxmark is an example of the LuxRender engine for performing ray tracing on GPUs
Folding @home is a popular pursuit for enthusiasts and has recently been GPU enabled, supporting OpenCL and CUDA. For comparison purposes we only use the official benchmark with OpenCL.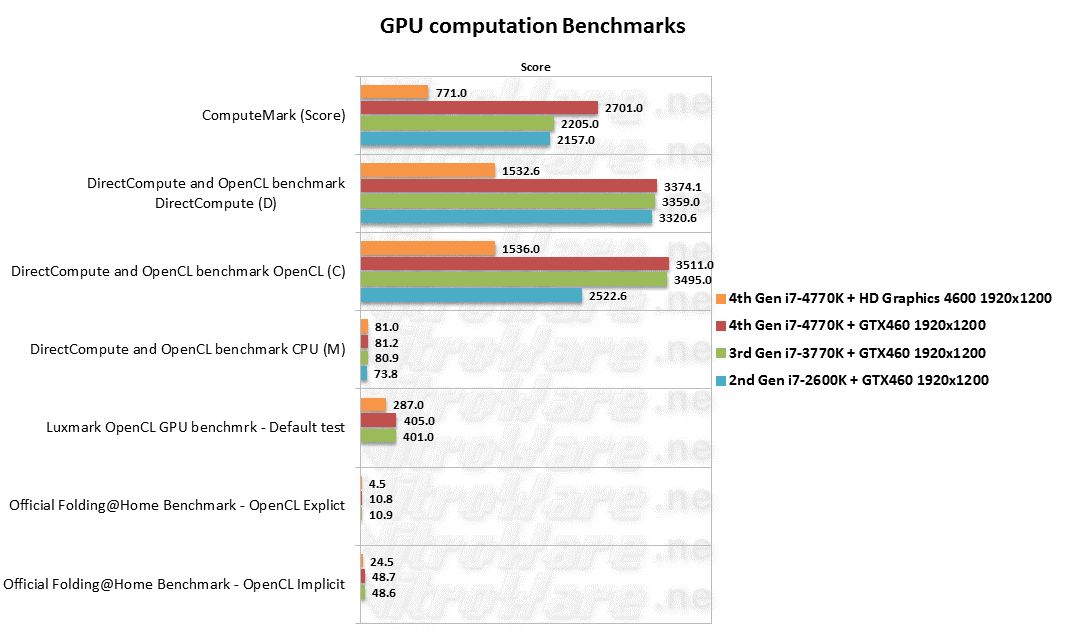 Overall System Performance Benchmarks
Popular System Performance Benchmark Suites. As mentioned previously, storage and video performance have a significant impact with PCMark.
PCMark shows the Intel Graphics enabled Haswell as fast as Sandy bridge, the reason of these high scores on HD 4600 is simple, the QuickSync engine is significantly faster in decode and encode than GeForce and as such biases the total overall score.
The Situation is even more evident for the newer PCMark 7 which has a higher emphasis on video performance. A deep dive into this performance difference will feature in our follow-up article
Geekbench is a cross platform CPU benchmark, also popular on Mac and Android. It is not influenced by the GPU at all but by the CPU and memory. AMD's 8 thread FX-8150 'Bulldozer' Part barely exceeds 10,000 in our launch testing
Like WinRAR we feature two versions of Passmark Performance test for comparative purposes. Version8 introduces newer 3D graphics tests as well as Compute and Direct2D. SSD performance has a huge influence here, with Performance Test reporting very different disk scores to every other benchmark.
SiSoft SANDRA is very frequently updated to support the newest CPU and GPU features, including AV2, OpenCL and Transactional Memory Support (not supported on our 4770K). The more performant GeForce's Compute power allows it to obtain first place.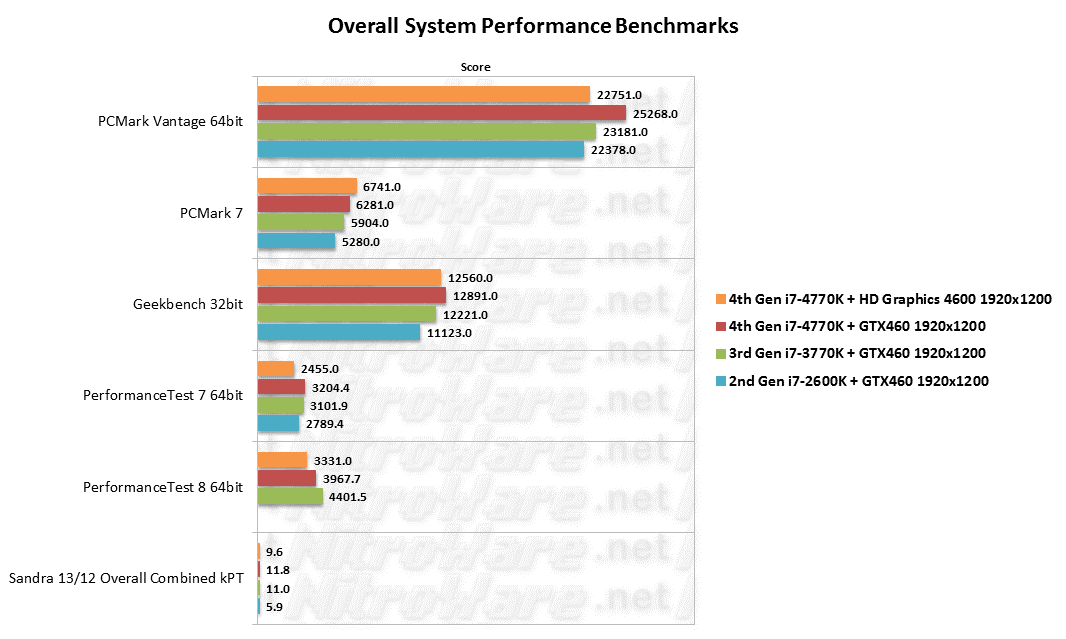 Windows 7 Experience Index

What might look like a simple and meaningless score that Vista,7 and Windows 8 present is actually much more complex than many realise. The scores themselves are merely a friendly summary and the raw detailed benchmarks are available for viewing as XML files in C:\Windows\Performance\WinSAT\DataStore or command line verbose output, WinSAT –v query to read the performance data already recorded in WinSAT's data store.
All aspects of the system are tested from AES and LZW throughput, to Memory bandwidth and latency, to Texturing and Geometry, Video Transcoding and Disk Sequential/Random Performance plus Access times.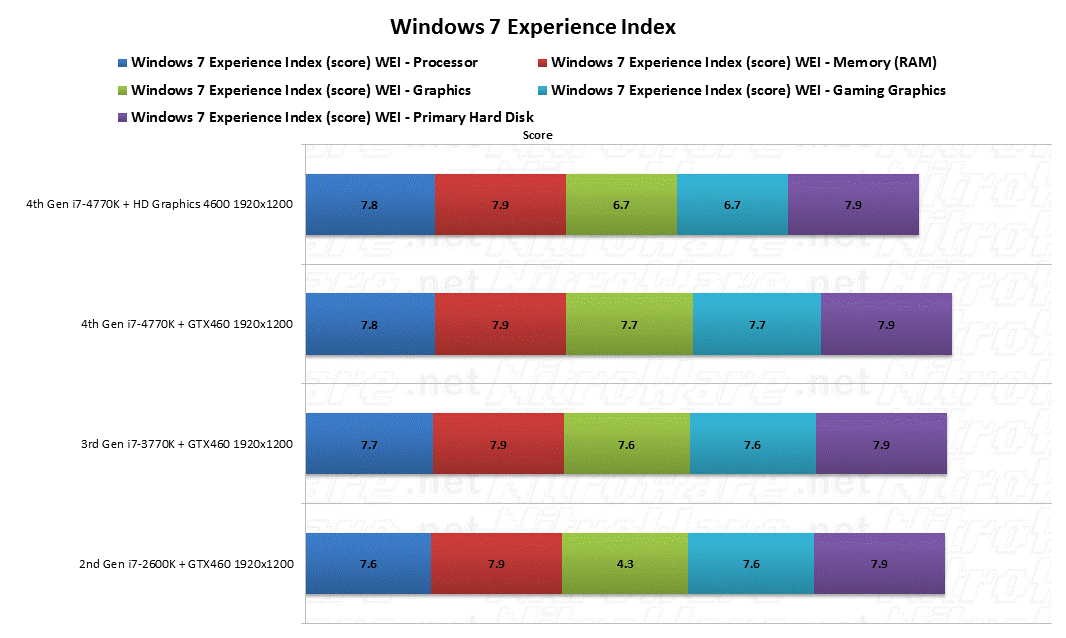 At 6.7 graphics, HD Graphics 4600 exceeds the 1st generation AMD "Llano" APU graphics performance of which the A6 model achieves 6.6. Note however all Integrated GPU solutions are memory bandwidth hungry.
Generally, memory 2133 and higher achieves 7.9 anyway regardless of capacity. Quad Channel with slower speeds modules also has an influence, presenting high total bandwidth.
Video Encoding
Our standard Movie maker test is a project which imports the h264 1080p .mov version of bigbuck bunny, applies a simple trim, adds titles and exports the file using the 'for computer preset'. Movie Maker 2011 exports as WMV, 2012 as h264. 25seconds is the optimal time for this test which all the high end systems featured can achieve. Intel's updated Quick Sync in Haswell is not only fastest but with specific applications that expose the fine-grain controls for the feature, can produce higher quality encodes than previous versions of Quick Sync.
For media espresso, this time we are using a beta built of the tool provided by Intel which they 'endorse' for Haswell testing. With CUDA, here we are limited by our Fermi based GPU.
With bigbuckbunny in h264 format and in the default 'performance', we do not get any speedup due to the nature of the tool.
With the more intensive Google preset, Haswell is almost 20s faster than Sandy Bridge but only a few in front of Ivy Bridge.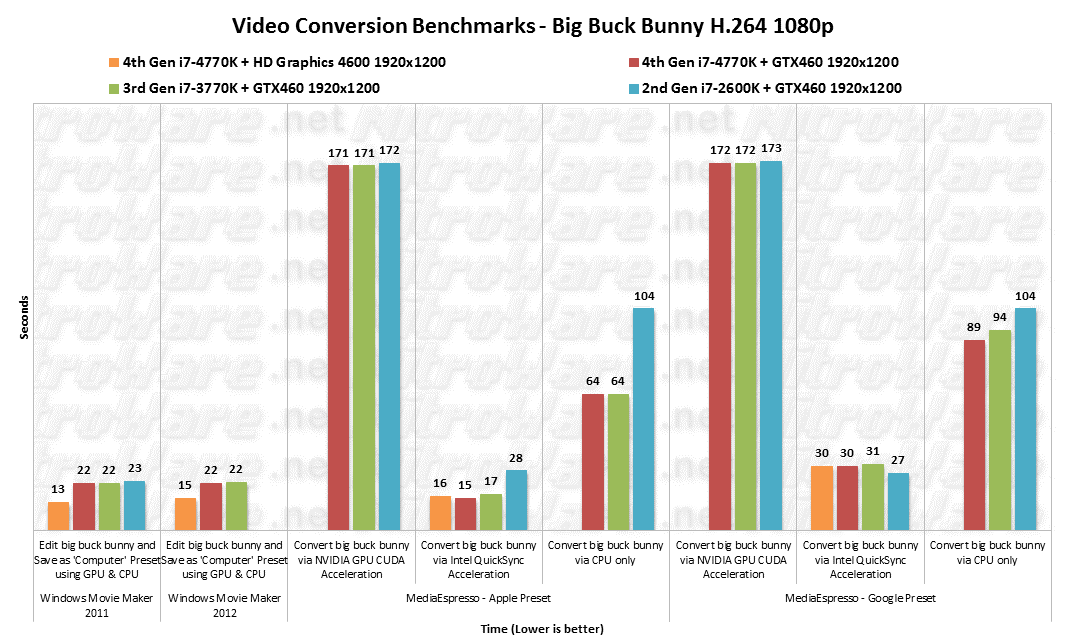 For this review, two builds of Handbrake were available. One only enables Intel Quick sync (QSV), the other only enables OpenCL. We alternated between only these builds. Build 5466 for OpenCL and 5476 for QSV.

Combined with QSV, the new features of Haswell's Quick sync engine can be exposed. Quality controls, bitrate, size/MB. We tested using the default settings, which when QSV is enabled emphasise quality
For OpenCL or CPU only encoding we see no speedup due to handbrake already being optimised for different architectures.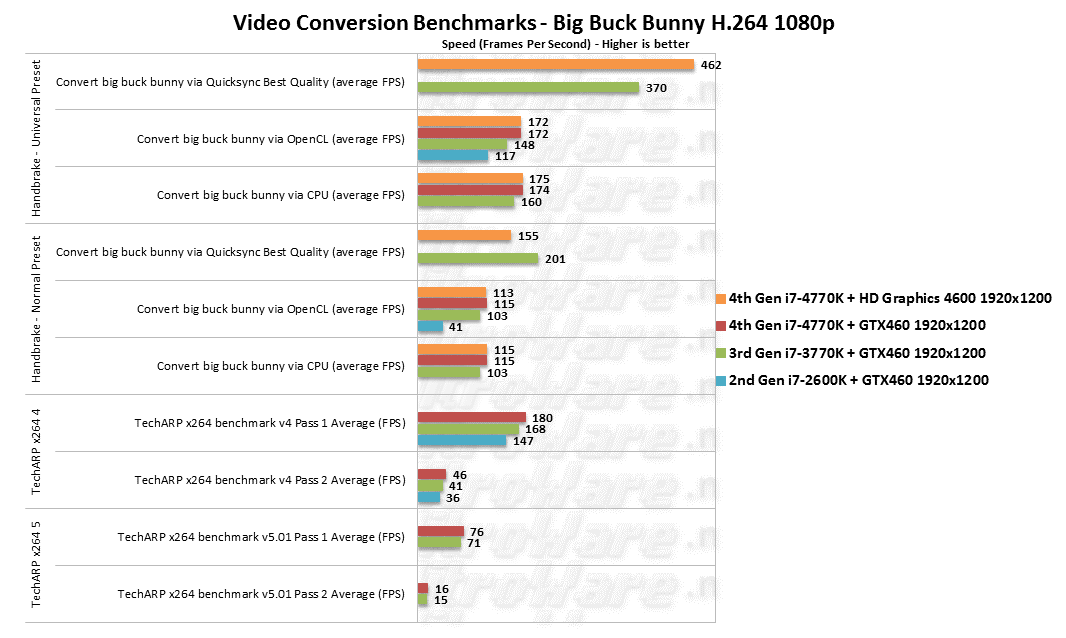 When reading the chart, note that Handbrake's Quicksync support cannot be used when a dGPU is installed, while it can with medisaespresso or Windows Foundation applications.
The Handbrake QSV tests were conducted with the HD Graphics 4600 Alone. Our Legend does not describe the test correctly.
Note how for Universal present Haswell walks away and delivers an impressive score, but for normal it is slower, Normal uses the Main 4.0 H.264 profile while Universal uses Base 3.0. We perceive that Haswell's, new look ahead and quality features are the source of the slowdown.
The QSV build of Handbrake provides a 'demo' preset but we did no use this. This preset chooses h264 profile and level to auto.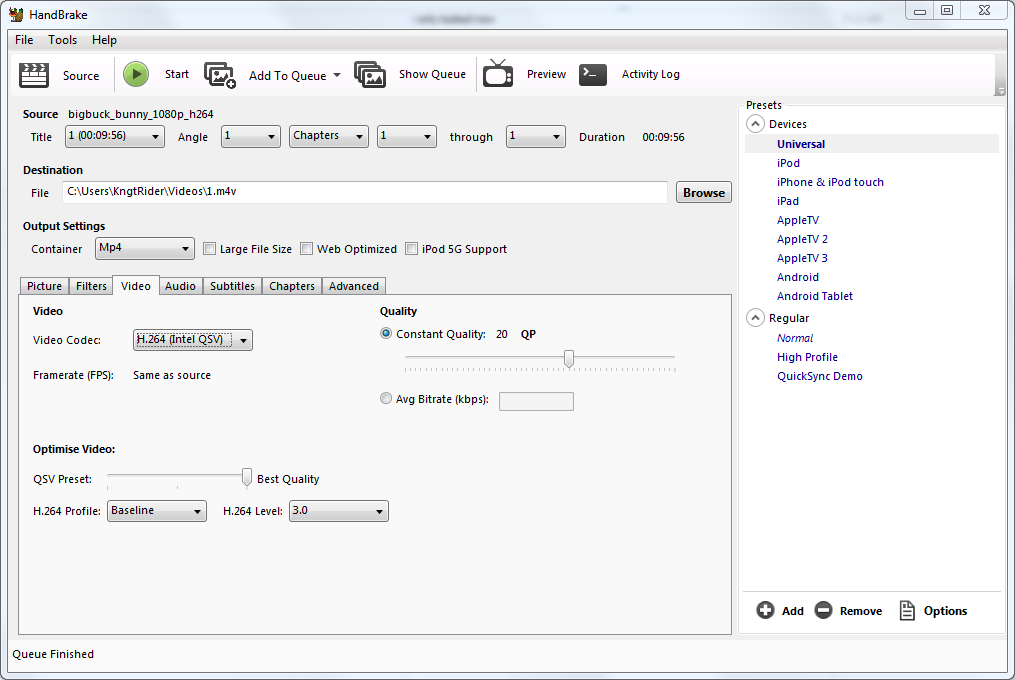 TechARP's x264 benchmarks measure 720p and 1080p encoding respectively. The results for version4 (720p) are as expected with Haswell proving a liner increase but version5's results are somewhat disappointing. Hopefully a newer version of the x264 encoder, optimised for Haswell will provide higher speedups.
OpenGL and Direct3D Gaming Graphics Benchmarks
Furmark is purely a GPU bound test, while on the older versions we can see the influence of the CPU on the overall score. The CPU margin decreases with newer versions as they emphasise 3D performance.
Do note the delta of the Intel Integrated Graphics compared to GeForce, 1/3 to ½ the performance. Intel is a supporter of 3DMArk and not only optimises for the benchmark but uses it in its graphics marketing materials.
Intel Graphics was never intended for Extreme pre-sets and we can see it suffer in 3DMark 11 Extreme. Fire Strike Extreme is meant for the top of the line rigs and all our tested solutions suffer.
The 4770K part is meant for the mainstream/performance segment who expect 1080p or higher performance whether it is high or low details. K parts are typically paired with discrete GPUs and while Intel's 'GT2' HD 4600 is an improvement it is only up to the levels of a low-mid end add in card and nowhere near a gaming class GPU such as a GTX460 , which was and still is an affordable 1080p performance card.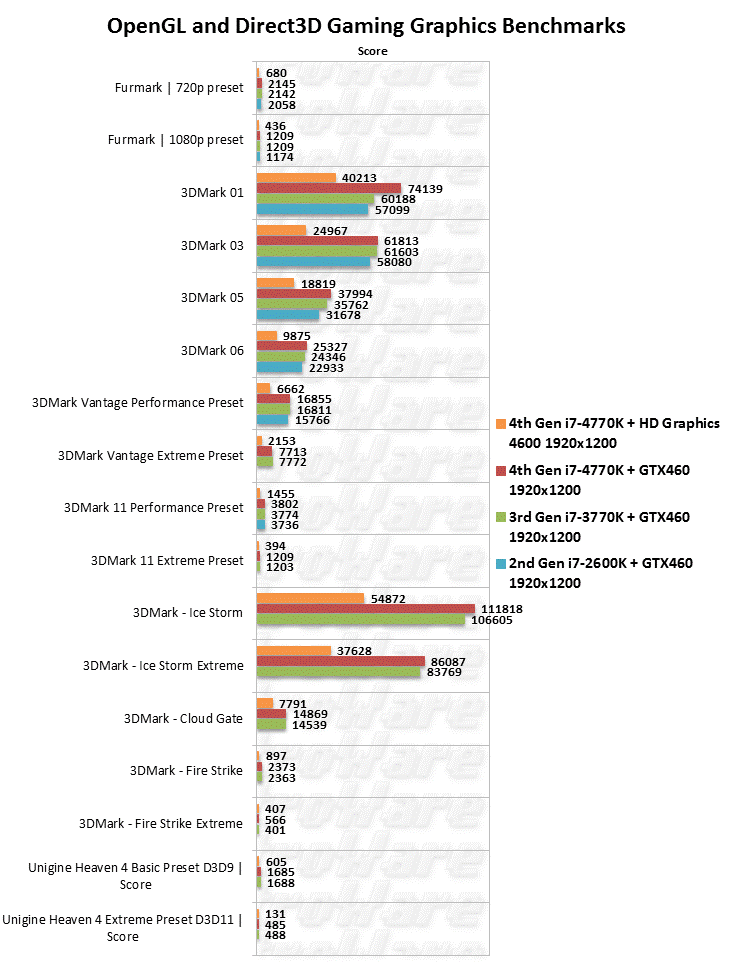 Driving and Racing Games Benchmarks
At worst- case settings of 1920x1200, Ultra Detail and 4x Anti-Aliasing, Intel cannot provide a smooth gaming experience for a fast-paced racer, having said that at lower detail levels without anti-aliasing it certainly does and we cover this in the second part of our Haswell coverage.
In Dirt3, which uses version 2 of Codemasters EGO engine our baseline GTX460 can't achieve 60FPS and we are GPU limited here.
In Dirt 3, The takeaway is at 1366x768 High without Antialiasing, HD 4600 achieves 47FPS, which AMD's A10-6800K 'Richland' also achieves but at 1280x720, High with 4x AA.
For high detail gaming, integrated graphics is not suitable for a fluid experience. Details must be turned down.
Trackmania Nations Forever is an older title which only utilises DirectX9 and Shader Model 3. The results here are surprising, given it is not as intensive as the DirectX11 supporting Dirt 2 and 3.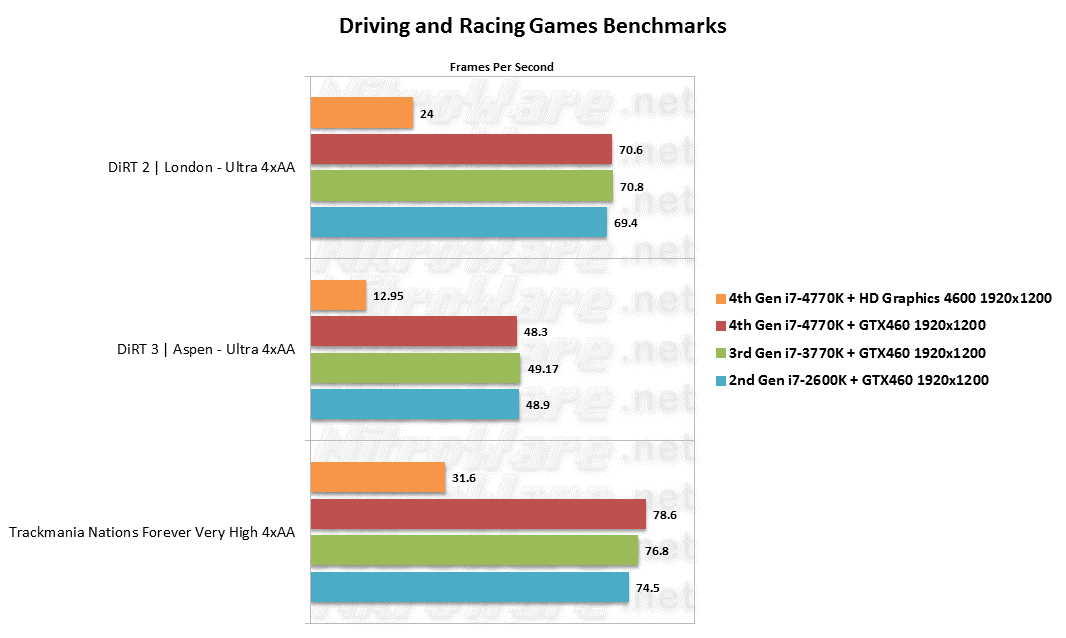 Flight Simulators and Open World/Sandbox Games Benchmarks
DirectX9 (and no anti-aliasing supported) Grand Theft Auto IV is our go-to title to determine he real capabilities of a new GPU. At higher resolutions the title is GPU bound, being able to exceed 1GB Video memory. It has also been known by the community for being harsh on systems due to the nature of its optimisations on the PC.
Since at max details, modern CPUs are not stressed by GTA4's built in benchmark and only record around 30% CPU use, we see no speedup on Haswell. However HD 4600 would not run the game despite whatever settings we chose.
GPU heavy Just Cause 2 is a similar story however the Intel iGPU is disappointing, not that integrated graphics was meant for such a workload, but we do need to establish a worst case scenario for comparing graphics technologies.
We replaced HAWX 2 with the free to play Warthunder in our test suite. The older GTX460 is quite capable in this game yet Intel is not. Note we simply chose the Max quality profile and did not customise this.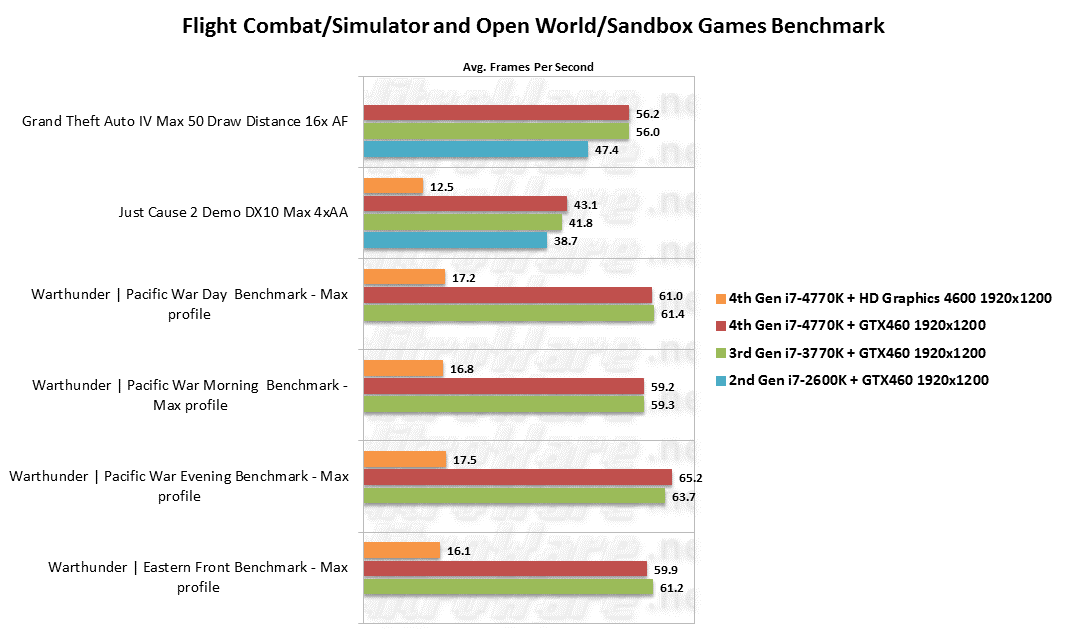 Third-Person Game Benchmarks
Batman Arkham City is regarded as a poor example of DirectX11 performance by end users, as even higher spec machines struggle with it despite a patch. Since this is a popular game, we can use this to our advantage for testing. Despite this we also include test scores at lower details.
If you desire to play with high details or use the Intel graphics, don't bother with Batman unless you can put up with medium or low details. We see a similar situation with GPU-limited and DirectX11 centric Lost Planet 2. When we throw DirectX11 at Intel HD 4600 it does suffer.
The older Resident Evil 5 even takes a hit. Using the fixed benchmark, where the game renders its scene as fast as possible rather than in real-time, the difference between the three year old GTX460 and Intel HD Graphics 4600 is remarkable.
Also remarkable is the scaling between Ivy Bridge and Haswell, almost a 1/3rd.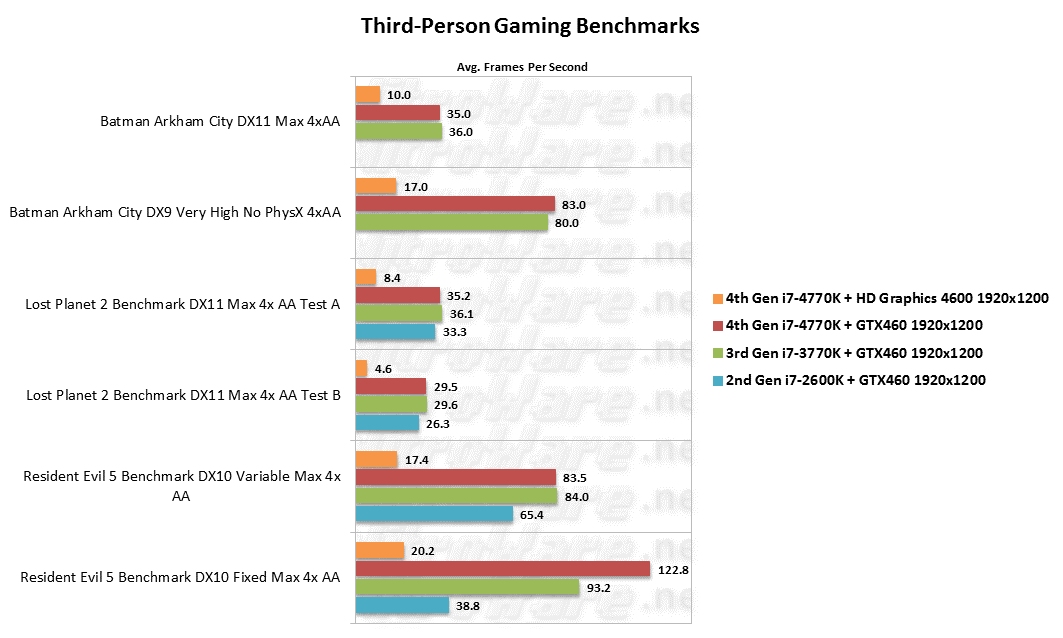 First-Person Game Benchmarks
First Person shooters are amongst the most popular genres and we are working towards having a good mix of older and newer titles. We want a good balance between age and vendor optimisation (NVIDIA The Way Its Meant to Be Played and AMD Gaming Evolved.
We have kept the exceptionally popular Battlefield 3 for our follow-up rather than this overview as there is specific scaling issues to discuss.
AvP is a known AMD centric Direct11 test dating to the Radeon HD 5800/Cypress era. It plays back an Alien Xeno morph infestation scene typical of the game.
We get an OK result here on Intel Relative to NVIDIA which itself doesn't score too well either.
Using Bioshock's built in benchmark to compare worst case performance; Intel does around 1/3 of the performance of the three year old GTX460. Newer mid-range cards such as the Kepler based 660 and GCN based 7850 do much better at the price point than the 'older' Fermi based 460. Bioshock is part of AMD's gaming evolved program and Intel themselves promote it as an ideal title for HD Graphics but at lower details.
We use Crysis 1 for several specific reasons. It has a built in benchmark which can be repeatable on different systems and to answer "can it run Crysis?" At our settings, the answer is definitely no.
Deus Ex: Human Revolution is also an AMD Gaming evolved title, worked on by AMD favourite Nixxes studio. With MLAA, less than half is reasonable for Intel and may be acceptable for some gamers in slow paced sections of the title unless in a busy fire fight. This also applies to the notebook experience.
The original Metro 2033, an NVIDIA logoed title is hard on GPUs like Batman: AC so we run tests at lower details. While we see a significant improvement for the gaming class GPU, this doesn't scale as well for Intel even though it's DirectX9.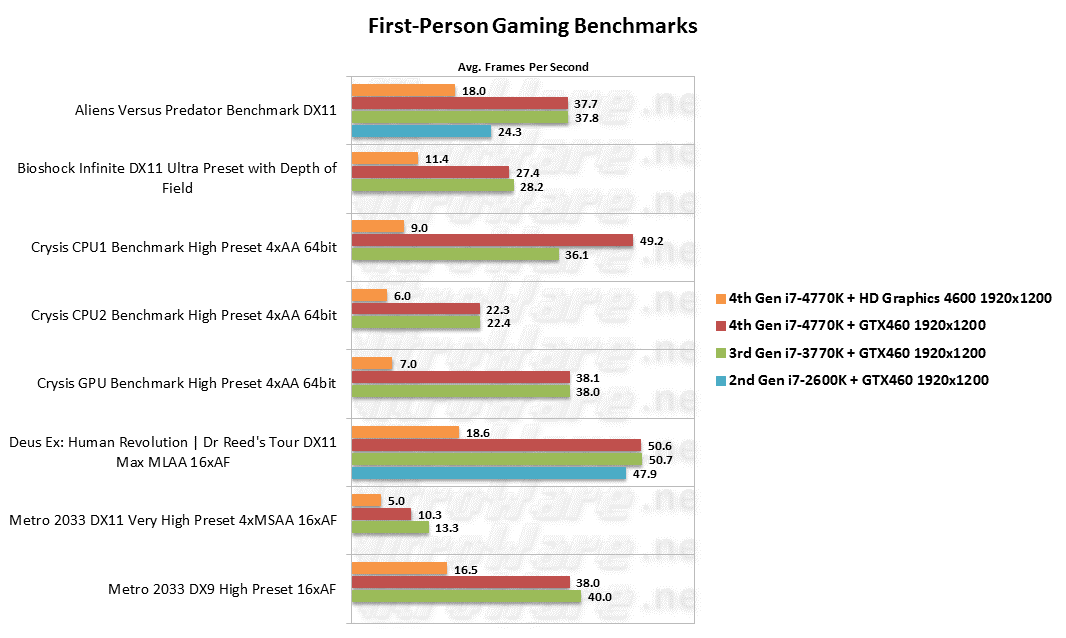 Metro2033 is now a very cheap if not free game with promo codes available through a number of retail or social media outlets so there will be a segment of users trying to play this solely on integrated graphics. We test with Depth of Field enabled which takes a big hit on discrete GPUs, up to 10FPS on some models
See Part2 of our Haswell coverage for Complete Battlefield 3 and Bioshock scaling with different resolutions and detail levels.
Arcade and Strategy Game Benchmarks
In our endeavour to provide a wide gamut of game genres in our testing and not just the golden set of BF3, Skyrim, Metro2033, Bioshock and so on we also provide some benchmarks of Arcade and Strategy.
Street Fighter 4 is a weird benchmark in that it requires 60Hz to operate correctly despite being based on the MT framework engine like other Capcom titles. Lip-sync and character slow-motion is distractingly lagging below 60Hz even at 30Hz.
The GPU powered platforms have enough raw performance that full antialiasing can be enabled while maintaining 60Hz in any situation once V-Sync is enabled.
Total War High pre-set would not run, as the game engine complained about missing features. However we were able to manually set up maximum detail including MLAA and run that custom present.
The DirectX9 CPU test tries to render as many soldiers as possible in battle. Considering the score and if details are reduced, the game will run satisfactory.
World in Conflict was an early Direcx10 RTS which only featured destructible environments and realistic physics, but its benchmark replayed an actual mission from the game rather than a fly-around of an empty map as some benchmarks such as Bioshock, Batman and Just Cause do.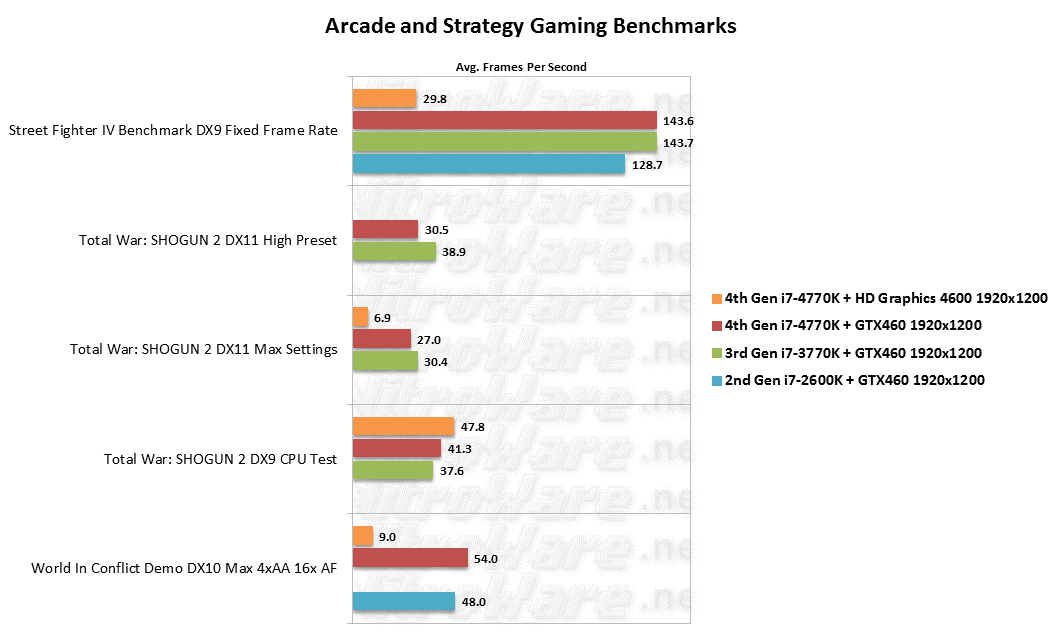 At 1366x768 medium details without anti-aliasing, 70-76 FPS isachievable using the Intel Graphics versus the appalling 9 if we crank everything up.
Intel graphics has always been capable of reasonable performance at 720p but the push with Haswell and iris is similar to discrete class performance. 15-25fps would at least have been an achievement compared to the 50 that the GTX460 achieves. Tweaking down from this worst case will deliver high frame rates.
Intel's driver and software optimisations are not as broad as AMD or NVIDIAs.
Web Browsing and HTML5 benchmarks
Peacekeeper is a web browsing/rendering benchmark developed by Futuremark however it relies on HTML5 fearture set which not all browsers support equally. Given margin of error Haswell performs the same regardless of the GPU.

Our Sandy Bridge test was based on the previous version of Peacekeeper.
WebVizBench is a favourite of Microsoft as it renders a rich multimedia experience in HTML5, specifically an online music gallery. 3D performance matters here.
However with Sun spider, Integrated graphics gives us a better result as the 2D performance is faster than an add-in-card. IN 2d mode, large GPUs run in lower power states at much reduced clocks speeds.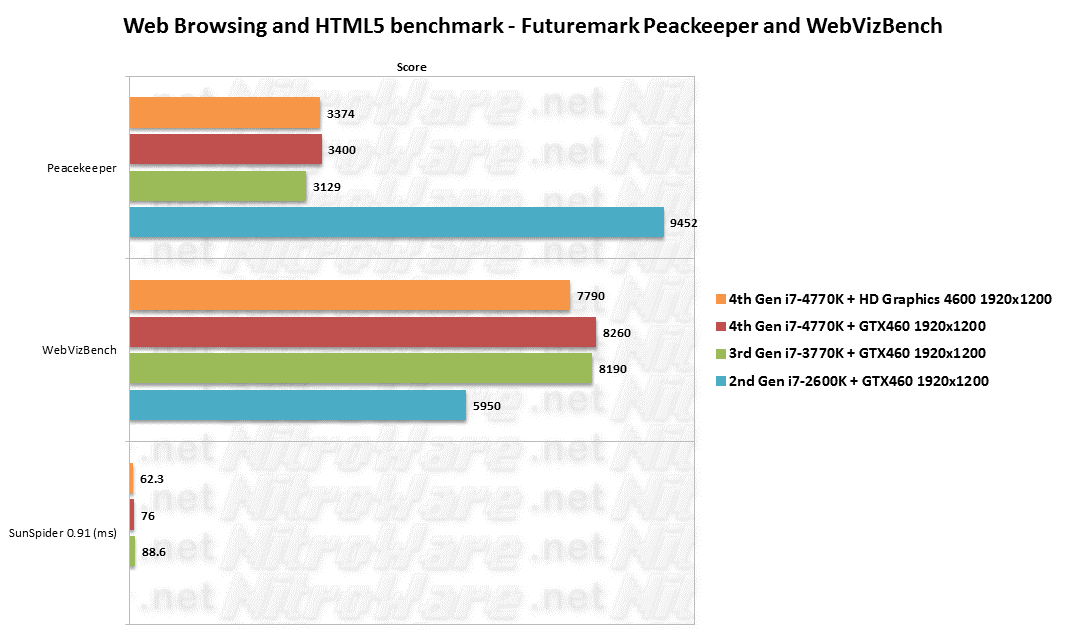 Microsoft offers a number of rich HTML benchmarks through its IE test-drive portal for IE9 and now IE10, however the mix varies annually which can make comparisons difficult.
The Paintball test hat was infamous during 2011 and 2012 is gone but the fish bowl tests remain.
HTML5 Fishbowl renders the most fish possible, combination of all performance aspects.
FishIE Tank measures the frame rate achieved when rendering 1000 fish in a different type of fish tank, HD Graphics 4000 shows half the performance here again.
Galactic is a 3D representation of the solar system and is largely GPU oriented.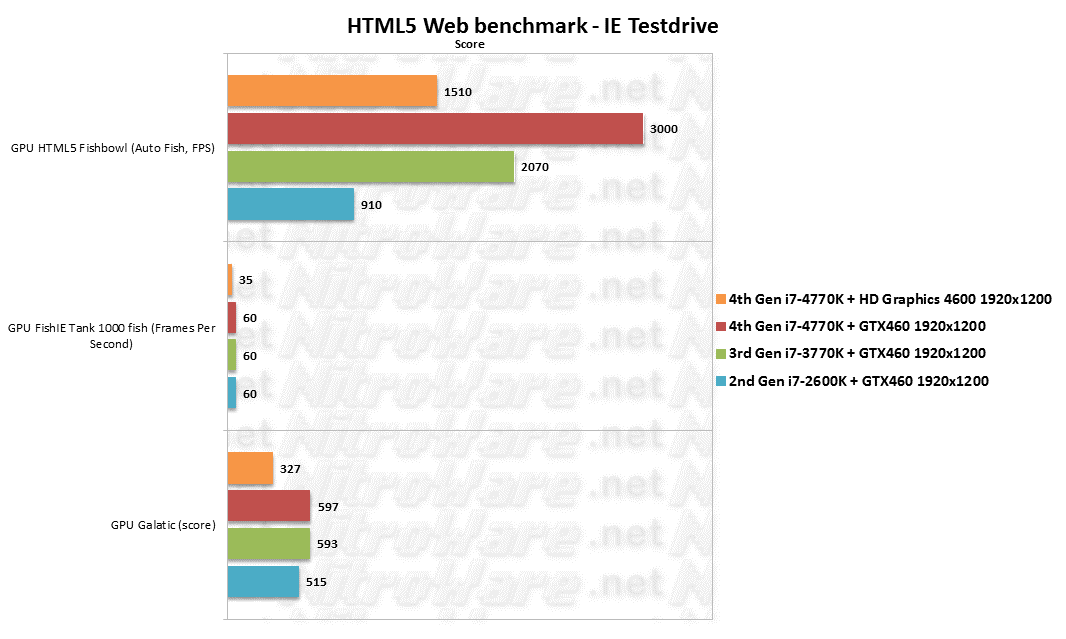 Professional Graphics Benchmarks
SPECviewperf 11 is a suite of professional CAD/CAM/Engineering suites to test performance using real world production applications.
Ideally these applications are supposed to be used on certified professional graphics card such as NVIDIA Quadro and AMD FirePro but budget conscious users or students may use commodity hardware. They are also system intensive tests.

Intel has also been playing with supporting certified apps from Adobe and such industrial applications but we have not anything specific yet at launch time. Intel HD Graphics 4600 would not run the CATIA test; the low score in ensight can be seen as a failure but did admirably in every other test.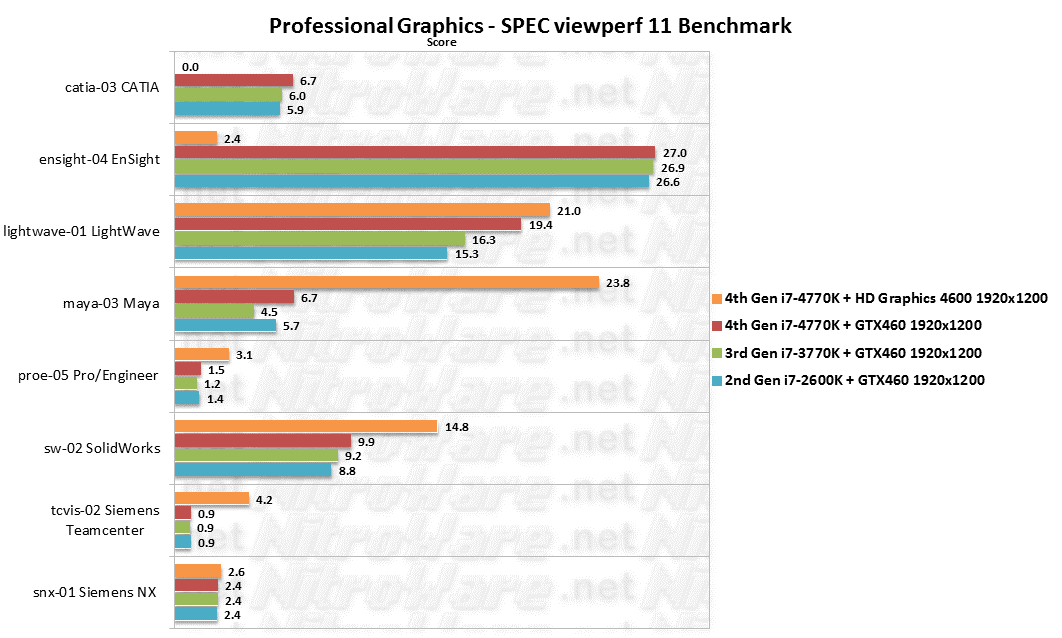 For Photoshop CS 5 we use both Driver Heaven's and Retouch Artists benchmarks as they measure different aspects.
Driverheaven focuses on filters, which in CS5 are CPU bound while Retouch Artists focuses on image manipulation which is more GPU centric, and is a shorter test as well. Shorter tests are more sensitive to Turbo Boost speeds.
Photoshop CS5 uses OpenGL to manipulate the image canvas and speedup operations like scaling, zooming and rotation.
Although within margin of error (DH Photoshop Test is timed by the system not stopwatch), we can't ignore that high clocked Intel Graphics (1.25GHz core) is typical half a second faster in each test, which in total adds up to a 5 second advantage over the GTX460 equipped test.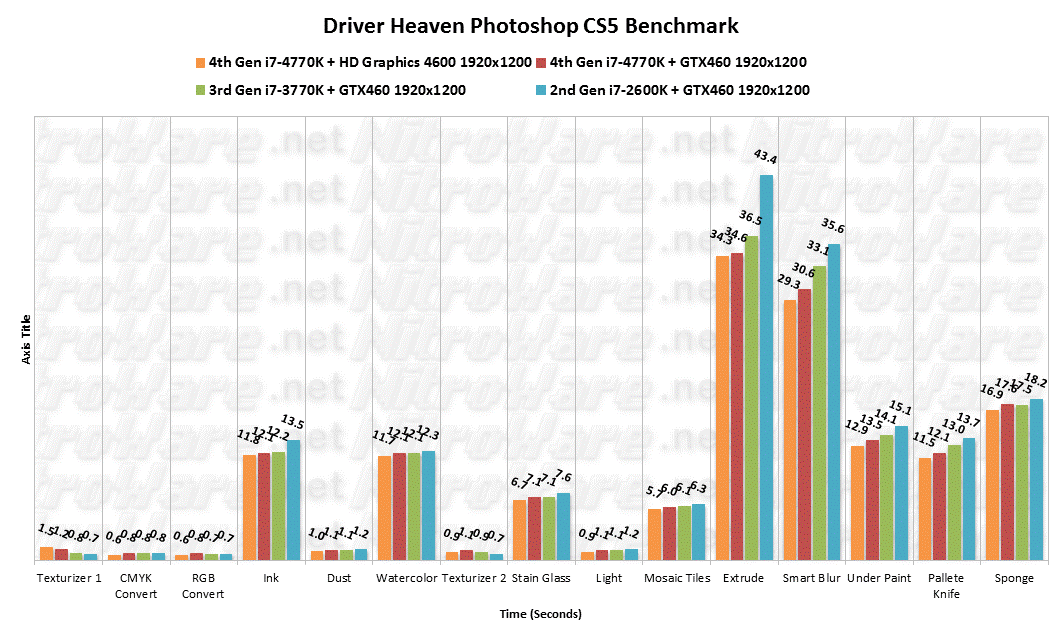 Retouch Artists gives us an impressive 8.5 seconds. When we tested the i7-3960X that system only achieved 10.4 seconds with either SLI GTX460 or HD7970. The fastest time we have seen in this benchmark. 10.1 seconds using the iGPU is equally impressive.
A new addition is GPU accelerated Blender. We run the community BMW M1 Cycles benchmark with and without GPU acceleration. OpenCL support was not ready in time for our review but CUDA support is robust. Haswell delivers an excellent speedup when CPU rendering is used, but the nature of the Intel motherboard we used meant accelerated rendering is slower on Haswell than the ASUS motherboard we used for Ivy Bridge.
RatGPU is an OpenCL rendering benchmark, and as with other tests Intel delivers the typical result.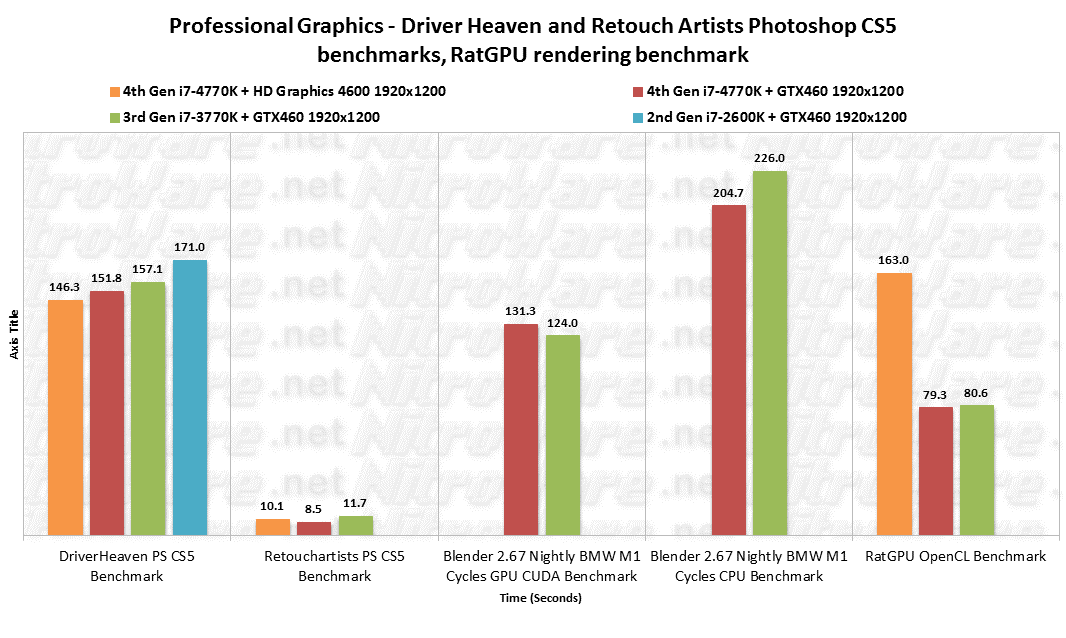 Cinebench 11.5 is an excellent example of single and multithreaded performance.
The multithreaded results have a large caveat. We ran 3770K and 4770K the recommended speed of 3.7 to 3.9GHz rather than the advertised box speed of 3.5GHz. The extra 200MHz for all-core turbo makes a difference in benchmarks like this and narrows the gap to sandy bridge if disabled, however we at least see a noticeable difference generation to generation. We see a smaller increase with single threaded performance.
GPU OpenGL rendering gets a large speedup on Haswell but again the Intel iGPU is only half the speed of the GeForce.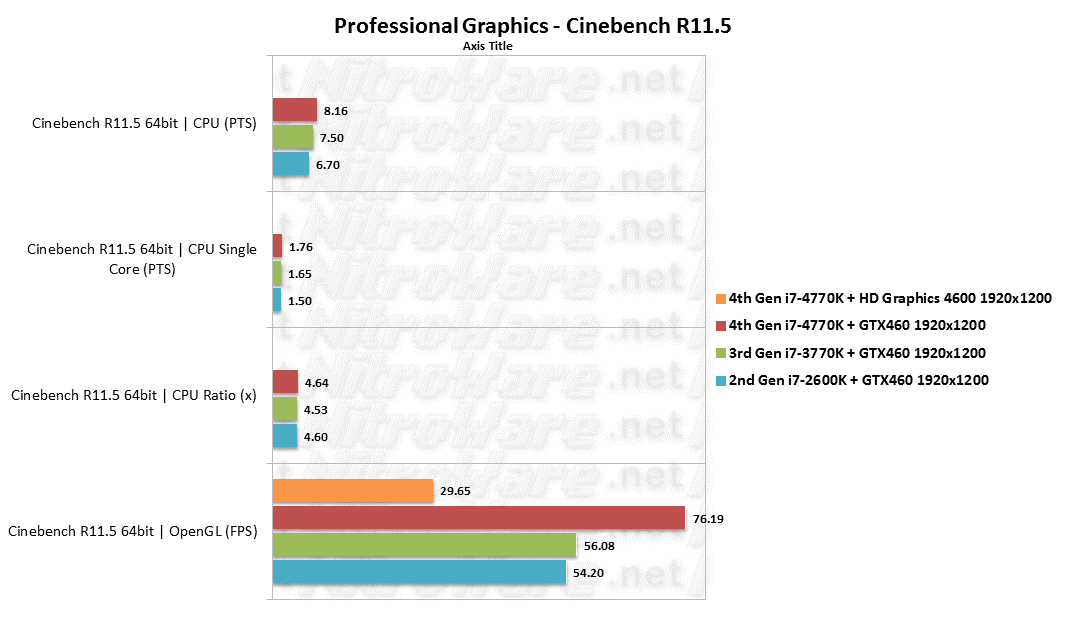 Power and Temperature
2009's Nehalem CPU generation introduced new features such as integrated memory controller, power manager and turbo boost speed which were to be the keystones of Intel's CPUs going forward.
2011's Sandy Bridge was the next step, focusing on performance and efficiency on both desktop and mobile, allowing high performance in smaller form factor PCs for the first time.
2013's Haswell architecture brings power reduction to the table in a new way. By moving the Voltage regulator circuit from the motherboard to the CPU, functionality and efficiency can be improved and the same chip design is made to be highly scalable to meet needs of different segments.
The by-product of the 7 channel FIVR (Fully Integrated Voltage Regulator) and an enhanced 22nm chip fabrication process which has lower leakage than 2012 22nm process enabling same performance characteristics with better power. Each CPU core features its own regulator.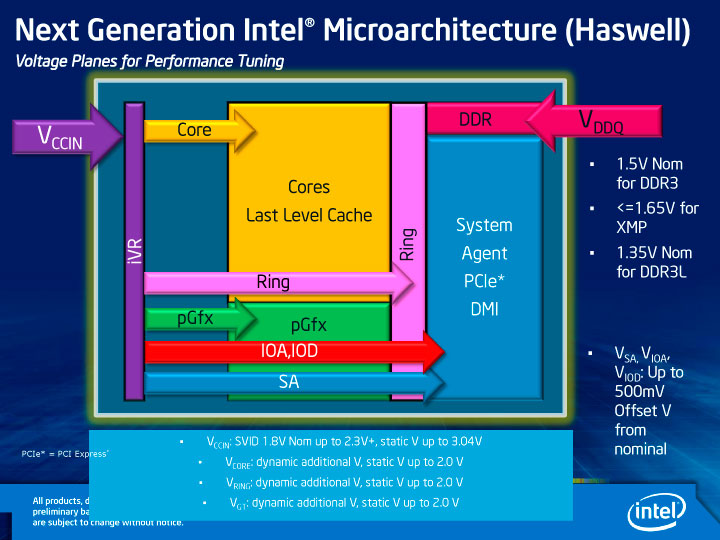 For the mobile side, Rani Borkar, Corp. VP and GM of Intel Architecture group said that 4th gen Ultrabook uses 20x less power than previous generation and that this revolutionary development is the biggest battery life increase in Intel's History.
Dynamic range of the Haswell line-up widens with voltage changes, more versions can be offered with the new power design.
The FIVR is not the only element key in Haswell's power story:
Optimised 2nd Generation 22nm process, P1270 for Core Desktop/Mobile products and P1271 for SoC mobile parts
Lower operating voltages for low and high performance states, lower idle clock speed of 800MHz for desktop parts
Optional C6 C-State for desktops with Add-In-PCI express graphics, C7 for integrated graphics. Mobile and Ultra Portables support C8-C10 states. C6/C7 on desktop require "Haswell compatible" power supply.
Connected Standby – to fetch internet updates while the PC is asleep
Logic Gating
Power Optimizer Framework
For SoC parts going into convertibles and ultra-portables, a new high bandwidth, low power low latency chipset to CPU link - on package interconnect. This replaces DMI that is used on Intel's portfolio
Power Planes
OEM Optimisation – such as UEFI/Firmware tuning and Configurable TDP for select parts.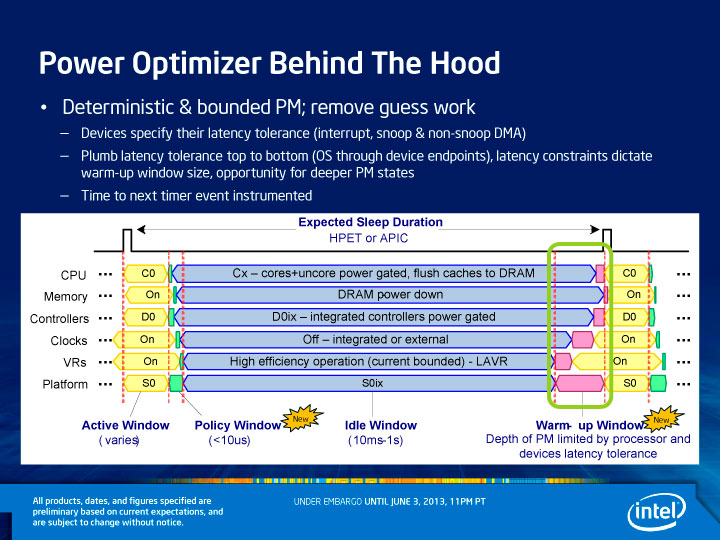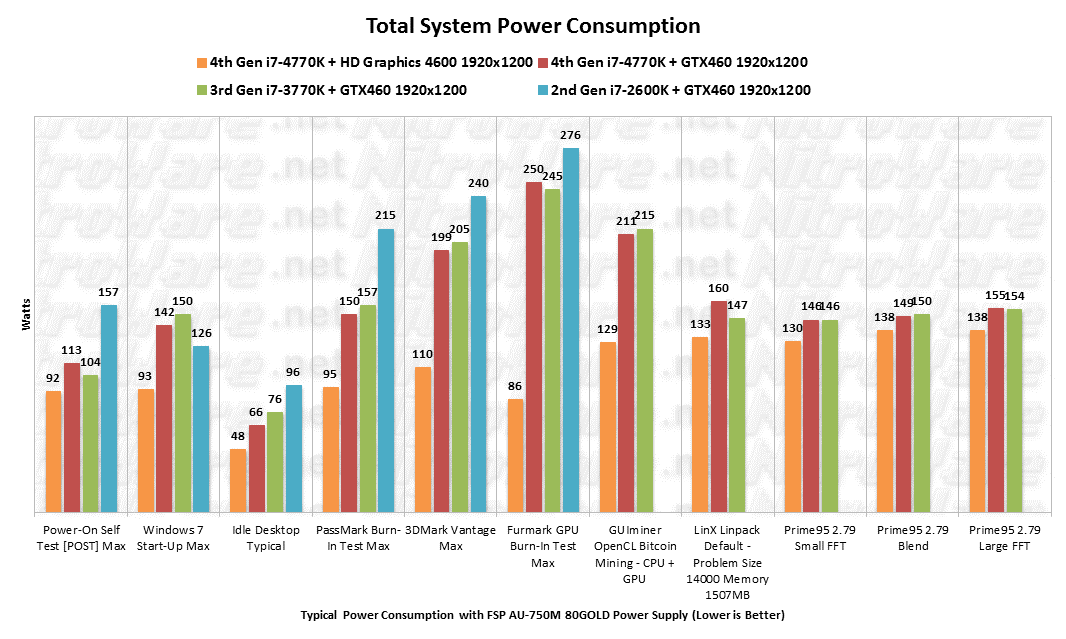 Our POST test shows what is possible when an OEM optimises their UEFI. Additionally our ASRock Z68 board we used for 2600K had a lot more stuff on-board compared to the ASUS Z77 for 3770K. For an 84W TDP CPU and a motherboard with several USB Hubs and Thunderbolt, Z87 did very well.
Windows start up is the maximum reached from the Windows Boot Menu until the desktop is reached. Not having an add-in GPU makes the bulk of the difference here.
Idle Desktop is the number many enthusiasts are interested in (who do not turn their systems off) and with C6/C7 disabled in BIOS (the default) we achieve an amazing 48 watts, one of the takeaways from this whole review. AMD's 2011 1st generation A6 APU uses 45W at idle with a less efficient PSU and much less performance.
40W Idle Desktop power draw is achievable with C6/C7 enabled and a Haswell compatible PSU. We decided not to chart this as this is not the default setting.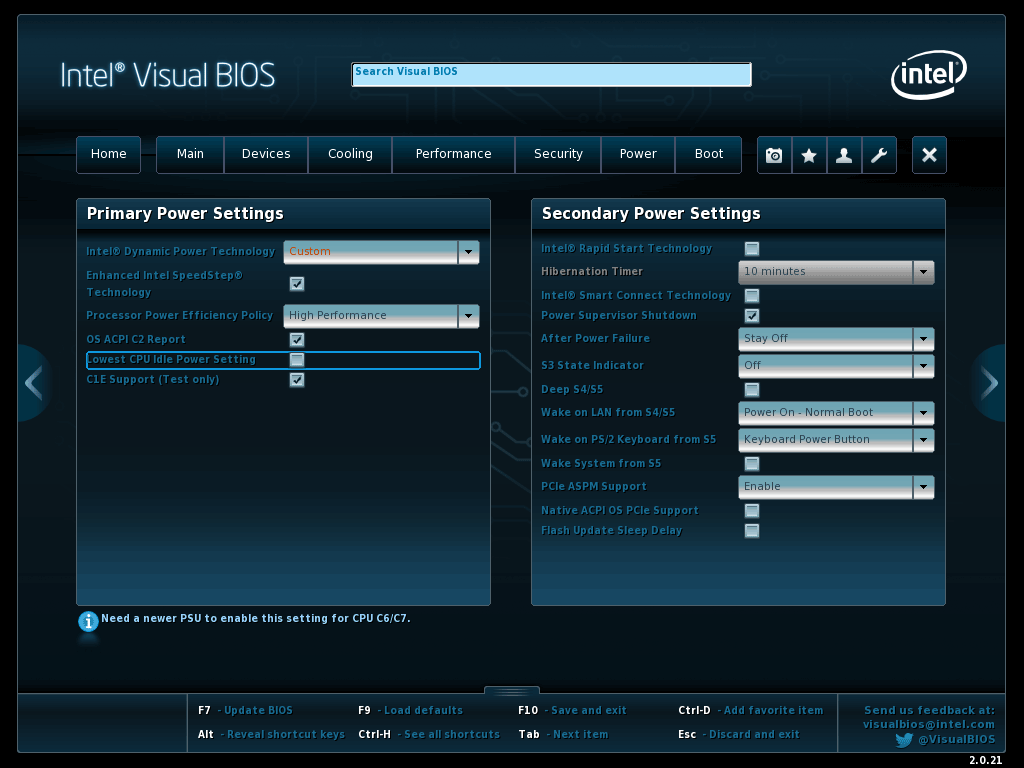 Our Bitcoin mining test is modified from our previous attempts. We run both CPU and GPU mining so that the test is not GPU specific.
When reading the LinX and Prime95 power draw levels, consider the idle GeForce GPU draw is the delta between orange and red/green.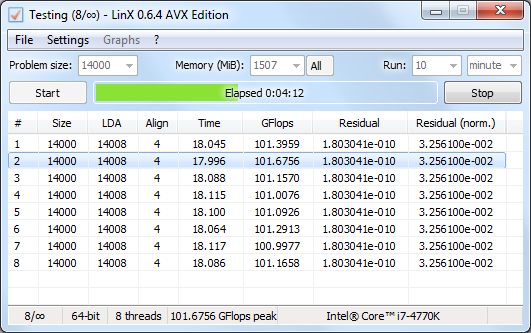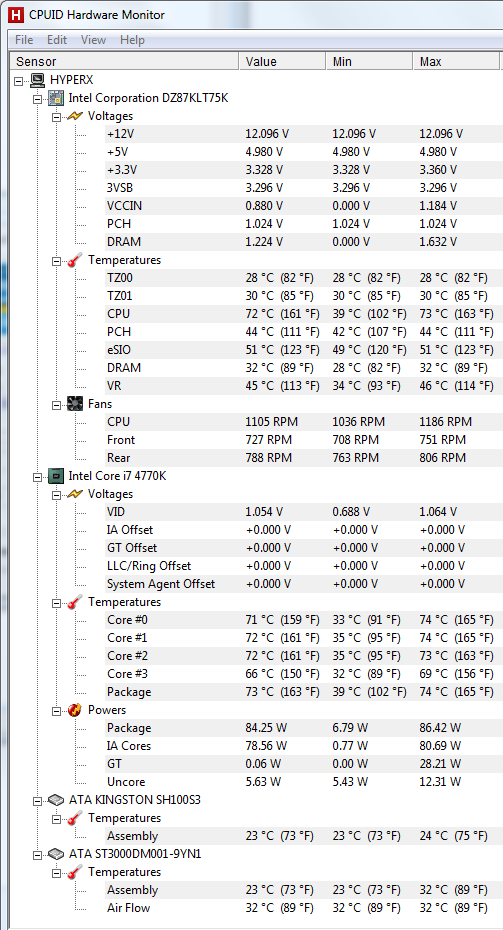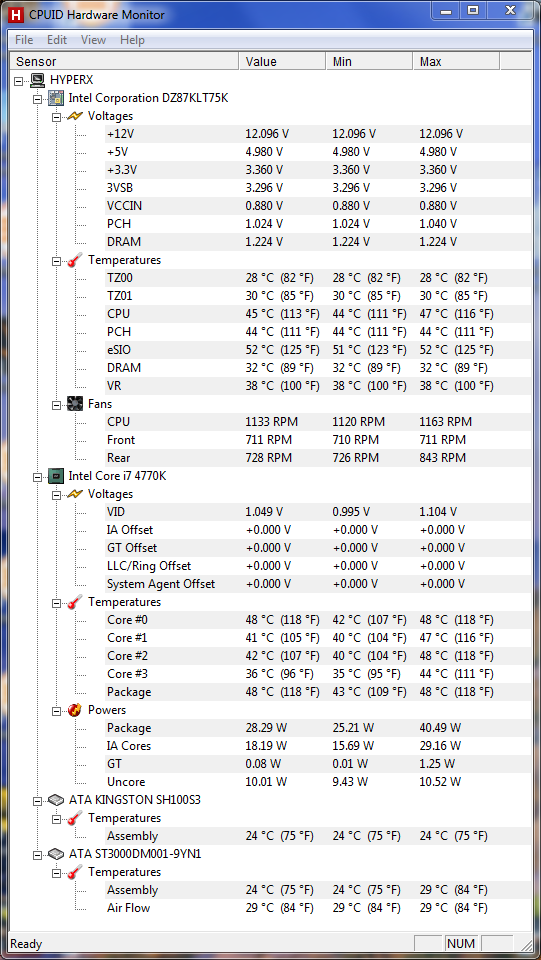 Verdict
Users of Ivy Bridge 3rd gen systems, especially the K parts such as 3770K will not benefit from upgrading. The upgrade path here is to see where Haswell for Server/Workstation platforms ends up, the replacement for the Intel Socket 2011/X79 Chipset platform.
What Haswell for Desktop is, is a decent upgrade for owners of 2nd gen i7-2600K (which at a base speed of 3.4GHz versus 3.7GHz for 3770K/4770K does show a detriment to
Yes the 2600K can be overclocked well, but not all users do and this is not the point we are trying to make in this review. We are comparing the products demonstrated within official specifications. Intel's guidelines state vendors can run the 3770K and 4770K at a maximum of 3.7GHz for all core turbo despite these parts being advertised as 3.5GHz.
It is even a better upgrade for those still on 1st Gen Core "Nehalem' and "Lynnfield' who have been waiting to see how Haswell turns out, especially with regards to the rumoured bugs in the Z87 chipset.
During our brief initial testing we did not experience any data loss issues with USB 3.0. Intel has advised that on its own branded board, disabling power saving for the on-board USB 3 Hubs resolves the USB3 Sleep/Wake issue. Other motherboards are also shipping with Hub chips to expand the number of USB 3 ports and this fix will also apply to those. Boards, including Intel's own ship with the lower power saving states disabled to improve compatibility.
Temperatures were typical of a processor in this clock speed and TDP class
Availability
4th Gen Build Parts
Week 2, June 2013
staticice.com.au(AUD)
newegg.com(USD)
scan.co.uk(GBP)
geizhals.at(EUR)
Intel 4th Gen Core i7-4770K CPU*
380
349
270
295
Intel DZ87KLT-75K
Desktop Board
295
286
N/A
224
Corsair Vengeance C70
Black Mid Tower Case
148
119
109
110
Corsair Vengeance 16GB DDR3-2400 Memory Kit
CMZ16GX3M4A2400C10
193
189
150
160
FSP AU-750M 80GOLD 750W PSU
135
119
N/A
110
*i7-4770K CPU in US,UK and AU market is bundled with a Codemasters Grid 2 game code and or T-Shirt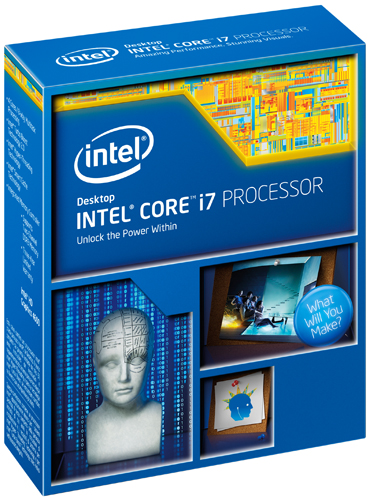 Pros
Haswell 4th gen processor sips power under all power states, including load
Depending on the application, approx 15% performance increase
Improved QuickSync Video Encoder focuses on quality
Improved overclocking controls for enthusiasts
Impressive integrated graphics capability
Z87 chipset now supports 6x SATA 6Gbps ports and 6x USB 3
Intel Z87 Desktop board equipped with 8 USB 3 ports, although powered by USB hubs
Cons
CPU Requires new motherboard due to new socket
Performance only one notch above previous generation, no compelling reason to upgrade a 2012 specification desktop.
Apart from Quick Sync or extra desktop displays, integrated graphics is of little to no relevance to the Desktop Power User/Enthusiast segment
Z87 chipset USB 3 issue with not fully resolved
Add-in Graphics and CPU Turbo Speed of pre-production Intel Z87 Desktop Board sub-par
No Level 4 cache on the i7 4770K processor, only on i7-4770R Processor for All-in-One Systems or i7 HQ mobile notebook processors, or any with Iris Pro 5200 (GT3e) graphics
No Transactional Memory Instructions (TSX) on i7-4770K or enthusiast parts, business products only
New instructions in the Haswell Micro-architecture require suitable software.
Review kit bug where four RAM modules of DDR3-2400 or above would cause CPU to run 100MHz slower.
From data provided by Intel and hints from professional overclockers and the hardware industry, Haswell is a good overclocker especially due to its low voltages and ring bus design. However due to extremely limited time with Haswell review kit we were unable to try out overclocking for ourselves.
Intel has many interesting technologies in its war chest however they choose to only implement these onto specific segments. A storm is brewing on the horizon, named "HSA" or Heterogeneous Systems Architecture. An early version of this CPU design technology is used in the new Sony PlayStation 4 and Microsoft XBOX ONE, both powered by AMD.
Intel's Iris Pro and their new power centric thinking are the first signs of an even more forward thinking company. Intel focuses on innovating to maintain its market leadership rather than give to change. The juggernaut is slow to change its thinking compared to more nimble companies such as AMD or ARM. When they do change thinking the quality of their products extinguishes any competition. Intel currently maintains an 80% market share in PCs and with its new graphics; its graphics share may increase.
2008's 'Nehalem' had a massive impact on the hardware industry as it changed almost everything Sandy Bridge did too with its efficiency. Many were hoping to this impact that with Haswell however we may have to wait till the next tock in Intel's roadmap cadence to see that.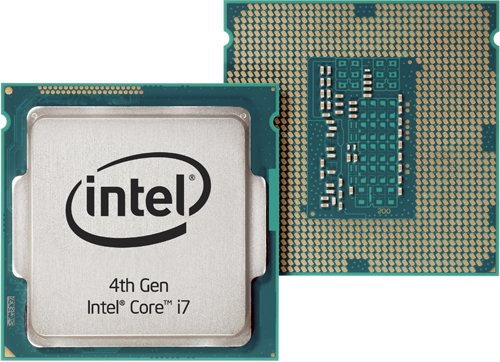 For the quad core, $350 mainstream performance/enthusiast segment, i7-4770K is now king of the road and its graphics performance will linger in its smoke trails. It is an impressive platform, however it has somewhat inherited this title rather than earning it outright. Despite Haswell, the i7-3770K will remain a legendary processor for years for 'free' performance the processor provides.
In the next part of our Haswell review series we will look at 4770K overclocking and a overall view of Integrated Graphics performance with three key titles, Battlefield 3, Bioshock Infinite and Dirt3. At 4.6GHz stable overclock we did encouter Haswell's now infamous thermal load when overclocked that many hardware enthusiasts and review sites are buzzing with, however we delibertly used a weak cooler for these tests.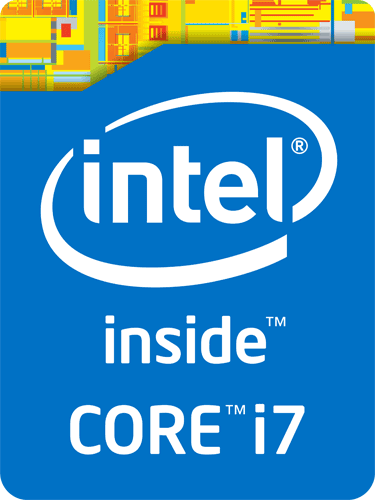 Disclosure
FSP products provided by FSP Taiwan. Corsair products in this review provided by Corsair Memory and Altech Computers.