Page 16 of 20
Arcade and Strategy Game Benchmarks
In our endeavour to provide a wide gamut of game genres in our testing and not just the golden set of BF3, Skyrim, Metro2033, Bioshock and so on we also provide some benchmarks of Arcade and Strategy.
Street Fighter 4 is a weird benchmark in that it requires 60Hz to operate correctly despite being based on the MT framework engine like other Capcom titles. Lip-sync and character slow-motion is distractingly lagging below 60Hz even at 30Hz.
The GPU powered platforms have enough raw performance that full antialiasing can be enabled while maintaining 60Hz in any situation once V-Sync is enabled.
Total War High pre-set would not run, as the game engine complained about missing features. However we were able to manually set up maximum detail including MLAA and run that custom present.
The DirectX9 CPU test tries to render as many soldiers as possible in battle. Considering the score and if details are reduced, the game will run satisfactory.
World in Conflict was an early Direcx10 RTS which only featured destructible environments and realistic physics, but its benchmark replayed an actual mission from the game rather than a fly-around of an empty map as some benchmarks such as Bioshock, Batman and Just Cause do.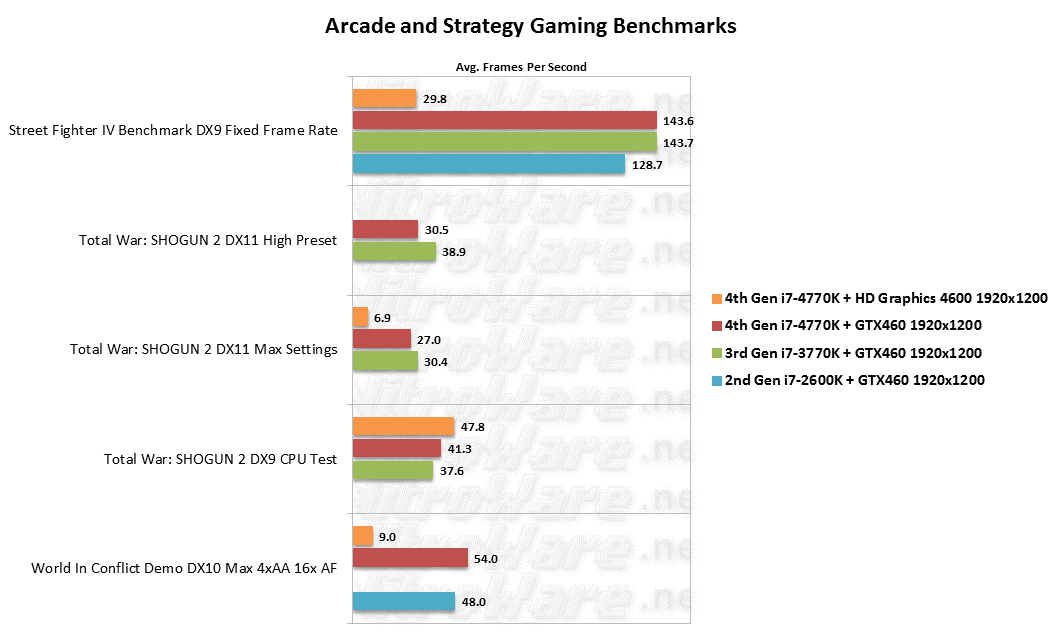 At 1366x768 medium details without anti-aliasing, 70-76 FPS isachievable using the Intel Graphics versus the appalling 9 if we crank everything up.
Intel graphics has always been capable of reasonable performance at 720p but the push with Haswell and iris is similar to discrete class performance. 15-25fps would at least have been an achievement compared to the 50 that the GTX460 achieves. Tweaking down from this worst case will deliver high frame rates.
Intel's driver and software optimisations are not as broad as AMD or NVIDIAs.