Page 19 of 20
Power and Temperature
2009's Nehalem CPU generation introduced new features such as integrated memory controller, power manager and turbo boost speed which were to be the keystones of Intel's CPUs going forward.
2011's Sandy Bridge was the next step, focusing on performance and efficiency on both desktop and mobile, allowing high performance in smaller form factor PCs for the first time.
2013's Haswell architecture brings power reduction to the table in a new way. By moving the Voltage regulator circuit from the motherboard to the CPU, functionality and efficiency can be improved and the same chip design is made to be highly scalable to meet needs of different segments.
The by-product of the 7 channel FIVR (Fully Integrated Voltage Regulator) and an enhanced 22nm chip fabrication process which has lower leakage than 2012 22nm process enabling same performance characteristics with better power. Each CPU core features its own regulator.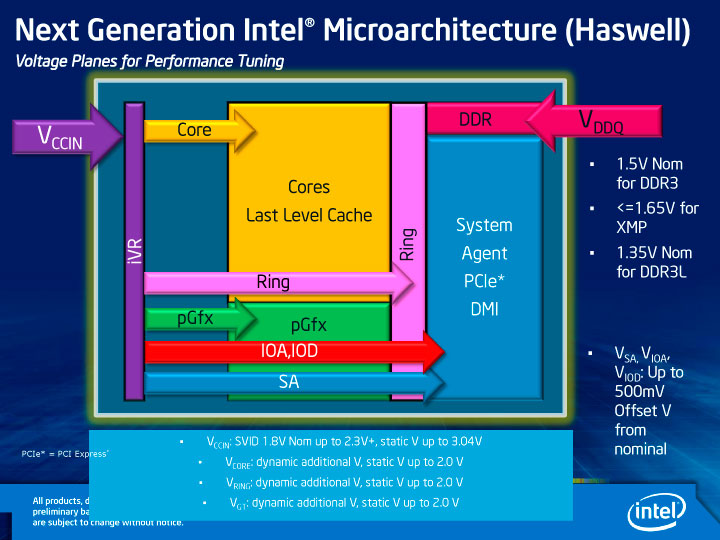 For the mobile side, Rani Borkar, Corp. VP and GM of Intel Architecture group said that 4th gen Ultrabook uses 20x less power than previous generation and that this revolutionary development is the biggest battery life increase in Intel's History.
Dynamic range of the Haswell line-up widens with voltage changes, more versions can be offered with the new power design.
The FIVR is not the only element key in Haswell's power story:
Optimised 2nd Generation 22nm process, P1270 for Core Desktop/Mobile products and P1271 for SoC mobile parts
Lower operating voltages for low and high performance states, lower idle clock speed of 800MHz for desktop parts
Optional C6 C-State for desktops with Add-In-PCI express graphics, C7 for integrated graphics. Mobile and Ultra Portables support C8-C10 states. C6/C7 on desktop require "Haswell compatible" power supply.
Connected Standby – to fetch internet updates while the PC is asleep
Logic Gating
Power Optimizer Framework
For SoC parts going into convertibles and ultra-portables, a new high bandwidth, low power low latency chipset to CPU link - on package interconnect. This replaces DMI that is used on Intel's portfolio
Power Planes
OEM Optimisation – such as UEFI/Firmware tuning and Configurable TDP for select parts.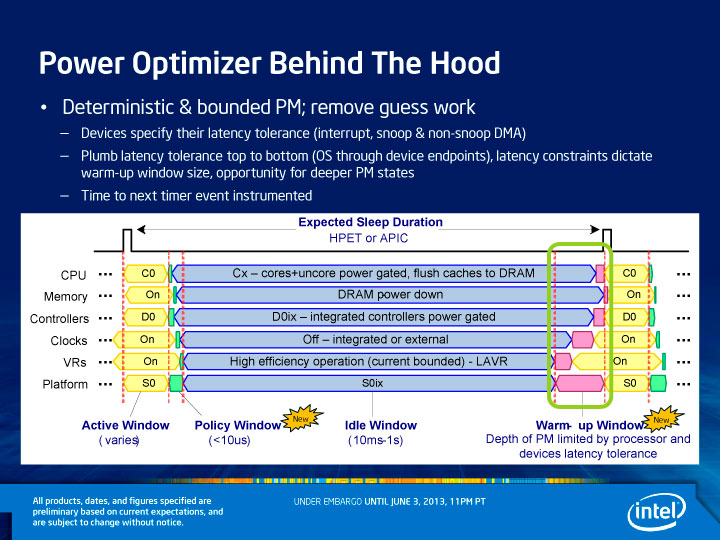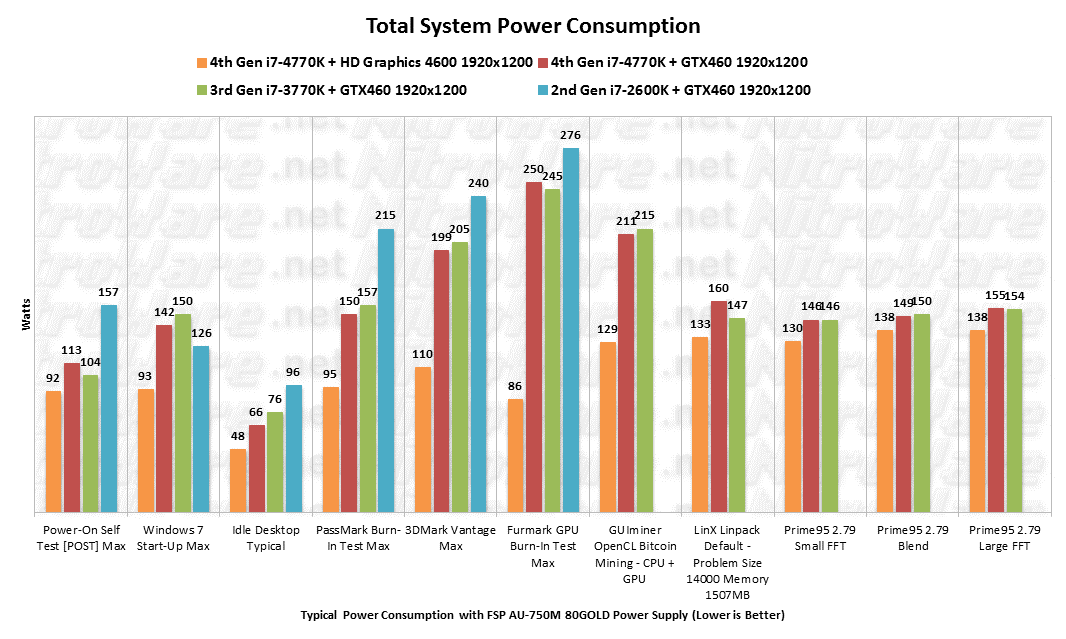 Our POST test shows what is possible when an OEM optimises their UEFI. Additionally our ASRock Z68 board we used for 2600K had a lot more stuff on-board compared to the ASUS Z77 for 3770K. For an 84W TDP CPU and a motherboard with several USB Hubs and Thunderbolt, Z87 did very well.
Windows start up is the maximum reached from the Windows Boot Menu until the desktop is reached. Not having an add-in GPU makes the bulk of the difference here.
Idle Desktop is the number many enthusiasts are interested in (who do not turn their systems off) and with C6/C7 disabled in BIOS (the default) we achieve an amazing 48 watts, one of the takeaways from this whole review. AMD's 2011 1st generation A6 APU uses 45W at idle with a less efficient PSU and much less performance.
40W Idle Desktop power draw is achievable with C6/C7 enabled and a Haswell compatible PSU. We decided not to chart this as this is not the default setting.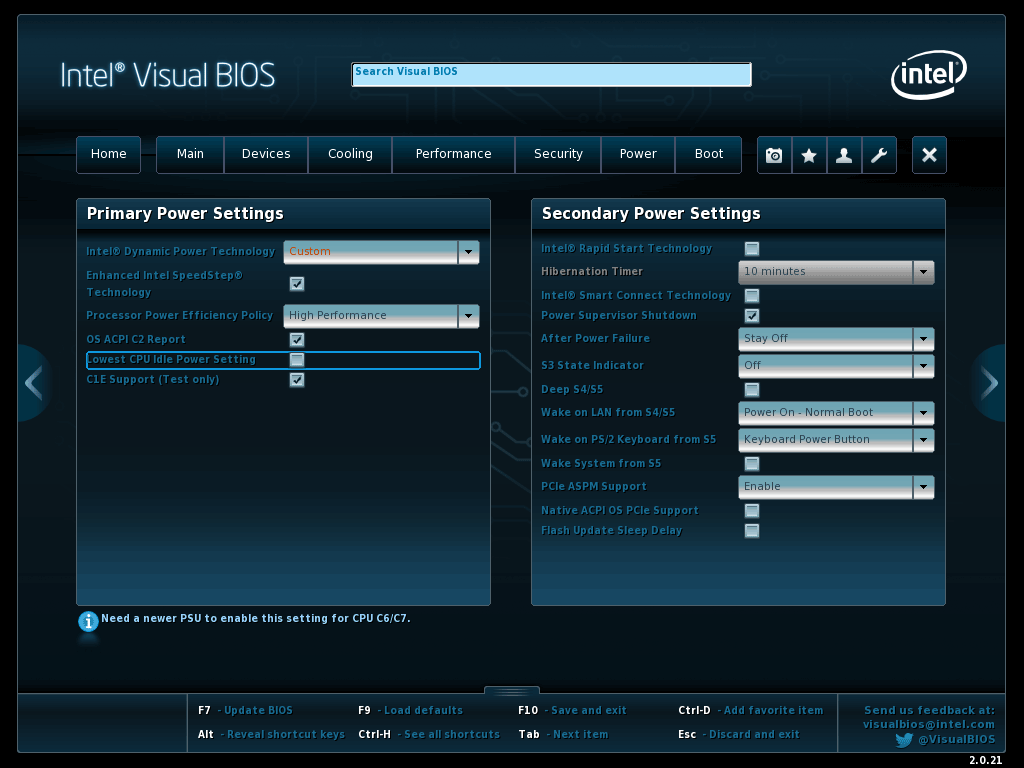 Our Bitcoin mining test is modified from our previous attempts. We run both CPU and GPU mining so that the test is not GPU specific.
When reading the LinX and Prime95 power draw levels, consider the idle GeForce GPU draw is the delta between orange and red/green.