Page 3 of 18
EVGA GTX 960 SSC Edition Graphics Card
For launch coverage, NVIDIA sent our non-reference, typically over clocked cards to the media having decided not to sample the lower-clocked (and therefore lower performance) reference cards. In addition, the reference cards have short PCB and the standard black plastic cooler with blower fan that also came with reference 660/760s.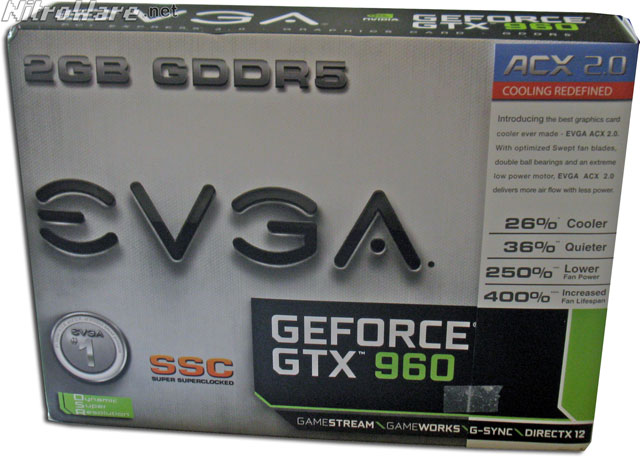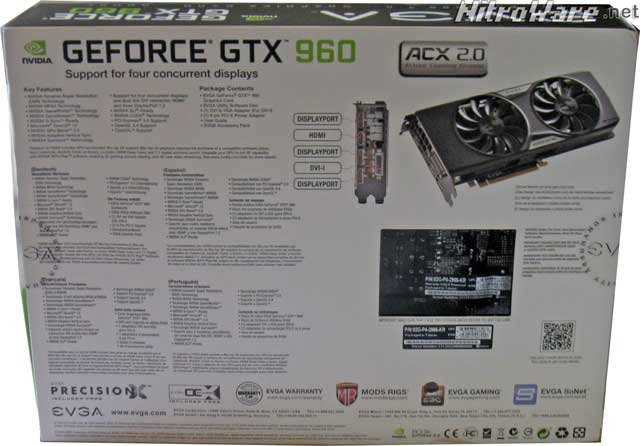 For 960, the ref cards have been relegated to the bottom of the food chain being the cheapest available starting at $199 and these will be clocked at 1126 MHz base,a minimum Boost speed of 1178MHz and 7010 MHz Memory clock.
We recived EVGA's 960 SSC card from NVIDIA, while other media either received the EVGA SSC or the ASUS strix.
For the purposes of evaluating the GTX 960 itself as a GPU the EVGA SSC is both a blessing and a curse. On one hand it has extremely high clock speeds out of the box, equivalent to what may be achieved by overclocking a reference card. On the other hand these high clocks (and the related higher voltages and temperatures) provide a somewhat biased and skewed comparison to other GPUs due to this overclock.
None the less, its great to see a high factory supported overclock on a graphics card and EVGA have done a good job here.
End users can make the choice to buy a slightly cooler less power consuming card or a higher clocked model. But for our review we will only be focusing on the EVGA SSC's 'default' clockspeeds and some light overclocking, rather than downclocking the SSC to reference speeds. Downclocking to ref provides some scientific comparison to other GPUs, but in the real world no owner will downclock, that far anyway.
EVGA have a number of special features on their ACX 2.0 cooler equipped series of GPUs. The most notable is the ACX cooler itself, which makes performance claims over 'reference single blower' cooler and EVGA's own previous ACX cooler. Apart from the 'obvious' such as more and better fan blades which many vendors claim EVGA also claim to have redesigned the fan motors, making them stronger and faster but the most important claim with ACX 2.0 are the double ball bearings and is very important for the longevity of the GPU.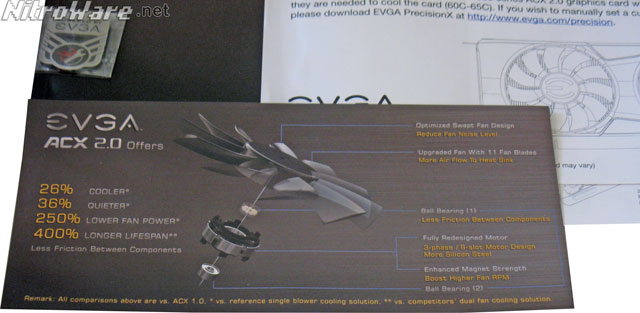 Typically, GPUs have used the cheapest fans possible that suit the size requirements of the GPU. Higher quality, longer lasting fans are expensive and add to the total cost of a GPU that is 'not expected to last forever' anyway. Such low grade fans use sleeve bearings which are highly susceptible to wear but have an advantage of not
A sleeve bearing is basically a metal tube filled with mineral oil that the fan rotates in. Over time and with heat, the oil evaporates through the clip/sticker that holds the fan in place, causing friction making the fan stall or stop . Dust ingress makes the situation worse by blocking the bearing, binding with the lubricant and pitting the brass bearing tube. Sometimes re-oiling the bearings can fix the fans temporarily but expecting a end-user to oil the fans, for a computer card is somewhat unrealistic and fantastical in the 2000s.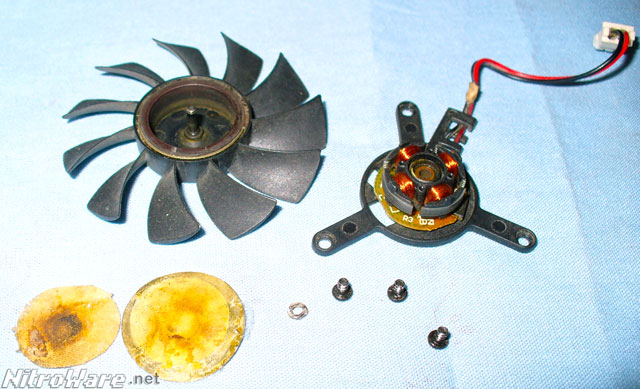 Some vendors see cheaper fans as a non-issue, citing warranty period or expected life-span of the GPU. Reality doesn't work like this. Many end users keep a GPU for 5,10 years even longer and expect the fan to work. While PC chassis fans are standard and can easily be replaced, GPUs use bespoke fans which cannot be easily replaced therefore reliability is paramount otherwise the GPU itself can and will fail, as seen by the large number of failures of popular GPUs both from ATI/AMD and NVIDIA.
Here at NitroWare we have had many GPUs fail simply due to failed sleeve bearing fans. In some cases the GPU had overheated and damaged half of the video memory or the core itself.
Ball-bearing fans are more reliable at the expense of cost and noise. Never the less our priority here is to encourage reliability and EVGA get full marks here. Consumer-grade computer hardware is often a cost-cutting race to the bottom. Other segments such as enterprise or industrial often do not experience cost-cutting of critical components.
EVGA ACX 2.0 uses two of these fans topped on a triple heatpipe cooler, comprising of three non-nickel plated pipes flattened for optimal surface area contact. Other cards may use a s shape pipe to improve thermal transfer. The heatsink itself seems to be optimised for weight comprising of alu stampings simply clipped together to make the heatsink.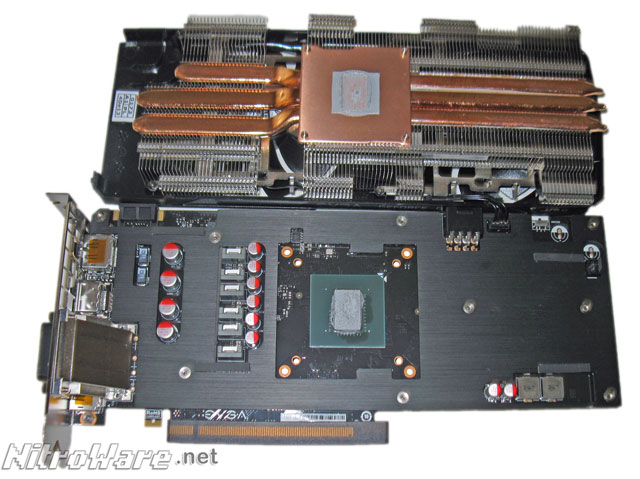 The cooling fans are completely off while the card runs at below 65C, apoart from power-on. Under heavy load a fan speed of 20% at 70 degrees C is typical
The PCB itself is a departure from other types. The power socket is inboard, 1/3rd of the way and some of the power delivery circuits (capacitors,chokes) have been relocated to the left of the card. Being an overclocked enthusiast oriented model we get a strengthening plate to keep the PCB straight and provide minimal heatsinking, on the TOP of the card. This is still functional, but leaves the back side of the card bare, which contains some circuits and memory. The higher up FTW model has a backplate.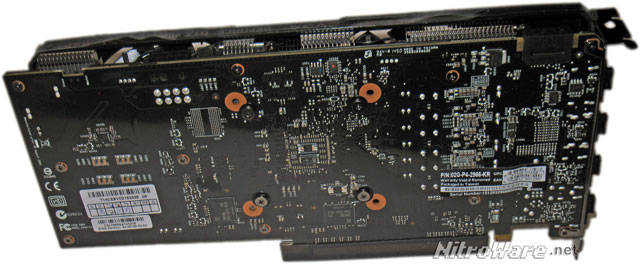 NVIDIA's 'reference' display layout of one DL-DVI, one HDMI 2.0, and three displayport 1.2 is used plus a single SLI connector. An undocumented master/slave switch (likely for UEFI BIOS) and undocumented 2 pin header are also present.
EVGA include the typical 'enthusiast' bundle, of media endorsements for other EVGA products, a generic manual, a generic setup poster, a flyer for the ACX features and silent cooler, enthusiast poster, case badge, a standard DVI-VGA dongle, and a 2x 6 to 1x 8 power adapter for those users who may have a PSU in the 400-600W range with only 2x6 GPU power plugs.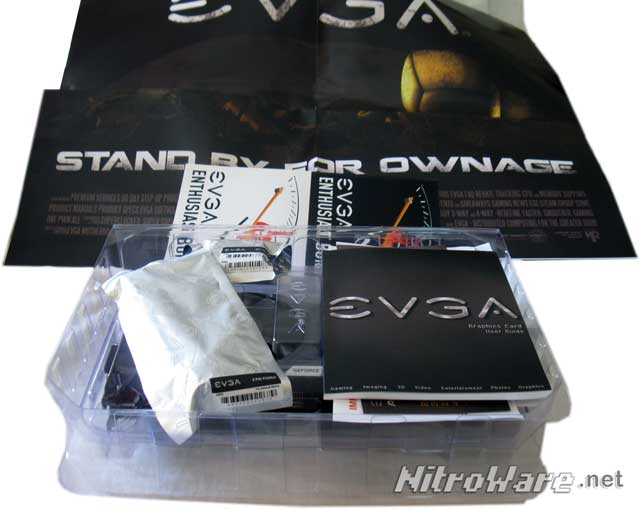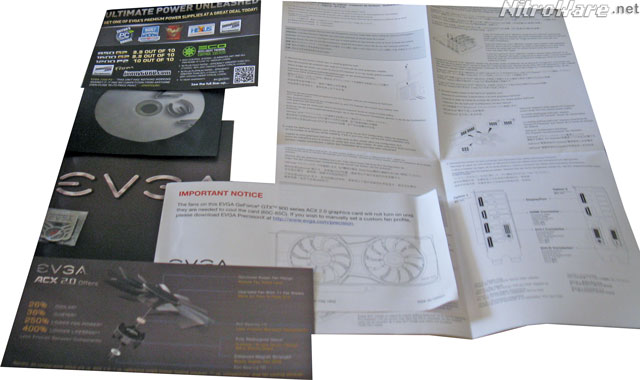 The card is in flat black and has no LED or coloured accents. Some of our benchmarks run at uncapped high benchmarks in 3 or 4 digit range and as such the lack of frame rate capping/vsync induces slight coin whine from the card. Given NVIDIA/EVGA has some software controlled features to cap frame rates this shouldn't be a problem in real use.