Page 6 of 18
Benchmarks - GTX 960 v GTX 760 & R9 270X
Overall System Performance benchmarks
Our PC Mark 8 scores are presented twice, as the versions used for GTX760/R9 270X are not comparable to the current, note the version numbers.
PC Mark comprises of productivity (word processing/office/DTP), Creativity (photo/video editing, video conferencing) and web publishing to generate an aggregate score. Each module is based on different code, for example the spreadsheet workloads use the code for LibreOffice's Calc Application (which can be accelerated using OpenCL)
Considering the cards power requirements and that the Radeon supports OpenCL 1.2 and 2.0, GM206 does OK in the OpenCL accelerated PCMark tests.
Both Passmark and Sandra also perform a suite of System tests including GPU Compute, and again GM206 is competitive.
We will not be getting into sub-scores in this review to see why and where certain apps perform as they do, instead focusing on overall scores for comparison purposes between these and other cards.
3D Benchmarks
Things get a bit more interesting when we look at 'traditional' 3D benchmarks rather than a bit of GPU comptue accelerated code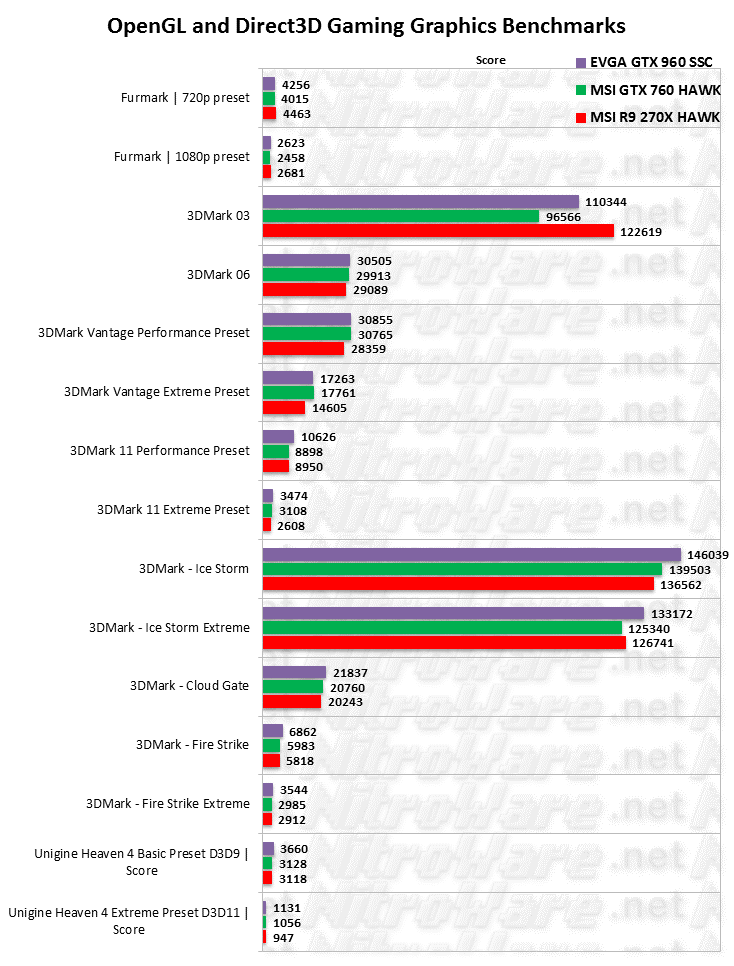 OpenGL furmark shows GTX 960 faster than GTX 760 at both 720p and 1080p but still slightly trailing the 'bigger' 270X
We include legacy versions of 3DMark (03,06) to show performance of older games and DirectX 9 in a comparable way. Remember that GM206 is 'memory bandwidth starved' compared to the two other cards, but in certain scenes compression can significantly increase memory bandwidth and throughput.
We see good results for our legacy 3DMark tests, and this trend continues all the way through to the DX11 family tests especially for shader heavy Firestrike, showing the claimed performance improvement in the low level CUDA cores.
This standard set of 3D Benchmarks provides a good baseline comparison for other hardware.
Furmark is according to the vendors a 'power virus' as it will max out the hardware resources of a GPU to 100% and stress it, where as a typical real-time game is a dynamic load and either will not load up the GPU to max or the load the vary. Some other commentators hate the term 'power virus' because furmark is a legitimate software benchmark but they are wrong. Very few applications will have 100% GPU and memory controller load. Additionally the load/stress will cause modern GPUs to throttle hard or turn off GPU boost and run at their base clock, as a CPU does. In games unless a thermal or power condition is tripped we typically always have some boost.